Education paused
Flood affects 3,900 schools, colleges in north, north-eastern districts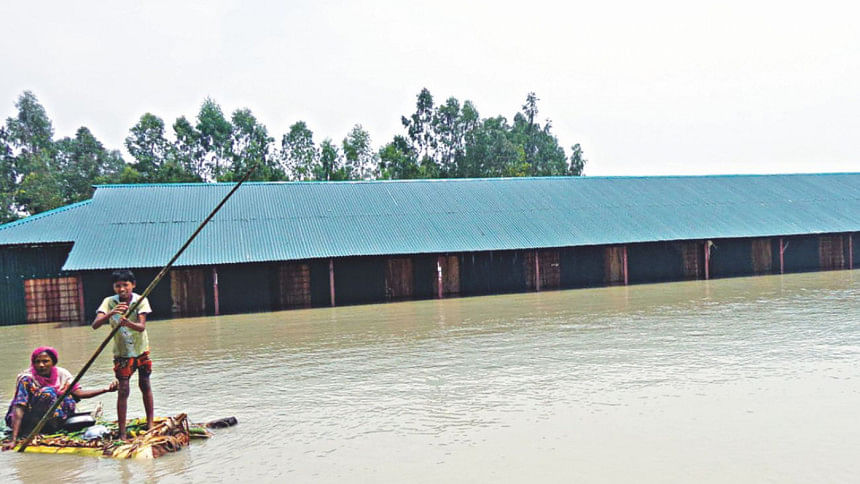 Academic activities of institutions, from primary schools to colleges, in more than a dozen districts have been seriously hampered by the floods.
According to a preliminary estimate of the directorates of primary and secondary education, the recent flooding damaged around 3,900 educational institutions in the north and north-eastern districts and had affected several lakh students.
Even though the floodwater started receding in most places, many of the affected institutions could not resume classes. A number of them started holding classes of late but had poor show of students.
Besides, many flood victims were still in schools that were being used as shelters.
Education officials at district levels said the floods not only caused the suspension of classes but also delayed the second-term exams in primary schools. The exams have been moved to mid-September in Rangpur division.
The officials of the education ministry said they were preparing a list of damaged institutions. After getting complete data from the districts, they would assess the damage and then start repair work.
Education Minister Nurul Islam Nahid said they had begun general repairs of schools damaged by the floods a few months ago.
The number of damaged schools would increase after the recent flooding, he said, adding, "We will soon prepare a complete list of the institutions and take measures to quickly repair them."
The primary and secondary directorates have directed local officials and teachers about taking additional classes to make up for the time lost.
In Lalmonirhat, one of the worst-hit districts, 318 state-run primary schools and five high schools were affected by the flood. Of those, seven primary schools were destroyed while 50 primary and two high schools were damaged.
Nur Islam, headmaster of Gobordhan Ismailpara Government Primary School in Gobordhan village of Aditmari upazila, said his school was destroyed on August 12 and they have not been able to impart lessons to his 207 students since then.
"We are trying to have classes in a rented house and hoping to start classes within a week," he said.
Rezaul Islam, a class-IV student of the school, said, "I did not study at all in the last two weeks since the school got damaged."
His father Hasmot Ali said, "We are concerned about our children's education. We are not sure when classes will resume."
Nabez Uddin Sarker, district primary education officer (DPEO) in Lalmonirhat, said he had sent the damage report to the ministry and was hoping for funds to repair the schools.
In Dinajpur, another badly hit district, classes at 263 primary schools and 167 secondary schools remained suspended since August 20.
Although water was receding in most areas and many started returning home, academic activities could not resume in at least 30 institutes, said Rafiqul Islam, Dinajpur education officer.
The situation in Kurigram is also bad.
Some 685 out of 1,233 primary schools were affected. At least 421 schools were damaged and four schools were destroyed, according to district officials.
"We fear going to school as the roads are still under knee-deep water," said Beauty Akter, a class-V student of Char Sharodob Govt Primary School in Halokhana union of Kurigram.
She said there were 25 students in her class and none of them could go to school in the last 10 days.
Beauty said she heard that their second-term exams had been deferred to September 9. "But I did not get the new schedule," she added.
The school's headmaster Ekramul Haque said he could not resume classes even though the district education office asked him after the floodwater receded. The classrooms were still smeared with mud and some people who had lost their homes were staying there, he said.
In Sirajganj, 260 primary schools went under floodwater, disrupting academic activities since the first week of this month.
Md Shafiullah, Sirajganj education officer, said the holding of classes was disrupted in 181 high schools and colleges.
Anik Kumar, a class-V student of Chatianikali Govt Primary School, said they were worried about their upcoming primary terminal exam as they could not go to school for about a month.
"Primary terminal examination is likely to begin in November, but our studies came to a stop since the flood hit the district. We don't know what will happen," he said.
Uday Kumar Pal, headmaster of Anik's school, said studies of his 588 students were badly affected by the floods.
"The floodwater reached the school premise in the first week of August but things turned worse on August 13 when water entered classrooms," he said hoping to resume classes after Eid.
Sirajganj DPEO Siddique Md Eunus said the picture was almost the same in the 260 primary schools of the district.
In Jamalpur, 254 out of 734 primary schools and 206 out of 372 high schools and colleges could resume academic activities until Wednesday. The rest were closed since August 13.
Students' attendance was poor in schools that had opened.
"We're concerned about imparting all the lessons of the syllabus of class-V as the students could neither study at home nor learn in school," said Shewly Begum, headteacher of Muslema Khatun Govt Primary School in Madarganj upazila.
DPEO Shahidul Islam said he directed teachers to arrange extra classes.
In Nilphamari, classes in 143 govt primary schools were suspended for a week until August 22. Of those, 108 schools were damaged and the condition of 54 was very bad, said DPEO Dilip Kumar Bhoumik.
[Our correspondents in Lalmonirhat, Dinajpur, Kurigram, Pabna, Jamalpur and Nilphamari, contributed to this report]