Editors are partners of conspiracy
Says AL leader Hanif; BCL holds rally against Star editor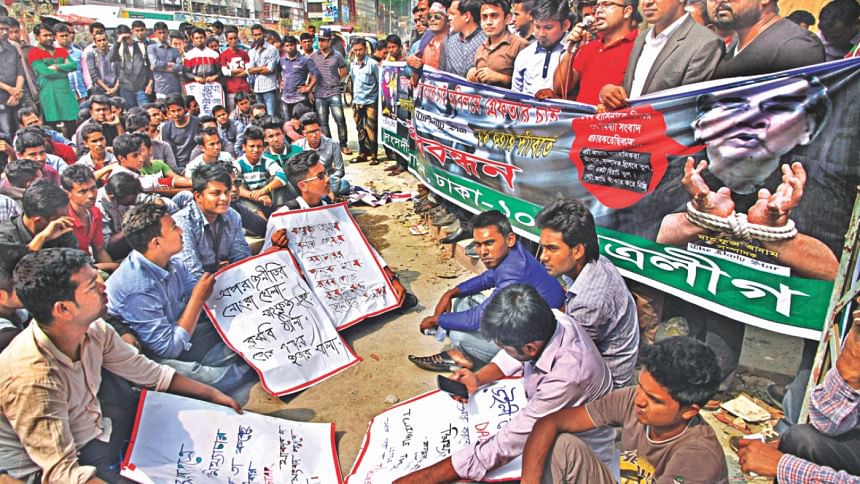 Editors sometimes work as partners of conspiracy against the country's interest, Mahbubul Alam Hanif, Awami League joint general secretary, claimed yesterday.
He was referring to a comment by The Daily Star Editor Mahfuz Anam about publishing some reports during the 2007-08 caretaker government.  
At a talk show on February 3, Anam made an introspective comment about a lapse in his editorial judgement in publishing a few reports that the newspaper could not independently verify at the time.
During the 2007-08 period, almost all the mainstream media outlets -- both print and electronic -- ran reports on corruption by top political figures based on information given by the joint forces.
But some ruling party leaders and lawmakers are making an issue out of it and taking a dig at The Daily Star and its editor. Attempts are also being made to distort and give negative spins to what Mahfuz Anam has actually said during the talk show. 
Talking to reporters at the AL president's Dhanmondi office after a party meeting, Hanif said, "We think that by doing such an unethical job [running reports without verification], the editors have proved that they sometimes work as a partner of conspiracy against the country's interest."
Meanwhile, Chhatra League men of Dhaka-10 constituency staged a demonstration in the city's Jigatola, demanding the arrest of Mahfuz Anam and closure of the paper for what they claimed running "false news" against Sheikh Hasina after 1/11.
Responding to a query, Hanif said the authorities concerned might take legal action against those who took part in the "conspiracy".
"The person who was involved with such activities and who has conceded his mistake ... there is no chance of avoiding the responsibility by mere confession," he said, adding that the nation wanted to hear more from the editor.
The AL leader also said a daily newspaper's editor admitted that "they committed a mistake" after eight years, reports BSS.  
"But who will take the responsibility, as this mistake caused a huge loss to the countrymen and Sheikh Hasina had to go to jail? Sheikh Hasina was defamed. Who will take this responsibility? There is no scope to skip this responsibility," the BSS quoted him as saying.
BCL PROTEST
About 200 BCL activists formed a human chain at Jigatola bus stop around 11:30am, marched through Dhanmondi-15 area and burnt two effigies of Mahfuz Anam.
They chanted various slogans against Mahfuz Anam and demanded that he resign immediately. They also urged the government to arrest and try him for "sedition".
The BCL men took to the streets a day after seven lawmakers, including Falze Noor Taposh of Dhaka-10 constituency, lambasted the newspaper and its editor at Jatiya Sangsad.