DESIGNED for DISASTER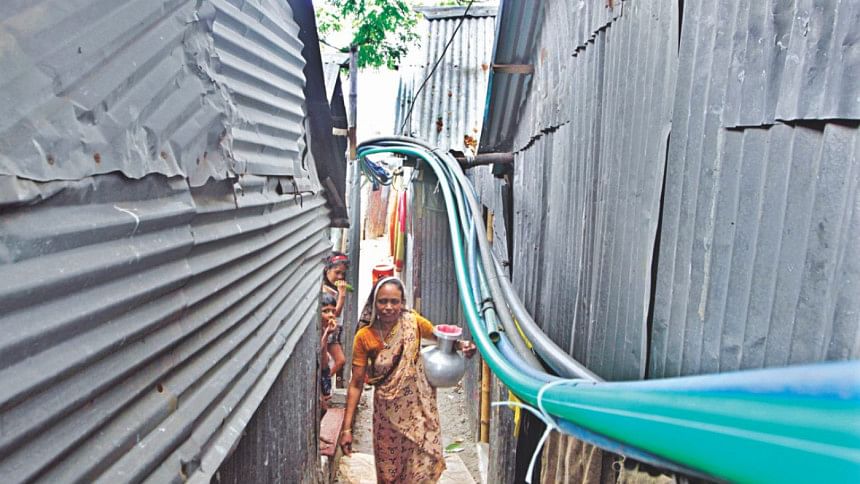 Illegal gas lines, all faulty and risky, pose a grave danger to one lakh people living in Korail Bosti, a slum built on 90 acres of government land in the capital's Mohakhali.
Several deadly fire incidents took place at the slum, thanks to the defective supply lines of gas, said Major Shakil Newaz Bhuiyan, director (operation) of Fire Service and Civil Defence.
"The illegal and risky gas connections remain a serious threat to people and households as the quality of distribution lines and the way they were installed fall far below the standard," said the official.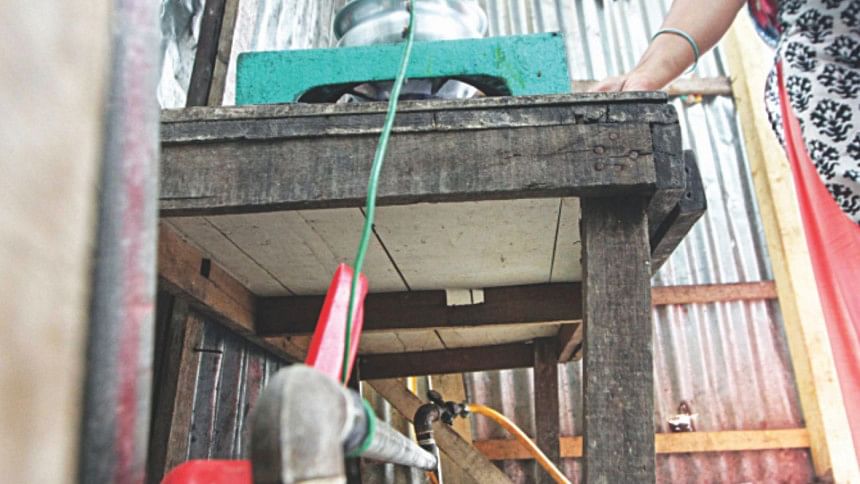 Recollecting the fire incident of December 4, 2016 when some 526 houses were burnt to ashes, Major Shakil said there was a gas explosion and they couldn't tame the inferno even after pumping a huge amount of water.
Another fire in January 2017 gutted around 4,996 houses within a short time. That time also, firefighters failed to douse the blaze because of the gas explosion, fire service sources said.
There are at least 10,000 illegal gas connections at the slum, residents say. The syndicates who provide the unauthorised utility service charge Tk 500 for each gas connection to households and Tk 1,500 for hotels and other commercial users.
"Illegal gas lines are spread across the entire Korail Bosti like a spider web. And if a fire begins, the whole slum might be blown up," said Mofizur Rahman, councillor of ward-20.
Mainly two syndicates, with the help of some unscrupulous employees of Titas, steal gas from the main transmission and distribution lines of the company at TNT Colony, Wireless Gate, Gulshan and Banani points, locals say.
They connect stainless steel pipes to the main lines and then use GI pipes and even hose pipes to distribute gas to the slum houses.
During several visits recently, these correspondents saw gas burners on the narrow stairs of two-storey tin-shed houses.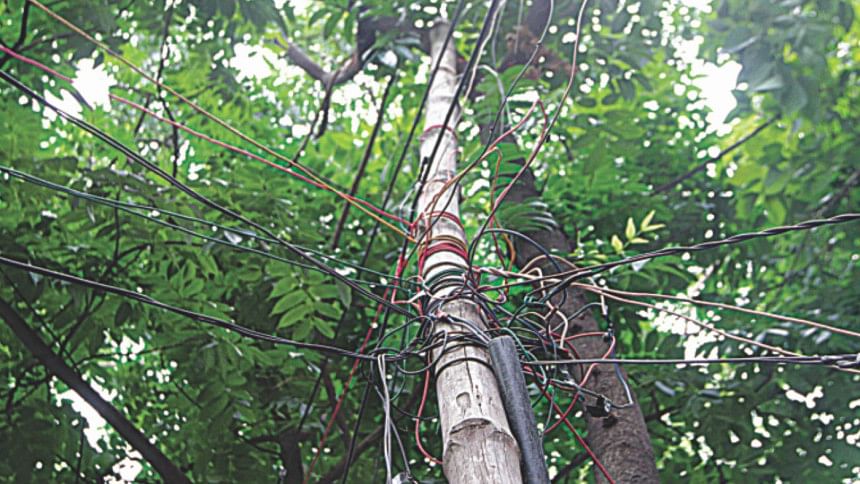 Slum dwellers were also using gas burners inside their tiny rooms sized around 100 by 80 sq-feet where at least four to five people live. Many of those rooms don't have any windows.
Besides, burners were found in the doorways.
What looked more dangerous was children were playing near open burners.
GI and plastic pipes and even rubber pipes were being used for gas connection. Some were precariously hanging overhead.
  Such pipes were seen haphazardly lying on the ground in places. These correspondents at first took those to be water lines but locals confirmed that those were for supplying gas.
Several residents said using GI and plastic pipes is a trick by the syndicates to make everyone think that these are water lines.
During a visit, these correspondents met two people who were laying down several pipes half or one feet under the ground. They refused to make any comments.
A tea-stall vendor uses a stove that gets gas through a rubber pipe.
"I know the way I am using gas is risky. But what else can I do? It will cost Tk 100 per day if I use kerosene," he said, wishing anonymity.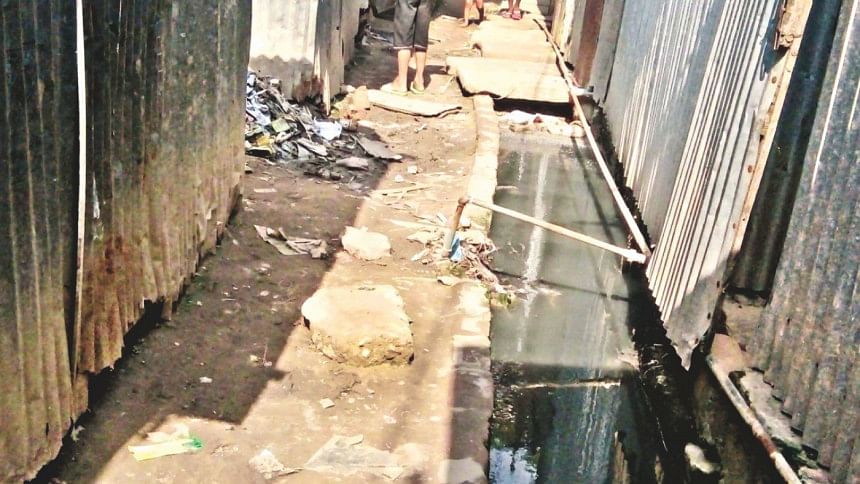 Two syndicates led by "Gas" Mizan and Manzurul Haq are providing gas to the entire Korail Bosti dividing the slum into two. They have subcontracted part of their work to some smaller groups, said sources.
Through the gas supply, the syndicates and unscrupulous Titas staff get more than half a crore taka from the slum dwellers per month, they added.
There is an allegation that some police officials also get a slice of the pie by backing the illegal trade. The allegation, however, was rejected by the local police station.
Officials of Titas Gas Transmission and Distribution Company Limited say they don't provide any gas connections to Korail slum.
HM Ali Ashraf, director (operations) of Titas, said, "We launch drives against illegal gas connections there regularly."