For democracy, no need to kill people
Says Ashraf; urges BNP to return to peaceful politics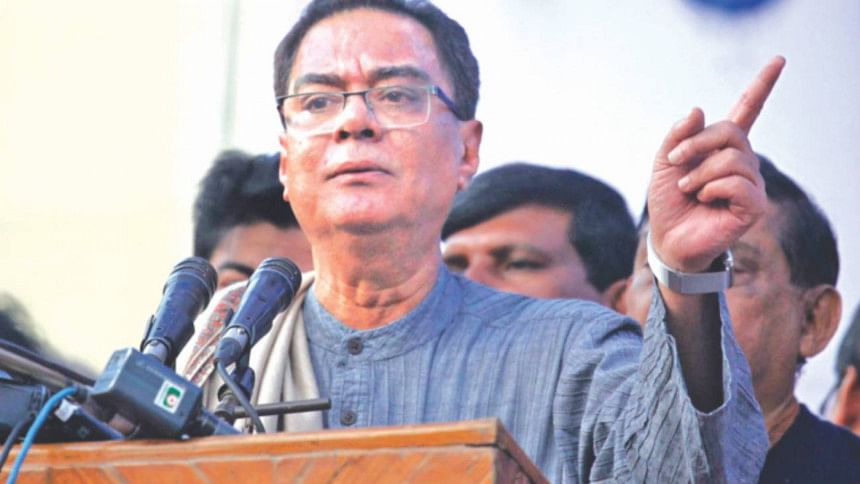 Bitterly criticising the BNP for its violent agitation last year, the ruling Awami League has called on its political foe to return to peaceful politics.
"Let's move towards peaceful politics," AL Spokesperson Syed Ashraful Islam urged the BNP at a rally on Bangabandhu Avenue yesterday to mark the second anniversary of the January 5 national polls.
At another rally on Sheikh Russell Square on the day that the AL observes as "Victory Day for Democracy", Suranjit Sengupta asked the BNP to sever ties with Jamaat-e-Islami and shun violence in the name of politics.
At the Bangabandhu Avenue rally, Syed Ashraf came down hard on BNP chief Khaleda Zia for enforcing three month-long shutdowns and blockade last year.
"Why Khaleda Zia waged a movement that took away lives of 65 people, injured over 1,500, torched 700 vehicles, inflicted a loss of Tk 7,015 crore to the economy, and disrupted public examinations? ... For democracy?"
"You don't need to kill people and torch vehicles for democracy. Actually, you [Khaleda] wanted to destabilise the country," said the AL general secretary.
Urging the BNP to do peaceful politics, he said, "As we believe in democracy, there will be an election in the country. That election will be fair and peaceful, and not a single life will have to be lost."
Speaking there, Industries Minister Amir Hossain Amu alleged that the BNP and its allies want to make Bangladesh "a failed state like Pakistan and Afghanistan".
"The BNP-Jamaat alliance is inviting other forces by promoting extremism and communalism," he added.
Commerce Minister Tofail Ahmed said all the BNP leaders now think their party is on the verge of collapse for the "wrong leadership" of Khaleda and her son Tarique Rahman.
At Russell Square, veteran AL leader Suranjit Sengupta said Khaleda first needs to detach her party from Jamaat to return to peaceful politics in the country.
AL Presidium Member Matia Chowdhury, also agriculture minister, said the country would march forward under the leadership of Sheikh Hasina, overcoming "all the conspiracies of the BNP-Jamaat alliance".
AL Presidium Member Sheikh Fazlul Karim Selim, who chaired the rally, said there would be no dialogue with the BNP and its chief. "The Awami League will not hold any dialogue with terrorists, militants and plotters. Rather, they will be dealt with an iron hand."
Health Minister Mohammad Nasim said the January 5 election was a must for the continuation of democracy in the country.
"Had the election not been held, there would have been martial law in the country now" and neither the AL nor the BNP would be able to hold rallies, he said.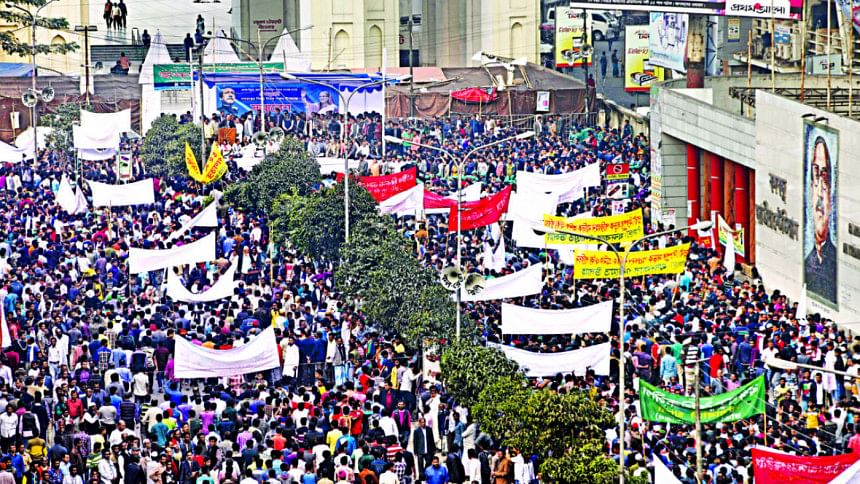 Mahbubul Alam Hanif, joint general secretary of the party, urged the BNP men to restructure their party by excluding Khaleda.
"Khaleda Zia is Pakistani by her soul. I want to urge my BNP friends to restructure the BNP immediately by keeping Khaleda Zia out of it. Only then the people will treat the BNP as a true opposition party."
AL leaders Mosharraf Hossain, MA Aziz, Mofazzal Hossain Chowdhury Maya, Sahara Khatun, Faruk Khan, Dipu Moni, Jahangir Kabir Nanak, Ahmod Hossain, Bahauddin Nasim, Khalid Mahmud Chowdhury, Asaduzzaman Khan Kamal and two mayors of Dhaka North and South city corporations, among others, spoke at the rallies.