Of delectably different guy
Jahir making a difference in Jhenidah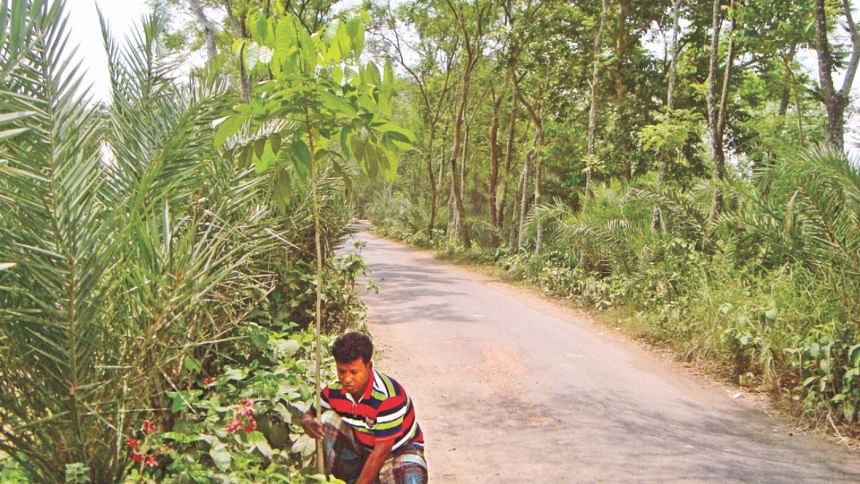 Head towards Chuadanga for six kilometres from Jhenidah town and you would reach a small bazaar called Nagarbathan. Ask anyone about Jahir Raihan.
"Oh, Jahir! Of course I know him. He is a different kind of guy. Do you want to go to his house? Come, this way...," said rickshaw-van puller Azhar Ali at the bazaar.
From there, a local trail turns to the left. Azhar followed that path with us on his van. Pulling the van for a while, he showed graffiti on the boundary walls of some houses along the road.
All these are painted by Jahir, said Azhar. His graffiti reads: "Let us do something good and help others in good work."
Showing trees along the road, the rickshaw-van puller said: "All these trees are planted by that man."
Jahir Raihan is not a wealthy man by any means, but he works for people's welfare with small earnings from his painting job. He went to a local primary school for only two months, but spreads the light of education among underprivileged students.
The story of the 42-year-old man from Bamonnagar of Jhenidah is not of the usual variety.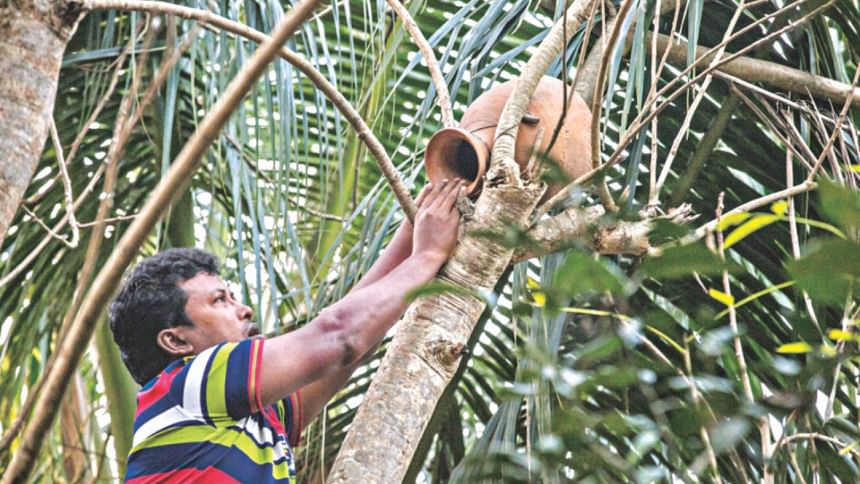 Youngest of the seven children of late farmer Keyamuddin Mollah, Jahir writes motivating messages on walls and works as a painter. He earns about Tk 9,000 a month. But the story behind choosing the profession is quite interesting.
Since his childhood, Jahir loved scribbling shapes on mud and sand with his fingers. As days went by, his handwriting became neat and flowing.
He had been living life like an ordinary villager. One day, a village doctor asked Jahir to paint graffiti on his wall.
"I started painting and it took many people by surprise. They praised me a lot and asked me to pursue the trade. My painting career took off," said the father of a son.
One day, his friends were discussing the contributions of Rabindranath Tagore and Sukanta Bhattacharya to the society.
"One of my friends lamented that we would be forgotten soon after our death. So everyone should do something for people. This struck me," Jahir said.
He started thinking of doing something for people. Then came the idea of tree plantation.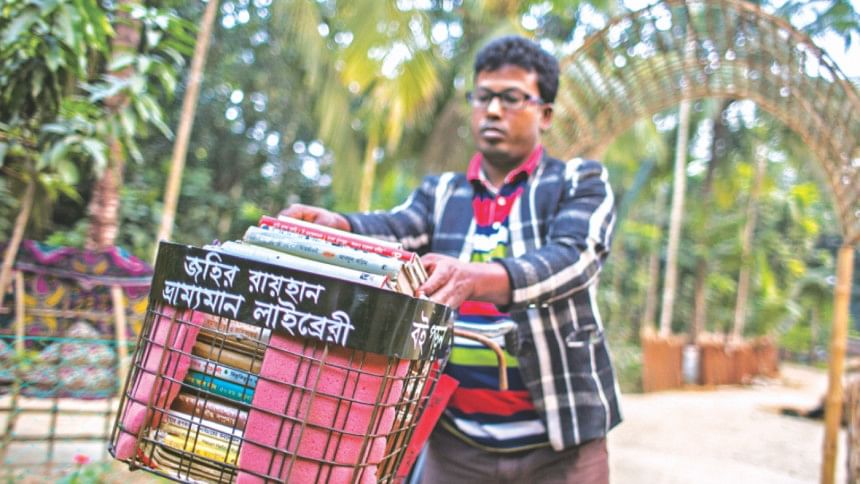 It was in 1990 when he planted some trees along a village road. He was disheartened initially as people uprooted the trees. He stopped planting for a few years.
Jahir resumed tree plantation in a smaller scale. "Then I noticed a change in people. They were not harming the saplings and I continued planting trees," he said.
His love for tree plantation became a compulsion in 2002. So far, he has planted over 6,000 trees, including fruit and medicinal plants, at schools, colleges and different government and non-government institutions in Jhenidah. Some of them are Jhenidah KC College, MA Khalek College, Bangladesh Television relay centre, Primary Teachers Training Centre and fire service office.
In 2010, he started a nursery on a small plot of land he owned. Then he started distributing saplings to his neighbours for free. The nursery fetches him around Tk 40,000 a year from commercial sales.
"I'm not after name and fame. I love planting trees and I will do this as long as I live," he said.
Jahir said he got his motivation from the famous song --"Ami bhalobashi tomake, tumi bhalobasho amake, amader dujoner bhalobasha aaj esho biliye di ei deshtake" (I love you, you love me; let us extend our love to the country) by acclaimed Indian singer Bhupen Hazarika.
"My country gives me much more than what I give to it," he said.
Tayeb Hossain, assistant teacher of Dhublia High School, said Jahir planted trees at his institution also.
"This man tries to do something for the people's welfare," he said.
Jahir has another unique initiative.
He set up a "mobile library" on his bicycle. With a basket under the handle, he goes to students' houses in his village every other day with books of different categories like history and novels.
"I loan a book for 15 days. After that period, I visit them again with new books."
He has now around 50 readers who borrow books regularly.
"It's my small endeavour to develop a reading habit among the young generation," he said.
Jahir cares for the students who could not continue their education due to family or financial problems. He buys stationary for them and pays their fees. So far, he has supported seven students up to the higher secondary level.
"I am not an educated person. But I think everybody should come forward to help such students to continue their education," he said.
In October last year, he took the responsibility of a girl named Halima.
A class-IX student of Nagarbathan Secondary School, she lost her mother at the age of two and had spent her life at one of her relative's houses as her father could not take care of her.
"I never imagined that I'll have such a family to live with. I'm very happy as they are trying their best to ensure my education," said Halima.
Jahir also cares for birds. In his own way, he builds bird houses, setting up clay pots on tree branches.
 "The first day I set up a clay pot in a tree, a martin made its nest in the pot," he mentioned.
Haider Ali, chairman of Kumrabaria Union Parishad, said Jahir is a dedicated soul and a person worthy of praise.
"The plantation of tree saplings at many institutions bears the testimony to his selfless work. People love him for his simplicity, sincerity and honesty," he added.
 (Our Jhenidah correspondent Azibor Rahman contributed to this report.)