Cyclone Roanu getting closer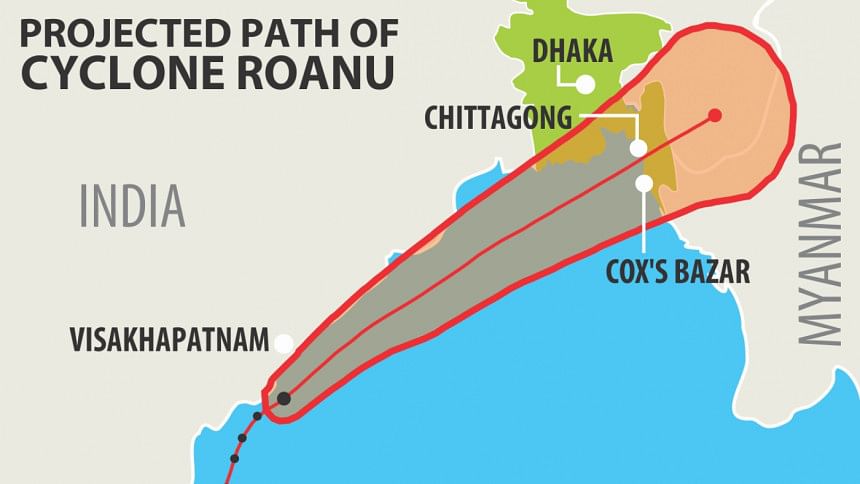 Cyclone storm Roanu may make landfall in the south-eastern coast of Bangladesh this afternoon or evening, said a special cyclone bulletin of the Met office yesterday.  
"It will cross the coastal areas tomorrow [today] afternoon with moderate strength. Its impact may not be as strong as Sidr [a cyclone] but there will be rain," said the duty forecasting officer of Dhaka Met office yesterday evening.
Around 2:00am today, Roanu was about 295 kilometres southwest of Mongla Port yesterday evening and was heading towards Chittagong-Noakhali coast.
Shamsuddin Ahmed, director of Bangladesh Meteorological Department, said there had been incessant rainfall due to the cyclone. Offshore islands and chars were likely to be inundated by storm surge of four to five feet high, he added.
The government is fully prepared for a possible cyclone impact, Disaster Management Ministry Secretary Shah Kamal claimed during a press conference at his department in Mohakhali yesterday.
Kamal said people of Chittagong, Noakhali, Laxmipur, Cox's Bazar and Feni were being taken to their nearest cyclone shelters. "For their convenience, we have issued orders to ensure power supply, sanitation, medical assistance and enough dry food at the shelters," he told the media.
Hasanul Amin, deputy director (operation) of Cyclone Preparedness Programme, said there were around 2,500 shelters in the cyclone-prone areas and 55,000 volunteers at work.
"Each shelter can hold around 1,500 people," he said, adding locals were yet to move in and were assessing the situation.
Hasanul said, "People of remote islands have taken shelter."
Law enforcers have evacuated people from different islands, including Kutubdia.
The authorities were using megaphones in coastal areas to urge people to move to the shelters.
Apprehending mudslides, the Chittagong district administration also asked people living in the foothills to move out.
The Met office bulletin updated around 2:00am showed Roanu was about 490km southwest of Chittagong port, 480km southwest of Cox's Bazar port and 325km southwest of Payra port.
The Met Office has issued cautionary signal-7 for Chittagong, Mongla and Payra ports, which means the port will experience severe weather. 
Maritime port the Cox's Bazar was asked to hoist cautionary signal-6.
Bangladesh Inland Water Transport Authority imposed restrictions on the movement of all ships and ferries across the country.
Following a meeting of the Chittagong Port Authority, it asked all mother vessels to go to safer places and lighter vessels to move upstream. It stopped activities in the outer anchorage.
At around 7:30pm yesterday, the port authority ordered 19 vassals anchored in the port to depart jetty before the storm struck.    
Our Barisal correspondent reports that operations of small vessels were halted since yesterday afternoon.
Abdur Rashid, deputy director of Cyclone Preparedness Programme of Bangladesh Red Crescent Society's Barisal unit, said 49,365 volunteers in 13 districts of the division have been asked to stay alert.
Our Patuakhali correspondent reports that the BIWTA asked all vessels to remain anchored until further notice.
Due to continuous rain, water levels in all rivers and canals of Jhalakathi rose, flooding low-lying areas, reports our Jhalakathi correspondent.
Holidays have been cancelled for all civil servants in the coastal districts; Khulna, Barisal, Barguna, Bagerhat, Bhola, Patuakhali, Satkhira, Chittagong, Cox's Bazar, Noakhali, Feni, Pirojpur and Jhalakathi.
Officials of Roads and Highways Department in the coastal districts have been asked to stay put and be ready to clear the roads once the storm passed.
In a Special Weather Bulletin, the Met office said under the influence of the cyclonic storm Roanu, the low-lying areas of the coastal districts of Cox's Bazar, Chittagong, Noakhali, Laxmipur, Feni, Chandpur, Barguna, Bhola, Patuakhali, Barisal, Pirojpur, Jhalakathi, Bagerhat, Khulna, Satkhira and their offshore islands and chars are likely to be inundated by storm surge as high as 4-5 feet above normal tide.
Most of these districts and their surrounding areas are likely to experience wind speed of up to 62-88kph with heavy to very rainfalls during the passage of the storm.