Crackdown a money spinner for some cops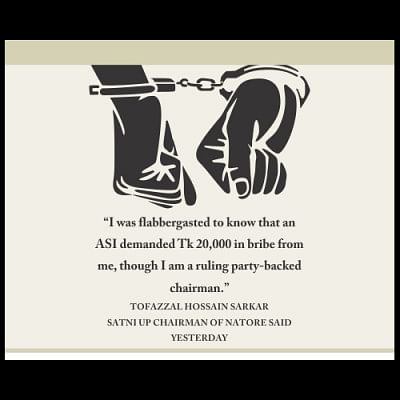 Milon Hossain and his two friends were having fun standing by a road at Mominpur Adibashipara around 7:30pm on Saturday. Minutes before, he closed his small hardwire shop at Mominpur Bazar in Natore's Naldanga upazila.
A police team passing by the area on five motorcycles stopped there and grabbed Milon, 28. There was never a case against him, nor even a general diary, his family said.
On information of his detention, his family sought help from Tofazzal Hossain Sarkar, chairman of Satni union of Natore Sadar, for his release. Elected only recently, Tofazzal was eager to help. He called the officer-in-charge up.
"On hearing about the arrest of such an innocent man, I instantly called the OC [Subir Datta] and requested him to release Milon. The OC advised me to contact Assistant Sub-inspector Malek," Tofazzal, also vice-president of Natore Sadar upazila Awami League, told The Daily Star.
The next morning, Tofazzal along with Milon's family members met Malek, who demanded Tk 20,000 for Milon's release. "I was flabbergasted to see that an ASI demanded Tk 20,000 in bribe, though I am a ruling party [Awami League] chairman."
But Malek explained himself. He told Tofazzal, "Since it's you, I demanded Tk 20,000. It would be much higher, if it were anybody else."
When Tofazzal refused to give any money, Malek threatened to implicate Milon in motorcycle theft and mugging cases. Later, Milon's uncle Anwar Mollah gave the ASI Tk 5,500.
Even so, police produced Milon before a Natore court after two days in a case for possessing two litres of liquor, Tofazzal said.
Contacted, Malek denied that he took any money.
Not surprisingly, the OC and the ASI gave contradictory statements about the arrest. Malek said they detained Milon on Saturday, but Subir Datta, the OC, said it was Sunday.
Apparently innocent, Milon is just one of the many victims of the ongoing crackdown on militants and criminals.
The countrywide clampdown began on Friday, triggering fears that innocent people might become victims of mass arrests.
It came in the wake of the brutal murder of a top police official's wife in Chittagong on June 5. Babul Akter, now an SP, is credited with arresting several top militants and busting some militant dens.   
On the fourth day of the drive, as many as 3,245 people, including 34 suspected militants, were arrested. With them, the total number of arrests now stands at 8,532.
Police claim they are not arresting any innocent people, but information from the field say otherwise.
And if the drive continues, the number of arrestees will surpass any past figure, police sources said.
According to media reports, in June 2008, around 12,000 people had been detained and carted off to prison in the first eight days of a special drive against known and listed criminals during the caretaker government tenure.
And ahead of the then opposition Awami League's April 30, 2004, deadline to topple the then BNP government, more than 15,000 were picked up in an eight-day dragnet.
Asked, National Human Rights Commission Chairman Prof Mizanur Rahman said many innocent men might be victims when law enforcers detained 4,000 people to arrest only 37 suspected militants.
"When this happens, our past experience says, there are chances for business [of making money] centring on these arrests. We want to ring the alarm bell so that no such incidents can take place," he said by phone.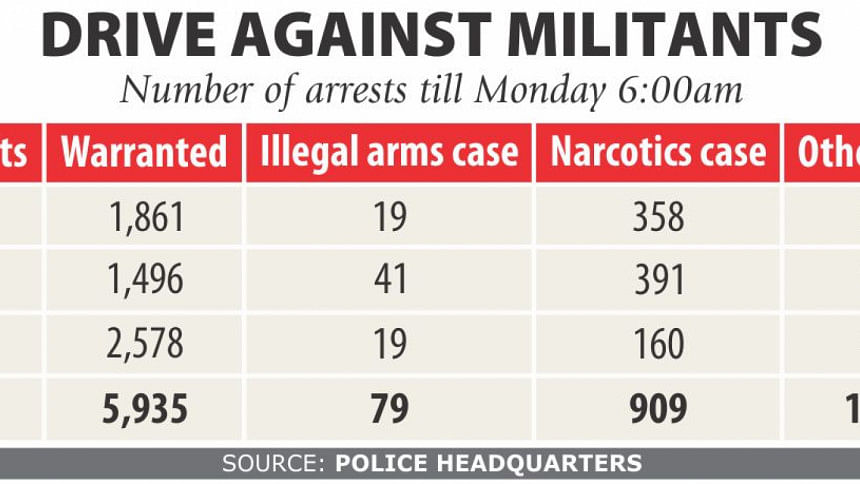 "Detaining an innocent person is a violation of human rights in itself. Then, what can be sadder than this if they have to buy their release after making members of law enforcement agencies satisfied with money. This is not acceptable," he said.
Law enforcement agencies will detain suspects on the basis of intelligence reports. Some innocents might get caught in the process, but the state has to ensure their release at the earliest without any harassment, he added.
Like Milon, police in Natore picked up a man named Babu with some others on Sunday night from Millat Hotel. He came to the town from his village home at Faridpur in Pabna to seek financial help from people for treatment of his father, a cancer patient. 
His uncle Raju told this newspaper that Officer-in-charge of Natore Sadar Police Station Mizanur Rahman demanded Tk 8,000 for his release. But the OC got furious when he offered Tk 3,000.
The OC termed the allegation baseless.
Police in Chittagong raided the house of Mohammed Sekandar, 30, a cloth trader, at Esaker Pole in Bakalia around 1:30am on Monday. They took him with them, saying the OC needs to talk to him. Later, they arrested him without showing any reason.
"My son-in-law is not involved in active politics. There has never been a case against him before. He is a simple man and makes his living by selling cloths at the shop," said Jahangir Alam.
Sekandar had gone to the United Arab Emirates and worked there for two years. On return, he started his business.
SI Mohamed Yasin of Chandgaon Police Station admitted that there was no case against Sekandar in the past.
"But he is a Jamaat supporter," he said. 
The small trader, who has two daughters and wife to provide for, has been shown arrested in three cases over last year's vandalism and arson.
Shimul Ahmed and Sohanur Rahman of Bagha in Rajshahi are fortunate to have got released from Bagha Police Station after the intervention of local AL leaders.
The two friends were sitting beside the Dighi of Bagha Shrine mosque, waiting for their Tarabi prayers on Friday.
A police team caught the two and took them to the station.
On information, locals and AL leaders rushed to the police station and challenged the cops the following noon. They had an angry argument with police officials following which the two friends were freed.
Ali Mahmud, OC of Bagha Police Station, said police caught them on suspicion. "As we later found that they were not involved in any criminal activities, we freed them." 
CRACKDOWN ON 4TH DAY
Of the 34 suspected militants nabbed yesterday, 25 were members of the banned militant outfit Jama'atul Mujahideen Bangladesh and three each of Hizb-ut Tahrir, Ansar Al Islam and Allah'r Dal, according to the police headquarters.
Of the rest, 2,578 had arrest orders for them in various cases. Another 160 are accused in narcotics cases, 19 in illegal arms cases and 454 in other cases, according to a statement of the police HQ.
Police on the first day of the drive nabbed 3,155 and on the second day 2,132 people.
Of those arrested between Sunday morning and Monday morning, some are activists of the BNP and Jamaat-e-Islami, report our district correspondents, citing police sources.
In Rajshahi, police arrested 108 people, including 49 from the metropolitan area. One of the arrestees is a suspected JMB operative, said police sources.
Police in Bogra nabbed 100 people, including three JMB operatives and six Jamaat-Shibir men from 12 upazilas.
In Pabna, police held 71 people, including a JMB operative, while in Satkhira 52 people, including eight Jamaat-Shibir men.
Arrests were also made in Jamalpur, Chapainawabganj, Kurigram, Sylhet, Manikganj, Nilphamari and Pirojpur.