N'Ganj 7-Murder Hearing
Court riled at Tareque Sayeed's absence
Holds police officer in court custody for failure to produce the key accused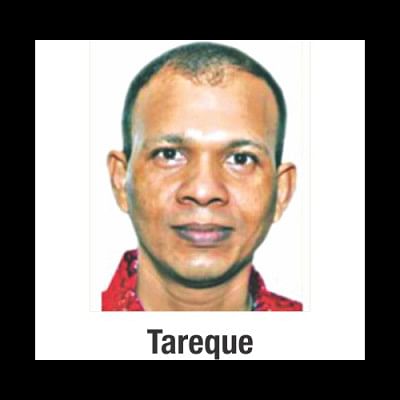 A Narayanganj court yesterday expressed discontent when it had to adjourn proceedings of the 2014 sensational seven-murder cases, as police failed to produce Tareque Sayeed Mohammad, a key accused.
District and Sessions Judge Enayet Hossain fixed February 29 for next hearing and ordered Ashrafuzzaman, the police officer responsible for bringing Tareque from the prison, to produce the accused at any cost on the day.
Lt Col Tareque was the commanding officer of Rab-11 in Narayanganj at the time of the crime. He and two other Rab officials were sacked after their alleged involvement in the crime surfaced.
Tareque is currently at Dhaka Medical College Hospital where he was admitted with "back pain" on January 3. He is being "treated" there at the neurosurgery department.
Yesterday, the judge asked the authorities to explain Tareque's absence, adjourned the court proceedings for half an hour and ordered the public prosecutor to find out why he was not in the court.
He also directed the authorities to take Inspector Ashrafuzzaman in court custody. The police officer was later released after he offered his explanation.
Public Prosecutor Wajed Ali Khokon said that since Tareque was undergoing treatment, the prison authorities did not produce him.  
"February 29 has been fixed for next hearing. The court ordered the authorities to bring him on that day even if it requires an ambulance," he added.
During yesterday's proceedings, 22 other accused, including prime accused Nur Hossain and sacked Rab officers Maj Arif Hossain and Lt Commander SM Masud Rana, were present.
On April 27, 2014, Narayanganj panel mayor Nazrul Islam and his three aides -- Tajul, Liton and Swapan -- and driver Jahangir were kidnapped allegedly by a Rab-11 team. Senior lawyer Chandan Sarker and his driver Ibrahim were also picked up around the same time, as they witnessed the abduction of Nazrul and his men. Later, all the seven bodies were found floating in the Shitalakkhya.
Days after the murder, Nazrul's father-in-law Shahidul Islam alleged that some officials of Rab-11 killed Nazrul in exchange for Tk 6 crore from Nur Hossain, Nazrul's political rival.
Two cases were filed in this connection -- one by Nazrul's family and the other by Chandan's family.
Detectives pressed charges against 35 people in each case. Of them, 23 accused, including the three sacked Rab officials, are now in jail. Twelve others, eight of them Rab men, are on the run.
"Hearing of both the cases was supposed to be held [yesterday]," said the public prosecutor.
However, it did not happen due to the absence of Tareque and Nazrul's widow Selina Islam Beauty, plaintiff of one case. Selina was not present as she was ill, lawyers said.  
Shakhawat Hossain, lawyer for Selina, told The Daily Star, "As far as we know, he [Tareque] was shifted to the hospital without court permission. He is completely well, since prison authorities could not produce any proper document of his illness."
He added the prison authorities "failed" to explain Tareque's condition.
"When the court questioned the police officer responsible for taking him to court from prison, he could not respond properly. The court was irked at him," said Shakhawat.
Khawja Abdul Gafur, assistant director of DMCH, said Tareque had some problems in his spinal cord and that they were examining it.
On condition of anonymity, a hospital source said, "Even though he [Tareque] has a spinal cord injury, he walks and talks normally. But he complains of back pain and high pressure."
Shakhawat said absence of accused persons in court causes delay in the proceedings. As a result, witnesses' confidence in and hope for a fair trial erode.
Meanwhile, Nazrul Islam's father-in-law alleged that Nur Hossain and his men were often threatening them and that they were feeling insecure.
"The special protection given to the plaintiffs and witnesses of the cases was withdrawn in October last year," he added.