Cops swoop on BNP activists, foil protest
Charge baton, use water cannons to break up black-flag show; over a dozen detained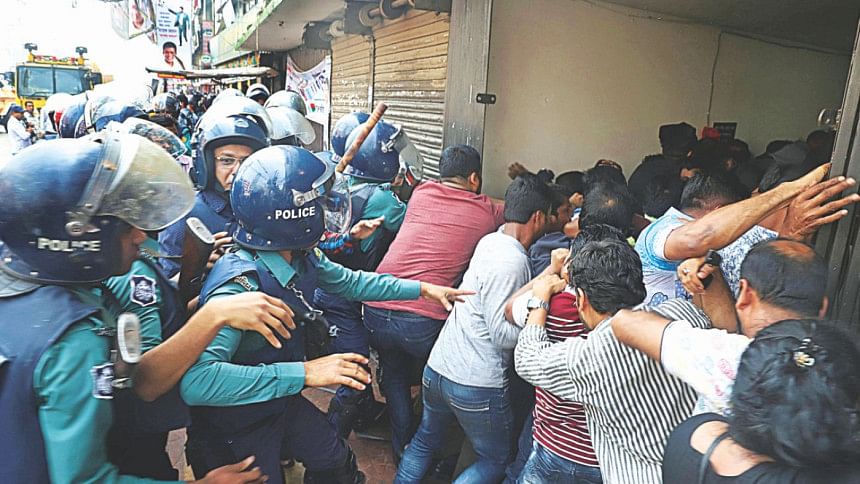 Police yesterday charged truncheons and used water cannons on BNP men to foil their black flag programme in the capital's Nayapaltan.
More than a dozen party leaders and activists, including Joint Secretary General Syed Moazzem Hossain Alal, were detained in the process.
The BNP had announced the protest programme after the authorities denied it permission to hold a rally in Dhaka on Thursday.
BNP's senior leaders, including Moudud Ahmed, Mirza Fakhrul Islam Alamgir, Nazrul Islam Khan and a few hundred party men gathered in front of the party's central office in Nayapaltan yesterday around 10:30am when police obstructed their programme. A large number of law enforcers, including plainclothes detectives, were seen in the area. Water cannons and armoured vehicles were also parked there.
The party had called various agitation programmes, including forming human chains, mass signature collection campaign and other demonstrations, since BNP Chairperson Khaleda Zia was sentenced to five years in prison in a corruption case on February 8.
Until yesterday, no major untoward incident had happened.
After yesterday's incident, BNP leaders alleged that the government was launching attacks on their peaceful programmes to "provoke the party into creating a violent situation" in the country.
They said the party would bring out processions across the country on Monday protesting yesterday's police action.
Police officials said the BNP did not have permission for holding the programme and that they could not allow the protestors to "disrupt public life".
Home Minister Asaduzzaman Khan said the government never obstructed any peaceful programme. Law enforcers take necessary steps if anyone causes people to suffer. "The area needed to be cleared to ease people's suffering," he told journalists in Comilla.
YESTERDAY'S INCIDENT
On February 22, the BNP announced the black flag programme protesting the denial of permission for its rally on Thursday demanding the release of Khaleda.
Party leaders and activists started gathering in front of their central office since morning. The programme was scheduled for 11:00am.
Around 10:30am, several hundred party activists with black flags sat down on the street in front of the office and started chanting slogans. Police began charging truncheons as soon as the BNP activists sat there. They also used coloured water from the cannons.
BNP chairperson's adviser Ataur Rahman Dhali, organising secretary Fazlul Haq Milon and central leader Nilufer Chowdhury Moni were injured in police action and were taken to hospital.
At one stage, BNP Secretary General Mirza Fakhrul Islam Alamgir, and standing committee members Moudud Ahmed and Nazrul Islam Khan went inside the office.
DMP Motijheel Zone ADC Shibli Noman said, "Occupying a city street holding black flags is not a peaceful programme. They did not take any permission for arranging such a programme. We cannot allow programmes that disrupt public life."
Asked whether the same rule would be applicable for the ruling party or other political party, Deputy Commissioner of Motijheel Division Anwar Hossain, "I cannot say anything on this, only the officials concerned can comment on this."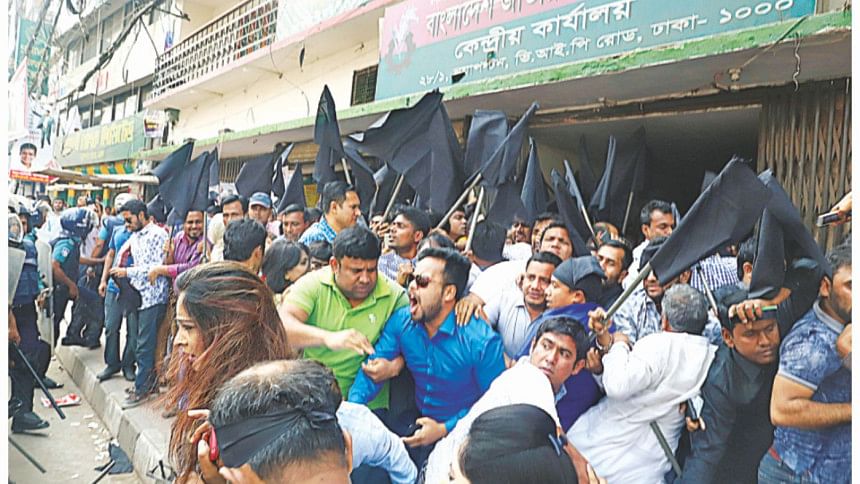 BNP'S SAY
Fakhrul at an emergency press briefing blamed the government for "provoking the party to create a violent situation".
"The ministers of this illegal government are continuously making provocative statements to create a volatile situation in the country but we are very carefully avoiding it," he said.
The BNP leader said they would carry on with peaceful programmes in the coming days despite the "provocations".
He said, "Why should the party have to take permission for every programme. Why did police launch an attack on BNP's peaceful movement? Why should we not be allowed to show black flags standing on the footpath?
"It is our fundamental right," Fakhrul said.
Meanwhile, BNP Senior Joint Secretary General Ruhul Kabir Rizvi announced that the party would bring out processions across the country tomorrow protesting yesterday's attack.
He claimed that at least 320 leaders and activists, including several women activists, were injured in yesterday's police action and over 150 were arrested.
Meanwhile, a hearing on the closing arguments in the Zia Charitable Trust graft case is scheduled today at the Special Tribunal-2.
Khaleda is among the four accused in the case.
Jahangir Kabir, senior jail superintendent of Dhaka Central Jail, said Khaleda would not be produced before the court today.
The High Court is schedule today to the hear the bail petition of Khaleda in the Zia Orphanage Trust graft case where she was sentenced to five years imprisonment.