Paltan arsonist a JCD leader: Cops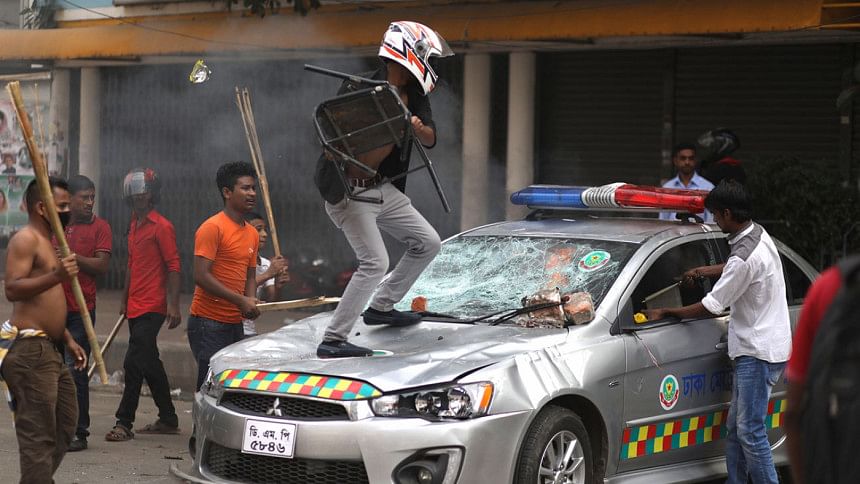 Police say they have been able to identify the person who set fire to a police vehicle yesterday, during the clash with BNP activists in front of its Nayapaltan office in Dhaka.
He is Shahjalal Khandaker, a member of the convening committee of Jatiyatabadi Chhatra Dal (JCD) in Paltan unit, Mishu Biswas, assistant commissioner of Motijheel zone, Dhaka Metropolitan Police, told The Daily Star this morning.
Read more: Sudden clash hurts polls atmosphere
Another youth, Shohag Bhuiyan, also another activist of the Chhatra Dal, has been identified as the vandal seen hopping on the vehicle, he added.
Later in the day, DMP Commissioner Asaduzzaman Mia said at a press briefing that police identified and arrested around 60 people involved with the attack and three cases were filed.
All the attackers were from BNP or allied parties, he added.
WHAT HAPPENED YESTERDAY?
During the third day of BNP's nomination form sale at its Nayapaltan central office in Dhaka, clashes broke out between police and BNP supporters and activists.
While several people including policemen were hurt, two police vehicles were set on fire at the spot and many other vehicles vandalised.
But immediately afterwards, BNP blamed police for an unprovoked attack and urged its supporters to calm down and maintain a peaceful atmosphere.
However, police sued several BNP men in three separate lawsuits after the clashes.