Change Maker: The lightbringer
In the middle of a crowded slum, juxtaposed against towering buildings all around it, stands a broken-down tin-roofed house. At first glance, nothing separates it from the numerous other huts that cling onto it. However, whilst all the other doors lead to humble abodes, this one in particular leads to knowledge, an empowering tool for so many thirsting for it here.
Safia Begum, 65, calls this little nook her home. But for many others, this place is the famous "Shapla Pathagar", the lone form of light in an area devoid of electricity. Shapla Pathagar is a library that Safia has been running in this Narayanganj slum for the last 27 years. At night, it turns into her home, where she has been staying for the same period of time.
Safia Begum, affectionately called "Minar Ma", established the library in 1990 with the aim of making the people around her more knowledgeable. Located on the south of Fatullah DIT Ground, under Narayanganj Sadar upazila, Shapla Pathagar has always kept its doors open for many who often see it as their only option.
However, where such a noble gesture should be widely celebrated, Minar Ma finds herself fighting too many obstacles. Yet she persists.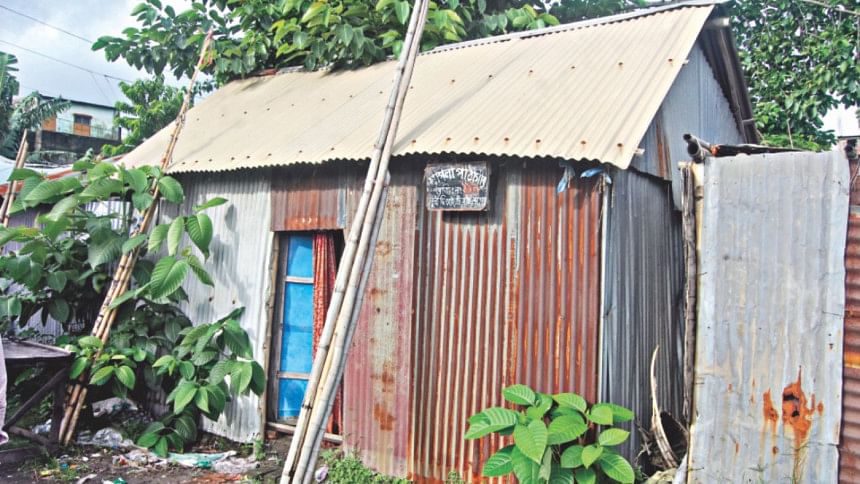 Recently, Safia spoke to The Daily Star at length about her journey so far. The humble setting for this library had an even more humble beginning and it is a story that needs to be told.
Safia Begum was born to Ali Hossain and Shahara Begum at Paikpara area in Narayanganj town in 1952. In the grips of poverty, Safia's life was and has been a constant struggle. When in class eight, she was married off to Md Ali Hossain. In 1970, she along with her husband settled in Fatullah, near Ali's workplace. Just when things began to look up, tragedy struck. In 1988, Safia's husband passed away, leaving her with six children. To make ends meet, Safia joined a towel factory in the area. Her children dropped out of school and began working.
Perhaps it was at this juncture that the importance of knowledge dawned upon her. Two years later, Safia underwent training at the directorate of children and women affairs and started running a mass education centre and launched Shapla Pathagar with the motto, "Reading books enlightens, not reading them leads to darkness".
"After my training, I started my mass education programme. I began to teach 100-120 students in batches; two in the morning and two during the evening," she said.  "But not all of them could afford all the needed materials so I began to gradually collect the required books. I also began to amass books on different topics such as the Liberation War and many novels and story books," she added. Thus, began her library, proving to be an invaluable resource for many who may never have had the chance to read these books otherwise.
Currently, the mass education programme has stopped but the library continues. To her credit, Safia never took money from anybody for the books. She saves from the money her children provide her and buys the books. Sometimes library-goers give her money to procure more books. On November 10, 2012, Safia finally received a certificate of government registration under the Directorate of Public Library. From 2013 till 2015, she got books from the government. Last year though, she did not receive any.
A recent storm ravaged Safia's hut, leaving holes in the roof with Safia using bamboo in many places to keep the house standing. Her children are often concerned about her well-being, as she lives alone, but they realise the importance of her work. "My mother used to stay with my younger brother. But recently, he passed away. After that I asked her to come and live with me but she refused," Safia's eldest son Selim Hossain said. "My mother says the house is full of my brother's memories so she cannot leave it behind. She has also been running the library for years and she says she gets a lot of joy out of seeing young boys and girls going there and reading," he added.
A regular visitor, Mohammad Sajeeb, has been coming to the library for five years. "There may not be many books but there are a lot of good books from many great authors. However, there are more old books than new ones. If there are newer books and the facilities improve, the library will draw more visitors," he said.
Nowadays, the library has around 30 regular readers with more than 500 books to serve them. Readers now borrow the books and take them home as there is no place inside the library to sit and read. Some college students also come to the library.
"Shapla Pathagar is made out of tin. While the numbers of books isn't bad, the area it is situated in, has many people who do not read or cannot read. When we go for inspection, we sometimes find five to seven readers and sometimes none at all," the Librarian of Narayanganj District Public Library, Mosharraf Hossain, said.
However, he added that the fact that Safia has been running and maintaining a library without proper educational qualification for so many years should itself be reason for gratitude. "She is a role model," he said.
Safia Begum is indeed a role model. But more importantly, she is the bringer of light, to a dark, often overlooked corner of our world. Her endeavour should never be forgotten or left to disappear.