Thumbs we all are sucking on!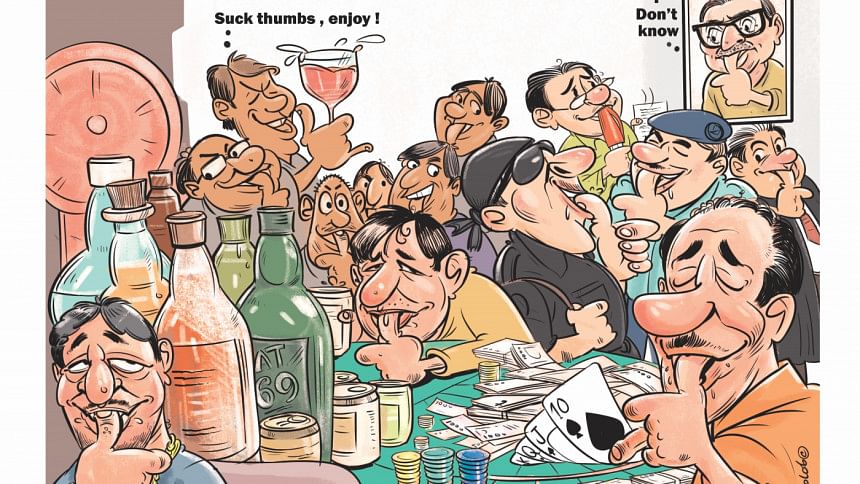 "Casino" in Bangladesh!    
Not one or two, 60 in total are operating right in Dhaka city. It's no makeshift, behind-the-shanty mundane affair. Inside, those "casinos" are as real and as glittering as in Las Vegas. All were there: gambling machine, liquor, and swirling of no less than 120 crore taka every night.
The country woke up to this underworld operations through one single crackdown by the law enforces Wednesday. Some leaders of Jubo League, the youth front of the ruling Awami League, were found to be running those joints. Rab and police were out on the streets to arrest those once-untouchables.      
It's really a very shocking disclosure, too much to digest. Yet we can't blame Omar Faruk Chowdhury, chairman of the Jubo League, for flying off the handle at the "suddenly discovered" truth. Apparently, he was too shocked not to wag a tongue.
Calm and composed otherwise, the Jubo League boss at a gathering of his followers in the capital's Mirpur Wednesday lashed out at the law enforcers. 
"You're saying 60 casinos are there! Law enforcement agencies, have you been sucking your thumbs for so long?"he fumed.
"At the 60 places where the casinos are, arrest thanas [police station officials] in those areas. Arrest Rab [officials] who were with those 60 thanas [police station officials]."               
Indeed, he hurled a very valid question. Was it really a sudden discovery? Could it be possible for law enforcers to know nothing about the existence of illegal joints? Split in 20 units, a workforce of 36,000 police personnel is not that inadequate for Dhaka city. Add the countless people police use as sources to its strength, police are surely in a position to know everything they want.
Then there are Rab and numerous intelligence agencies who are constantly keeping an eye on anything that may remotely get the government in trouble.
So, it is impossible for them to be in the dark. They were sucking their thumbs, and Omar Faruk had every reason to hit the roof.     
But why did he castigate law enforcers alone? Thumb-sucking is certainly being followed in other departments and power circle of the government. 
The gambling machine that we saw in the media looked impossible to be made in Bangladesh. The trained women who were hired from four countries, including Nepal and Thailand, to run casinos must have also flown in with permission of relevant government authorities. Narcotics department too should be aware of supply of booze in those joints.
With them too, silence prevailed, except for the sound of thumb-sucking: alack, alack! Thumb-sucking stopped only when Prime Minister Sheikh Hasina stepped in and declared that enough is enough.
Then, there comes an obvious question: is it possible for some Jubo League leaders to run such business without giving "fair shares" to their patrons, political seniors and officials who matter?
From our fresh memories of Jahangirnagar University, we know now what could happen if "fair shares" are not given. The Tk 1.6-crore deal of the BCL (Bangladesh Chhatra League) from a Tk 1,445-crore development project of the residential university fell apart when "fair shares" were not given to central BCL leaders.  
Here too, the thumb-sucking continued till the prime minster weighed in to herald a change in the top leadership of the BCL.
Care to look around? Bangladesh is steadily but surely becoming a thumb-sucking nation.
Most of us across the professions who should rally against, find or fix the ills of the state are now sucking our thumbs. We are not eager, not anymore, to raise red flags against any serious wrong-doings. Seeing a grave crime, corruption or travesty of governance, our eyes just get wide shut, thumbs come in and what we only do is alack, alack!
The menace of illegal gambling joints is not unknown to legal circle.
"Casino" operators filed about 56 writ petitions in the last four years and managed to get the clandestine business going by manipulating law. And silence prevailed there too.
Media that suddenly went gaga over "casino disclosure" also stayed silent till the other day. Readers and viewers have already started to hurl at the media the same question that Omar Faruk asked the law enforcers. 
Yes, we all are sucking our thumbs. Sadly, we cannot help ourselves, not yet.