Bring them back safely
Families of missing persons urge govt, demand independent probe into enforced disappearances
"Please bring back my papa or send me to him."
In a voice choked with emotion, Adiba Islam Hridi, 7, once again sought Prime Minister Sheikh Hasina's intervention in tracing her father, who remains missing since 2013.
The little girl had made a similar appeal to the PM before the Eid in August.
Marking the International Human Rights Day yesterday, Hridi and her mother Farzana Akter along with relatives of at least 24 victims of disappearance gathered at the Jatiya Press Club, to demand the safe return of their loved ones.
"I am growing up. I want to go to school with my papa but he does not come," she said. "Sheikh Hasina, aunty, please bring my papa back."
Her father Parvez Hossain, a Jatiyatabadi Chhatra Dal leader from Bangshal in the capital, went missing on December 2, 2013.
Several men identifying themselves as detectives picked him up at Shahbagh, according to family friends who were present at the scene. 
She was only two at the time. Her mother Farzana was then expecting her brother, Araf Hossain, who is now three-and-a-half.
With photos of their loved ones in their hands and tears in their eyes, fathers, mothers, children and wives of 25 victims
who remain traceless since 2013 demanded PM's intervention for their safe return.
They called upon the government to set up an independent investigation commission to find out the fate of their loved ones and to punish those involved in their enforced disappearance.
Ferdousi Rahman, sister of BNP leader Sajedul Islam Sumon, said, "In the last four years, I made this appeal at least 20 times. He [Sumon] was picked up in front of many people. Whenever we go to law enforcers for any update, they just tell us that they are looking into it."
She then broke down, and added, "Please at least show us his body, or his grave, so we can at least pray for him there."
Sumon, general secretary of BNP's ward-38 unit in the capital, and seven others were allegedly picked up by the Rapid Action Battalion (Rab) between 8:00pm of December 4 and 2:00pm of December 5 in 2013 from the city's Bashundhara and Shahinbagh areas.
The Rab dismissed the claim. 
Having lost the lone breadwinner of the family four years ago, Baby Akter is struggling to survive with their eight-year-old son.
A group of plainclothes men claiming to be from the administration picked up her husband Tarikul Islam alias Tara Mia, a JCD leader, from their Mirpur house on August 13, 2012.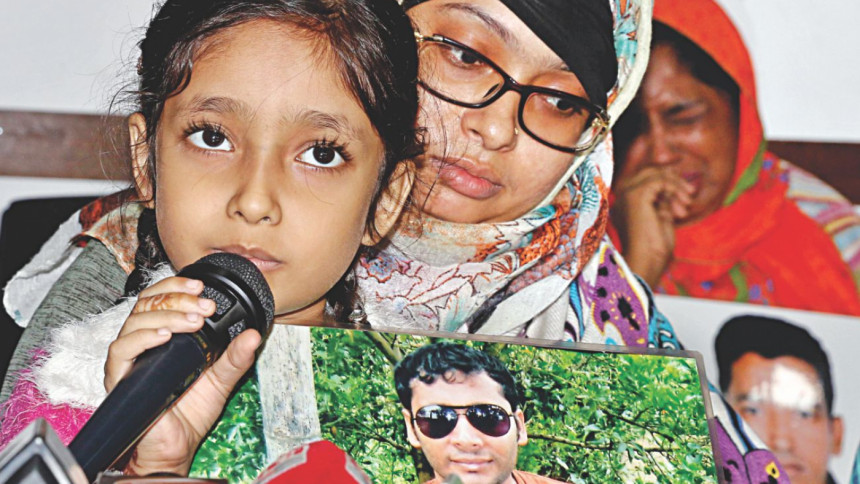 The abduction forced Baby's elderly father, Bazlur Rahman, to open a shop to support the family.
Like these victims, at least 519 people became victims of enforced disappearance or abduction between 2010 and July 2017 in the country. At least 329 of them remain traceless. Of the rest, some returned home, some were later shown arrested while the bodies of some others were later found, according to Ain o Salish Kendra (ASK).
Since August 22 this year, as many as 12 people, including former ambassador to Vietnam Maroof Zaman, North South University teacher Mubashar Hasan and journalist Utpal Das, simply vanished, in telltale signs of enforced disappearance.
Of the 12, three returned home while three others were shown arrested by the police.
The fate of the six others, including the ex-diplomat, the NSU teacher and the journalist, is not clear yet.
Families and rights bodies pointed the finger at law enforcers for such disappearance, although the latter deny the claim.  
Utpal's colleagues yesterday formed a human chain in front of Dhaka Reporters Unity to express their resentment.
Speaking at the Jatiya Press Club programme, Dr Zafrullah Chowdhury, a civil activist and founder of the Gonoshasthaya Kendra, said incidents of enforced disappearance, murder and extra-judicial killing continued because the authorities had no interest to stop them.
Such incidents cannot take place without some kind of involvement of the authorities, he said, adding that other countries may also have a hand.
Citing family members, Nagorik Oikya Convener Mahmudur Rahman Manna said police did not even receive complaints when victims' families went to police stations.
Even if police register the cases under public pressure, they hardly investigate those, he said.
Dhaka University Prof CR Abrar, also president of rights body Odhikar, "Children want to know when their fathers will return, wives want to know about their husbands and parents want to know if they can see their sons for a last time before their death."
Rights Activists Nur Khan Liton said incidents of enforced disappearance, killing in the name of crossfire and the culture of impunity created a horrifying situation in society where people are living in fear and with uncertainty. 
On November 23, the PM in parliament said cases of forced disappearance were being recorded in developed countries too, not just in Bangladesh.
This statement, Nur Khan said, is an indirect justification of those incidents.