Breaking the barriers
Recognition for women who go the extra mile for change in society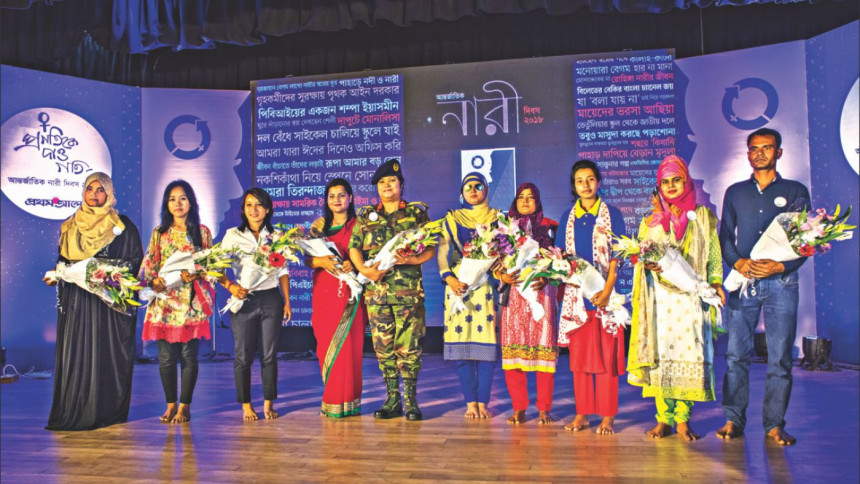 A room full of women -- young and old and wearing bright clothes and bindis with clinking bangles -- were in a celebratory mood on the eve of International Women's Day yesterday. Every single one of them had a success story following struggle and braking barriers.
Their stories could inspire other women and help them find their own identities. Bangla daily Prothom Alo brought together these personalities of inspiration to Chhayanaut in Dhanmondi yesterday for a reception and to let everyone know their unique tales.
Teenager Tisha Dewan came all the way from Rangamati to the capital for the first time to showcase her singing talent.
Before she was called up to the podium, the curious audience learnt how a single video of her singing and playing a guitar went viral on social media and made her famous.
Associate Editor of Prothom Alo Anisul Hoque greeted Tisha and her proud mother on the podium with flowers.
And then came Col Nazma Begum, the first ever female contingent commander of Bangladesh Army to a United Nations peacekeeping mission; Joya Chakma, who works as a coach at Bangladesh Institute of Sport for male and female footballers; and Fatema, who was once a house help but now is a brand ambassador of Microsoft, Bangladesh. 
Every word they spoke reflected their determination to bring change, in their lives and the lives around them.
Khurshida Begum, a simple village woman of Kerontali near the Naf river in Cox's Bazar, had only studied up to class-VIII. She formed a team of 28 women in 2004 to prevent felling of forest trees in the area.
Her love for forest and wildlife prompted her to stop rampant deforestation by illegal loggers.
Her deed did not go unnoticed.
The Collaborative Partnership on Forests, an international consortium of 14 organisations, secretariats and institutions working on international forest issues, gave the first ever Wangari Maathai Forest Champion Award to Narayan Kaji Shrestha with an Honourable Mention of Kurshida Begum in 2012.
After a musical performance by Armeen Musa and her group, Prothom Alo Editor Matiur Rahman took to the stage and spoke about the significance the Women's Day  carries. He also appreciated the work done by the newspaper's 66 female employees.  
The event turned sombre as an acid attack survivor, Masuda Akhter, and the brother and the sister of Rupa Khatun, who had been murdered after rape in a running bus last year, went up to the stage.
Matiur Rahman pledged that the newspaper would be by their side so that Masuda, an HSC examinee this year, could achieve her goal and Rupa's siblings get justice.
While everyone was wiping their tears in silence, first female professional golfer of Bangladesh Samaun Anjum Auroni took up the microphone and said, "Support of families can help women break all barriers."
Her mother was by her side throughout her journey to success, she said.