Breaking the barrier
Chapainawabganj girls find confidence and success in karate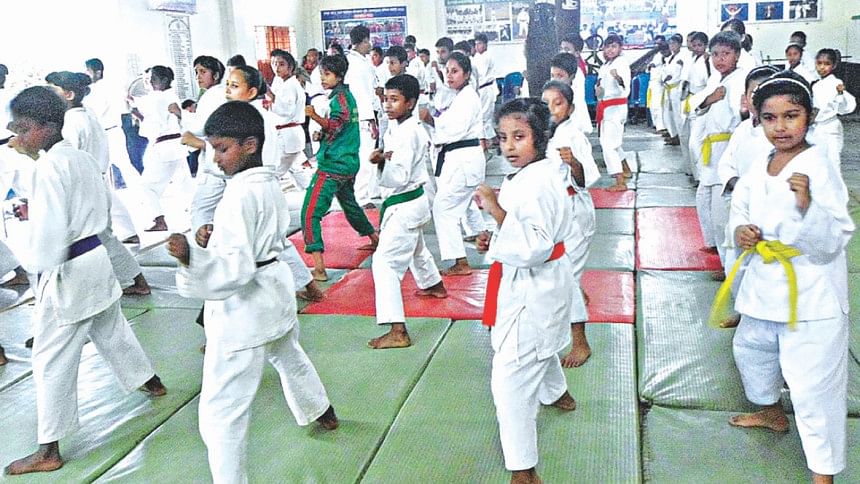 A first-year student of philosophy at Chapainawabganj Government College, Farida Khatun believes that in Bangladeshi culture, females are too readily thought of as representatives of the moral values held by their family. "If I do anything contrary to social norms," says the confident young woman, "it will reflect badly on my relatives." It's an issue she has had to face head on, for the simple reason that, along with around seventy other girls in the town, Farida practices karate.
"My father died four years ago," she explains. "Yet I am fortunate because my mother eventually understood the importance of physical activity to my health. Nowadays she encourages me. I am poor but mentally strong. One day I will win national and international medals in the sport."
Most of Farida's karate classmates have similar stories of discouragement to tell. Commonly the girls are warned that if they pursue karate it will be impossible for them to find husbands later.
"Martial arts teach me discipline and patience which I can use in my life," says Saima Zaman, a tenth-grade student at Kamaluddin Girls High School who practices both karate and judo. "It's about much more than learning how to throw a punch. Martial arts are stoking a fire within, to build a full and meaningful future, to succeed."
In the past three years, Saima has won three gold medals in inter-district judo championships. "I try to practice every day," she says. "I have a dream to achieve a medal on the international stage and am preparing for that. I enjoy my training. I seek to perfect techniques."
The classes held at the town's stadium attract girls of all ages and levels. Anika Anjum is a twelfth-grader. Sisters Badhan Moni Khatun and Naima Khatun study in classes six and four respectively. The girls in white uniform wear the traditional belts in yellow, blue, black and white that signify the level of skill attained.
Anika comes from a single-parent family. She lives with her mother and 15-year-old brother Hridoy, a motorcycle garage mechanic and the sole breadwinner for the family. Anika's father divorced her mother when Anika was a young child. "On my brother's income we can barely afford schooling and nutritious food," she says, "let alone new clothes." Yet despite her humble background, karate has given her self-confidence; she feels safer on the streets. Karate is a sport that's breaking social barriers.
"The practice room in the stadium gives the girls a place to breathe," says judo, karate and boxing academy coach Bablu Zaman, who is employed as a record assistant at the Chapainawabganj Judge Court. "Here they can take time out from their day-to-day worries and pursue sports that will make them confident, healthy and strong."
Bablu is not only their coach but also a mentor and the visionary behind the martial arts and boxing academy. He learnt karate and judo from 1984 in Rajshahi before introducing the classes which currently engage twelve additional trainers, in Chapainawabganj. Over the past thirty-one years he has also been instrumental in convincing parents to allow their daughters to participate.
"It's been an uphill battle," Bablu says candidly. "Many parents and other relatives did not think sport was appropriate for girls in general. The girls themselves felt under pressure and were hesitant at first. But now the scenario is changing and many girls have joined our classes."
Over the years Bablu's students which currently include about a hundred boys in addition to the girls, have achieved much. Over fifty of them have won medals at national and international competitions. Thirty-six of his students, including his two daughters, have gained employment in the Bangladesh defence forces.
"Girls face many obstacles in their lives, including poverty, social and cultural barriers," says Toufiqul Islam, the general secretary of the district sport association. "But because of karate, our girls are breaking those barriers. They have the chance to live their dreams."