Biman crash-lands in Yangon, 33 hurt
Dash-8 aircraft from Dhaka skids off runway amid bad weather, 19 hospitalised, none in critical state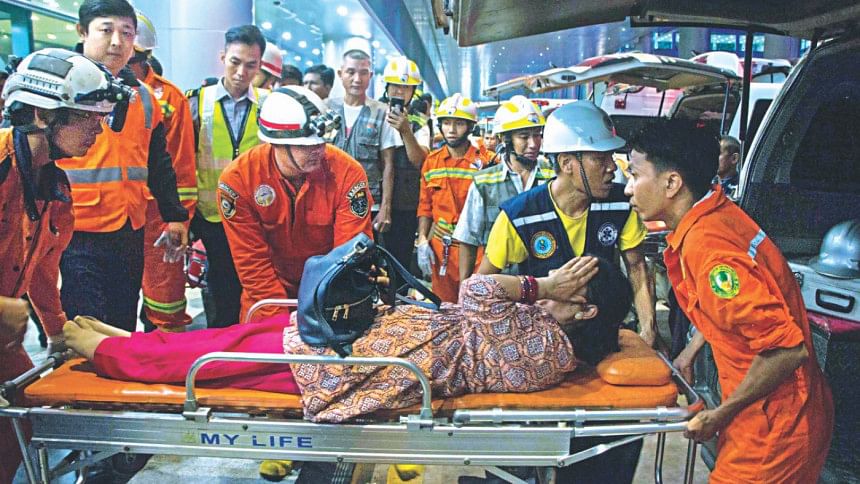 All 33 passengers and crew members on a Biman flight to Yangon were injured yesterday evening when the plane went off the runway while landing at Yangon airport in bad weather.
Of the injured, 19, including an infant and six women, were taken to North Okkalapa Hospital in Yangon. Four of them were released later at night.
"None of them had life-threatening injuries. One passenger had a leg and a hand broken," Manjurul Karim Khan Chowdhury, Bangladesh ambassador to Myanmar, told The Daily Star over telephone.  
Pilot Shamim Nazrul was injured, he said.
The ambassador said the aircraft was badly damaged and all passengers were injured in various degrees.
Photos of the incident circulated by the local media and found on Facebook showed that the 74-seater Bombardier Dash-8 Q400 aircraft was on the grass and largely in one piece.
The fuselage was cracked and crumpled at places and the landing gears appeared to have collapsed.
News agency AFP quoting a police official at the airport said the accident happened near Terminal-3 at 6:50pm local time (6:22pm BST). The official said the nose and wings of the plane were damaged.
Flight BG-060 took off from Hazrat Shahjalal International Airport at 3:45pm, 20 minutes behind schedule, with 29 passengers and four crew members.
The passengers were Bangladeshi, Myanmarese, Canadian, Chinese, Indian, Swiss, and French, AFP reported.
Mir Akhteruzzaman, Biman's station manager at the Yangon International Airport, said there was a sudden thunderstorm in the city at the time of the accident.
AFP reported that the airport announced suspension of runway operations until further notice due to heavy rain. Other incoming flights were diverted to the capital Naypyidaw.
Shakil Meraj, general manager (public relations) of Biman Bangladesh Airlines, said Biman sent a plane to Myanmar at 11:26pm to bring the passengers and crew members to Dhaka.
The plane was expected to return at 6:00am today with the 19 who were hospitalised.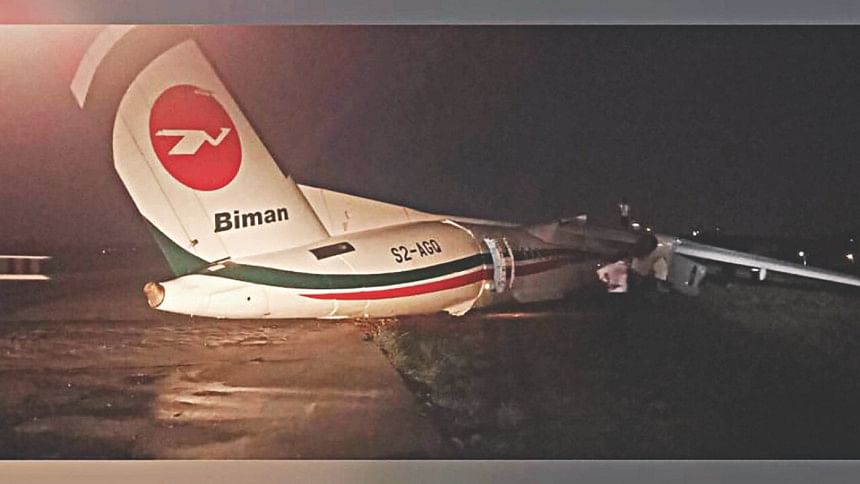 Shakil said Biman was providing assistance to the passengers in Yangon. "Families of passengers on board flight BG-060 are requested to contact us on +88028901530 for further assistance," he added
Representatives from Myanmar's Department of Civil Aviation (DCA) and Aircraft Accident Investigation Branch (AIIB) went to the crash site last night.
In a similar incident, a Boeing 737 skidded off the runway and went into the Florida river on Friday after landing at a military base in Jacksonville during a thunderstorm. The 136 passengers and seven crew members on board evacuated the plane. No fatalities were reported.
On March 12 last year, a US-Bangla Bombardier Dash-8 Q400, the same make and model involved in yesterday incident, crashed on a football pitch near the runway of Tribhuvan International Airport in Kathmandu, killing 51 of the 71 people on board.