Hiring Bangladeshi Domestic Workers: UAE to resume it within 3 months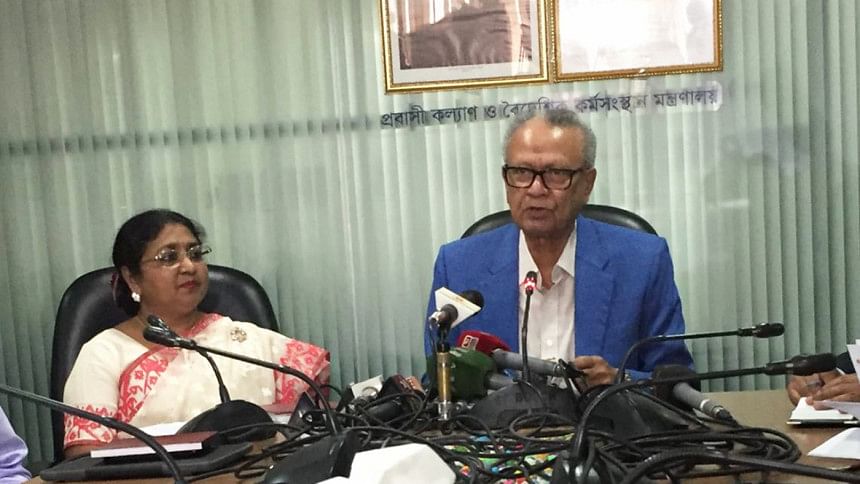 Partially lifting a ban on hiring workers, the United Arab Emirates would resume hiring domestic workers from Bangladesh within next three months, Expatriates' Welfare Minister Nurul Islam said yesterday.
"A Memorandum of Understanding was signed on April 18 and a joint committee will be formed in this regard soon. The committee will finalise the terms and conditions. We hope to begin the recruitment within three months," he told journalists at a press conference at his ministry.
The UAE would recruit workers in 19 categories through private sector. The categories include labourer, sailor, watchman, shepherd, falconer, housekeeper, cook, nanny, farmer, gardener, private trainer, private tutor, farm supervisor and private driver.
"Domestic sector means not only women… both men and women can be recruited under these categories," the minister said.
Eventually, the UAE would also open up its labour market for workers from other sectors, he added.
Currently, there are some 700,000 Bangladeshi workers working in the UAE, while many have returned home in last few years.
The government looks at partial lifting of a recruitment ban, which was imposed by the UAE in 2012, as the first phase before getting full access to the labour market.
Asked why the UAE has not allowed full access to the labour market, Expatriates' Welfare Secretary Dr Namita Halder said there were various limitations on part of Bangladesh in the past.
Citing an example, she said some 1,000 Bangladeshis remain in jail in the UAE for various crimes.
"Of them, 56 are accused of committing murders and 14 of them are facing death sentences," she added.
The UAE authorities raised the issues of indiscipline in the past. "We had to listen to the allegations. Now, whatever category of workers we send, if we cannot keep discipline, it will be a challenge for us," she observed.
According to the MoU, Tadbeer Service Centre, a company under the UAE human resources ministry, will manage the recruitment of the Bangladeshi workers.
Private employers would have to place applications, based on which the Bangladesh authorities would send workers, said Namita Halder.
She added the joint committee to be formed by officials from both sides would decide about sending the workers through private or government agencies and the cost of migration.
She further said they had already sought training modules from the UAE for different categories of jobs so that they could better train the jobseekers.
Contacted, Arman Ullah Chowdhury, counsellor of Bangladesh embassy in Abu Dhabi, said there were many irregularities in the labour recruitment process, which had led to many migrants being undocumented in the past.
Asked about the Bangladeshi migrants not facing death sentences, he told this correspondent over phone that Bangladesh embassy usually appeals to the UAE court to prevent execution.
"If it is not a state crime, the appeals are usually granted and thus we can prevent the execution," he informed.