Nurse Tania: Autopsy finds proof of gang rape, murder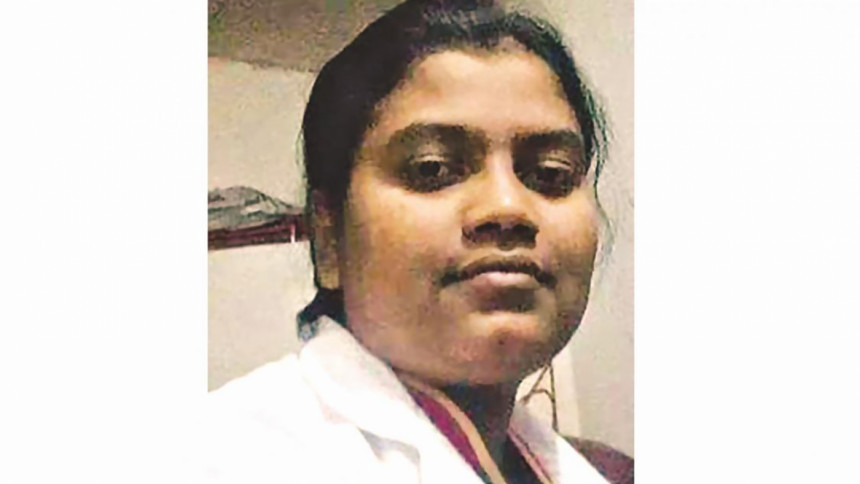 The autopsy of nurse Shahinoor Akter Tania found evidence that she was gang-raped and murdered, Kishoreganj's civil surgeon said yesterday.
On Monday night, Tania, who worked at Ibne Sina Hospital's Kalyanpur branch in the capital, died in mysterious circumstances in a passenger bus on her way home in Kishoreganj's Katiadi upazila.
Her nose, neck, legs and hands bore injury marks which suggestedthat she had a scuffle. The back of her head was fractured as well, said civil surgeon Md Habibur Rahman, quoting a three-member team of doctors who performed the autopsy yesterday. The team was headed by Sajib Ghosh of Kishoreganj General Hospital's forensic department.
"She suffered profuse bleeding in her head. It might be the cause of her death," Habibur told The Daily Star.
Early Tuesday, police arrested five people, including the bus driver Md Nuruzzaman, 39, and his helper Lalon Mia, 33, for their alleged involvement in the incident, said Khalilur Rahman Patwari, officer-in-charge of Bajitpur Police Station.
Yesterday, police produced the arrestees before a Kishoreganj court of Additional Chief Judicial Magistrate Al Mamun with a 10-day remand prayer for each of them.
But the court placed them on an eight-day remand each. Later, they were sent to jail, said Taufiq Ahmed, court inspector of Kishoreganj.
On Tuesday night, the victim's father Gias Uddin fileda murder and rape case with Bajitpur Police Station, naming four, including the driver andthe helper, and some unknown people as accused.
Police and family sources said Tania had boarded a Swarnalata Paribahan bus from the capital's Mohakhali to go to her home in Lohajury in Katiadi around 3:00pm on Monday.
On her way, she spoke with her father and brother Sujan Mia several times over phone. The bus reached Katiadi around 8:00pm where 16 of the 19 passengers got down. Two others got down at Ujanchar, said Shafiqul Islam, officer-in-charge (investigation) of Katiadi Police Station, quoting the victim's family members.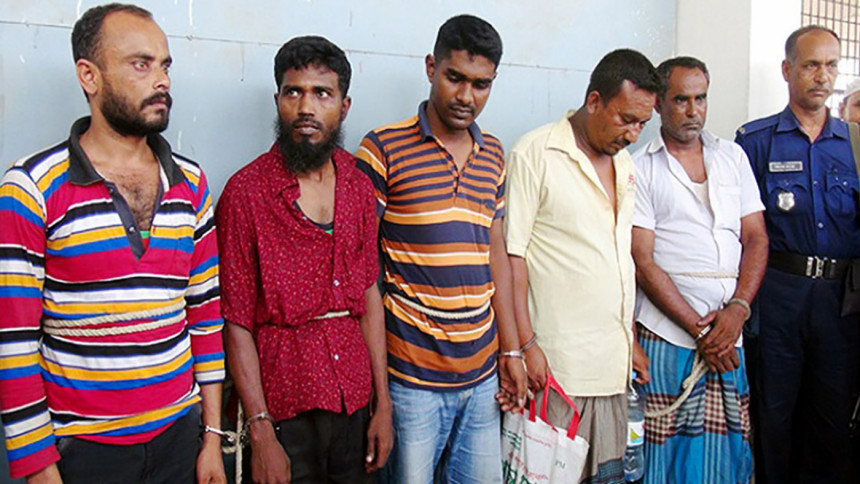 She was the only passenger when the bus was heading towards Pirijpur, from where her home is a 10-minutes rickshaw ride away, they said.
While her family was waiting for her, she had called Sujan upon reaching Katiadi, saying she would reach Pirijpur shortly.
When more than an hour passed, the family members called her but found her phone switched off. Anxious, they then rushed to the Pirijpur bus station, but learned that no SwarnalataParibahan bus reached the station around that time.
Later around 11:00pm, they received a call from the KatiadiUpazila Health Complex and learned that Tania died.
After her body was found, her family alleged she was killed after rape.
But the bus driver and helper, during primary interrogation, claimed that the girl jumped off the running bus through the window and died, although they could not explain why she would do that, police said.
Tania was the youngest among six siblings and had been in service for two years. She lost her mother to cancer in December last year, said family members.
"We had to spend around Tk 15 lakh for the treatment [of our mother], taking loan on interest. Tania was a source of financial support for our family, said Sabuj Mia, Tania's elder brother, while talking to The Daily Star 
Tania's death sparked outrage in Kishoreganj.
Locals formed a human chain in Pirijpur Bazar area yesterday, demanding exemplary punishment to those involved in her killing.