Bangladesh Ad Market: Two global giants gobble up most
Govt miss out on revenue, traditional beneficiaries lose earnings to grey market in digital space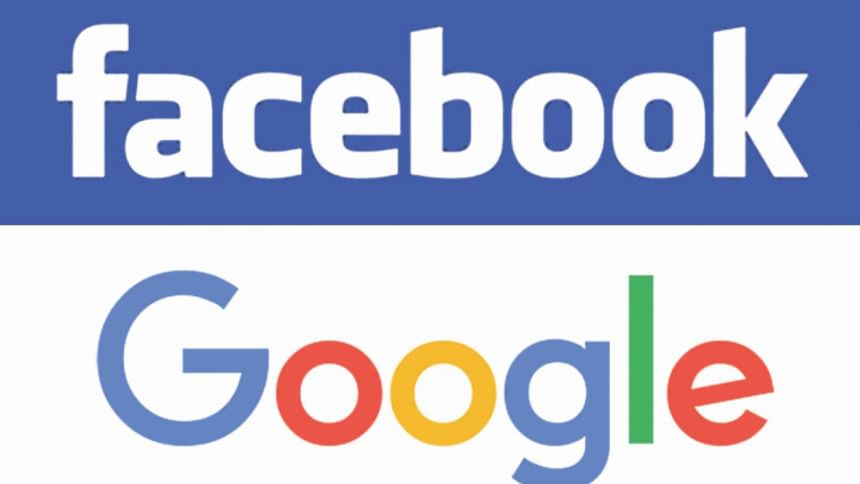 Companies in Bangladesh are spending nearly Tk 1,000 crore every year on digital marketing on Facebook and Google to reach their target audience.
The reasons for digital campaigns' fast rise in popularity are that people are progressively gathering on social media and increasing sophistication of algorithms means the ads can be accurately targeted.
The digital campaigns allow people to see local ads sitting in Bangladesh whilst browsing sites in any country, including the US, the UK, an Australia.
Although there is no official number on the amount spent on this new form of marketing, the four digital agencies that The Daily Star spoke to quoted Tk 200 crore to Tk 1,000 crore as the nascent industry's value.
In 2017, about Tk 110 crore was spent on digital marketing campaigns, according to Asif Iqbal, an expert in this field. Of the sum, 50 percent went to Facebook and the rest to Google and others.
Bangladesh's total ad market size is worth Tk 1,500-1,600 crore a year, adds Iqbal, also the executive director of marketing at Meghna Group of Industries.
"This year, the digital marketing value will at least double," says Iqbal, who has worked in marketing at several digital companies.
However, industry insiders claim that the actual amount spent on digital marketing is already a lot more than Tk 110 crore as most of it is done through unofficial channels.
Ziauddin Adil, chief executive of Top of Mind, a leading marketer, says digital campaigns are run in an unstructured way in the country. "When it gets a structured format, it will grow manifolds."
The number of active internet users with Google accounts in Bangladesh is 4 crore and 35 percent of them use the internet every day, said a Google official at a product launching ceremony in Dhaka recently.
There are about 3 crore Facebook accounts in the country, says an official of the ICT Division.
Newspaper Owners' Association of Bangladesh (NOAB) is cautious. It, in a letter to different ministries, Bangladesh Bank, National Board of Revenue, and Bangladesh Telecommunication Regulatory Commission, says Facebook and Google have no offices in Bangladesh and remain out of the purview of Bangladeshi laws.
"They are earning a huge amount of money and Bangladesh is being deprived of its fair share," the letter read.
Companies going for digital marketing need to send foreign currency to the search giant and the social media platform and often informal channels are used.
An official of a top marketing agency said when they send money, via credit card, to Facebook or Google, the amount is sent to an account in Finland as the taxes are very low there.
The advantage is it that the ads are shown in countries where taxes are higher. Some European countries, like France, have imposed restrictions on ads that come from other countries, global media outlets report.
When asked, Kushagra Sagar, a business development manager of Facebook, refuses to share any figure on the volume of ads they receive from Bangladesh.
Facebook does not share country specific earnings, he says on the side lines of Digital World, one of the biggest digital services expo in Dhaka that took place in December.
The Daily Star also sent queries to Facebook through their local affiliated office, but there was no response.
The largest social media network earned $26.89 billion in revenue in 2016 with a 57.42 percent year-on-year growth from ads alone, according to Statista, a reputed online statistic, market research and business intelligence portal.
Responding to an email, Zeffri Yusof, head of communications and public affairs for Google Malaysia, South Asia, says, "Teams in Singapore work with customers across many countries in the region, including multinationals operating in Bangladesh. This is a result of long-running business relationships originating across many of those countries and markets. Any business with internet access is able to access digital marketing services on Google. In countries where Google has an office, we pay all applicable taxes."
Razib Ahmed, a director of e-Commerce Association of Bangladesh (e-CAB), says the government should legalise the process to ensure transparency in ad expenditure.
"Most of our members are spending $5 to $10 a day. As they do not have credit cards, they need to go for unauthenticated channels," says Ahmed, a former president of the organisation.
Currently e-CAB has around 1,000 members, while the number of e-commerce vendors is about 2,000.
E-CAB signed an agreement with the Mutual Trust Bank where clients can get a credit card and deposit in the local currency but charge in dollars; but Bangladesh Bank did not give them a green signal, says Ahmed.
NOAB says Facebook and Google are earning huge sums from digital advertisement, but not paying the taxes.
Complying with the local laws and regulations in any country is a pre-condition for doing business, reads a letter signed by NOAB President Matiur Rahman, also the editor of Bangla daily Prothom Alo.
The US tech companies are not making any contribution to online media and employment generation in the country though they are making huge incomes, it added.
The tax regulatory authority said as per the income tax rules, tax is payable on income accrued or arising in Bangladesh.
Yet, the tax authority says it cannot directly collect tax from Google and Facebook as they do not have offices in Bangladesh.
To bring the income of digital platforms under the purview of tax, the NBR imposed 15 percent withholding tax this fiscal year on "advertisement income or digital marketing".
State Minister for ICT Zunaid Ahmed Palak says they welcome the digital marketing campaigns.
This is a two-way road, he says. "How we use our skills set to manage the situation and earn more money from these digital platforms depends on us," Palak adds.
To bring the situation under control, the government is training three lakh youths in total, he says. "In a few years, we can earn more than what they are taking from us."
"Currently, the country is earning about $100 million from outsourcing and a major share of it comes from Google and Facebook."
On taxation, Palak says, "We first need to help them grow, establish a culture and then think about taxes."
"Google recently opened facilities to create merchant accounts from Bangladesh; that will help us to boost earnings."
The country's e-commerce platform is moving forward with f-commerce and that is also helping the industry to boost online purchases by developing a Facebook economy, says the state minister.
This is evident in the popularity of digital campaigns.
Companies like Uber, Pathao and other e-commerce and digital service companies are riding on digital media; they never run a campaign in traditional media. Start-ups also embrace these digital platforms as it is cost efficient.
Mobile operators are also diverting their campaigns from traditional media to digital media as they shift focus to data services.
A top mobile carrier had 32 campaigns in December and all were run digitally, says an official of the company. Only four campaigns were run both digitally and on traditional media.
Carriers are spending 20 percent of their total advertising budget on digital platforms, which was less than 10 percent a year ago.
"The top three operators are spending about Tk 10 crore a month on digital marketing and this figure is growing," the executive adds.
The same is true for local conglomerates in the fast-moving consumer goods sector.
An official of Bangladesh Bank said companies mostly give ads on digital platforms via marketing agencies. These agencies take permission from Bangladesh Bank before sending money abroad, the official added.
Sohel Parvez contributed to this report.