Arrogance, their middle name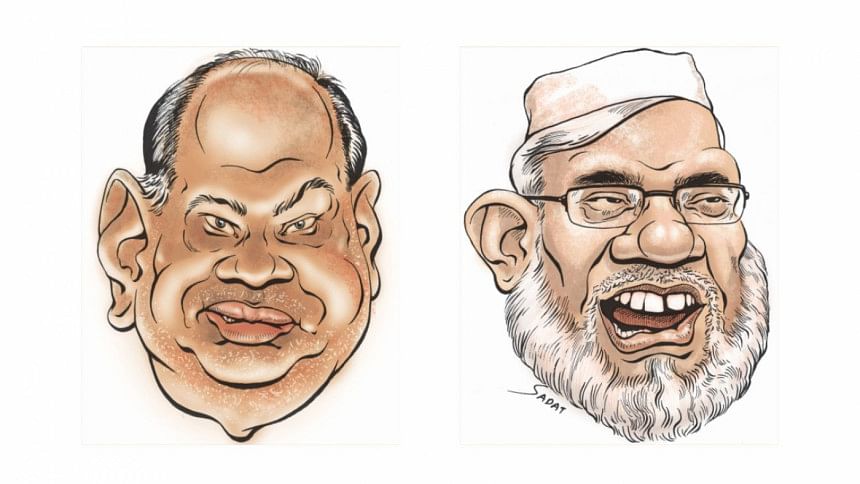 They both came from political families and eventually rose to the top echelon in their parties. They adopted anti-liberation stance and committed atrocities against the Bangalee nation fighting for independence in 1971.
Ali Ahsan Mohammed Mojaheed and Salauddin Quader Chowdhury had a lot in common, indeed. But of all the similarities, the most striking was their arrogance.
"This war crimes case ... it means nothing ... one writ will dismiss it," said BNP leader Salauddin, a few months before his arrest in December 2010 on war crimes charges. He repeatedly said he would be freed with change of government and the war crimes prosecutors would be brought to book.
On October 25, 2007, Jamaat leader Mojaheed made an outrageous claim that there were no war criminals in Bangladesh.
When journalists asked him about the growing demand for disqualifying war criminals from contesting national elections, he said, "The constitution does not support the demand. Besides, there are no war criminals in Bangladesh."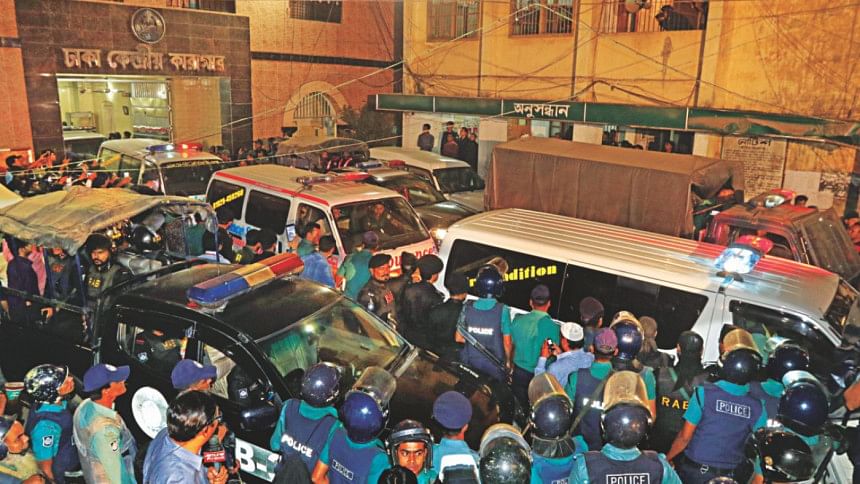 He added, "It is the imaginary and self-created bizarre idea of those talking about war crimes … there are no anti-liberation forces in Bangladesh."
Asked about his party's role in 1971 Liberation War, he said, "These accusations are all false and ill-motivated."
The Jamaat leader was arrested in June 2010.
In 1971, Mojaheed and Salauddin led their armed gangs and abetted Pakistan occupation forces in massacre of peace-loving and freedom-seeking Bangalees during the war.
Salauddin's father Fazlul Quader Chowdhury was the president of Convention Muslim League while Mojaheed's father Maulana Abdul Ali was the ameer of Faridpur Jamaat-e-Islami during the Liberation War.
Both Jamaat and Muslim League stood against the Liberation War.
Abdul Ali, a member of Pakistan provincial assembly in 1962-64, was one of the top leaders of Shanti Committee, an anti-liberation organisation, in Faridpur.
Fazlul Quader, witnesses said, formed auxiliary force Al-Shams in Chittagong in 1971.
Their sons followed in their footsteps.
Mojaheed was the central president of Jamaat's erstwhile student wing Islami Chhatra Sangha.
He became the chief of the infamous Al-Badr Bahini, the ruthless force responsible for the mass extermination of intellectuals towards the end of the war.
Salauddin led the Al-Shams Bahini in different operations in Chittagong.
Immediately after the nine-month war, Abdul Ali and Fazlul Quader were arrested for their anti-liberation roles. Ali was released later, but Fazlul died in jail in 1973.
During the war, Mojaheed visited many districts as the chief of Chhatra Sangha and Al-Badr. He held meetings with the Sangha activists and instigated annihilation of freedom fighters as well as pro-liberation people.
"Al-Badar is a name! A wonder! Al-Badr is a commitment! Where there is a so-called freedom fighter, there is the Al-Badr. Where there is a miscreant, there is the Al-Badr. Al-Badr is the Azrail [angel of death] incarnate for the Indian agents or the miscreants," Mojaheed was quoted by Jamaat's mouthpiece Daily Sangram on April 24, 1971.
"These traitors and Hindustanis [terms he used for freedom fighters] are to be hunted down and killed. Those who fight against the Pakistani army and the Al-Badr will be killed," freedom fighter and prosecution witness Zahir Uddin Jalal quoted Mojaheed as saying on December 4, 1971.
Those were no empty threats. Mojaheed's Al-Badr Bahini killed intellectuals and professionals days before the December 16 Victory Day to cripple the soon-to-be independent Bangladesh intellectually.
Salauddin carried out atrocities in his home district Chittagong.
Though not directly involved in party politics, he actively took part in his father's election campaign in 1970, several prosecution witnesses said.
Angered by the defeat of his father in the 1970 election, Salauddin along with his accomplices and Pakistan army launched attack on five Hindu-dominated villages in Raozan to kill 111 Hindus, as they believed Hindu people did not vote for his father.
His brutality was manifested when he shot Natun Chandra Sinha, a social worker and philanthropist, who was already groaning in excruciating pain from bullet injuries inflicted by Pakistani army men.
Salauddin fired two to three shots to ensure Sinha's death.
In the last week of July 1971, Saleh Uddin, who later became the vice-chancellor of a public university, was brutally tortured on the instructions of Fazlul Quader.
"He is not even shedding tears. What sort of beating have you given him?" Salauddin Quader told his accomplices during the torture at his Goods Hill residence, according to Saleh Uddin's testimony before a tribunal.
After independence, Mojaheed and Salauddin succeeded to dodge arrest.
Following the murder of Bangabandhu Sheikh Mujibur Rahman and a bloody political changeover in August 1975, the two started to re-emerge in politics.
Mojaheed became Jamaat's secretary general on December 8, 2000, and social welfare minister of the BNP-led four-party government in 2001. He served as a technocrat minister until 2006.
Having survived an attack by the freedom fighters, he fled to Pakistan in September 1971 and from there he later went to London. He returned to Bangladesh in 1974 but remained in hiding until the assassination of Bangabandhu.
In the 80s, he became a minister under Ershad's military regime. He was elected lawmaker several times.
During the BNP-led four-party rule from 2001 to 2006, Salauddin, a standing committee member of the party, was the parliamentary affairs adviser of the then prime minister Khaleda Zia and enjoyed the status of a minister.
After 44 long years, justice finally caught up with these two arrogant and powerful men at 12:55pm today.