Families of Murdered Kids
All they want is justice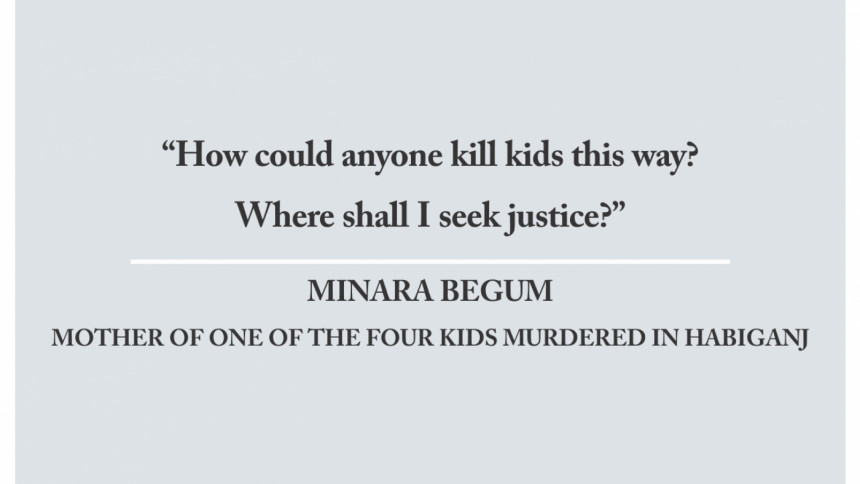 Minara Begum could hardly speak to anyone since villagers dug her son's body out of a sand pile on Wednesday. Shell-shocked, she just shed tears silently, holding the boy's clothes tight.        
"How could anyone kill children this way? Where shall I seek justice?" murmured the mother of Ismail Miah.
After being silent for a while, she muttered again, "They took my manik (gem) ... my everything."
Ten-year-old Ismail along with three cousins, aged between seven and 10, were found dead at a Balu Mahal (a place from where sand is extracted) in Sundrateki in Habiganj's Bahubal on Wednesday, five days after they had gone missing.
Police and victims' relatives suspect that the murders could be a result of rivalry between two groups of local panchayat (village arbitration).
The mothers of the other three ill-fated children were going through similar ordeals.
Amina Khatun, mother of Tajel Miah, could not forget her last conversation with her son.
Before going to the playground from where the children went missing on Friday, Tajel had told her that he was going out to bring biscuits for his sister Nusrat from a local convenient store and would return soon. 
"He told me that we would have lunch together. But now, we would never have that again," said Amina. "I want justice from Allah."
Memories of their sons -- Zakaria Shuvo and Monir Miah -- were haunting Parul Begum and Salema Begum.
"Why did I let my son go out that day," regretted Parul, sobbing uncontrollably.
Monir, Shuvo, and Tajel were cousins and students of class-I, -II and -IV at Sundrateki Govet Primary School. Ismail was studying at a local madrasa.
The entire village was mourning the death of the four children yesterday.
Not only their parents, but also their neighbours were yet to come to terms with the brutal murders.
"How could anyone be so cruel to commit such a heinous crime?" one of them said.
They also demanded immediate punishment of the killers.
"The children belonged to very poor families. What was their fault?" said Param Chan, a farmer.
After the bodies were recovered, Afjal Miah, father of victim Monir, said there had been a longstanding dispute between two groups of local panchayat -- one led by Abdul Ali, now in custody, and the other led by Abdul Khalique Master.
He said their group had clashed with the men loyal to Abdul Ali last month over cutting down of trees in the area. He believed the children were kidnapped and murdered in retaliation.
Monir Uddin, a trader, said clashes between such rivals took place in their area many times in past, but killing children this way was unthinkable.
Locals and victim's family members alleged that the police did not take any effective steps even after a general dairy was filed over the children going missing -- an allegation the police refutes.
2 REMANDED; 2 ARRESTED
A Habiganj court yesterday placed Abdul Ali and his son Jewel Mia, arrested Wednesday night, on a 10-day remand each in the case filed for the murders.
Officer-in-Charge Moktadir Hossain of the Detective Branch (DB) of Habiganj produced the suspects with 10-day remand pleas.
Around 1:00pm yesterday, Bahubal police detained Rubel Miah, another son of Abdul Ali, and one Habibur Rahman at the village in connection with their involvement in the murders, said Muktadir, also the investigation officer of the case.
Abdul Ali's family claimed that Ali and his sons were innocent.
"The allegations are baseless. None of my family members were involved in the murders," said Afia Begum, daughter-in-law of Ali. The other male members of the family have gone into hiding.
Meanwhile, doctors after autopsies said the children could have been strangled to death.
"All the bodies bore injury marks too," said Debashish Das, a medical officer of Habiganj Sadar Hospital, who conducted the autopsy.
PANIC IN SCHOOL, VILLAGE
Yesterday, only a few students went to Sundrateki Govet Primary School, where three of the victims used to go. 
"We saw the news on the four children on TV. We came to school but we are scared," said Lubna Akter, classmate of Tajel.
"On Thursday [February 11], he [Tajel] told us to come to school early on Saturday so that we could play. But he did not show up," she said.
Nure Jannat Shefa, acting headmaster of the school, said the parents were not sending their children to school after the killings.
"Only 30 out of 353 students showed up yesterday," she said.
Meanwhile, many male villagers have fled fearing police harassment and to "avoid" arrest, said locals.