4 Bangladeshis convicted in Singapore
A Singapore court yesterday convicted four Bangladeshi workers, detained in Singapore under the Internal Security Act (ISA), of financing terrorism.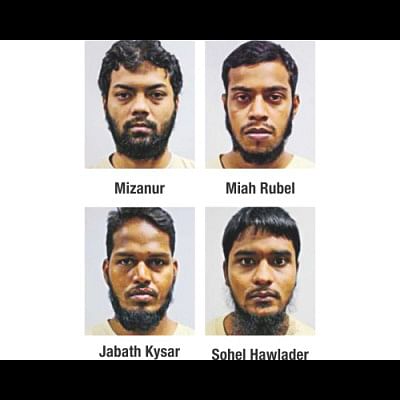 A Singapore court yesterday convicted four Bangladeshi workers, detained in Singapore under the Internal Security Act (ISA), of financing terrorism.
The Straits Times in Singapore reported that Rahman Mizanur, 31; Miah Rubel, 26; Md Jabath Kysar Haje Norul Islam Sowdagar, 31; and Sohel Hawlader Ismail Hawlader, 29, pleaded guilty in court yesterday.
The four along with two others were charged on Friday under the country's terrorism (Suppression of Financing) Act (TSOFA) with providing or collecting money to fund terrorist acts in Bangladesh.
The other two -- Zzaman Daulat, 34, and Mamun Leakot Ali, 29, -- denied the charges. A pre-trial conference for them has been set for June 9, the report said.
Prosecution sought a three-week adjournment to prepare submissions for sentencing. The four men are expected to appear in court on June 21.
Citing court documents, the report said Rahman led the group and Mamun was the group's deputy leader.
"Miah was in the group's financial council, while Jabath handled the group's media. Zzaman and Sohel were in the group's security and fighter councils respectively," it said.
Miah and Jabath were also accused of possessing money for terrorist purposes.
"Court documents show that Jabath was in possession of $1,360 -- this includes a sum of $1,060 that he was handed by Miah last month," the report added.
For involvement in terrorist financing, the men face up to 10 years in jail, a maximum fine of Sg$500,000 ($362,000), or both, reports AFP.
The six were among eight men arrested between late March and early last month. Working in the marine and construction industries, they called themselves the Islamic State in Bangladesh (ISB), The Straits Times report said.
They were planning attacks in Bangladesh in hopes of toppling the government, it added.
The report also said their goal was to set up an Islamic State in Bangladesh and bring it under the self-declared caliphate of the Islamic State in Iraq and Syria (ISIS).
The Bangladesh government, however, repeatedly denied existence of IS in the country.
The Straits Times report said that according to the statement of facts presented to the court, Rahman was radicalised in Bangladesh by one Jahangir Alam in April last year.
Rahman, who went to Singapore to work in December 2015, met Miah, Zzaman and another Bangladeshi, Sohag Ibrahim, 27, in January this year in Sembawang where he convinced them to join ISIS, the report said.
Sohag was among the group of eight detained under the ISA.
"The documents also show that the men had discussed 'waging an armed jihad', and that they would find and kill non-believers when they returned to Bangladesh," it added.
Meanwhile, officials of Dhaka Metropolitan Police, who were investigating a case following the arrest of five Bangladeshi workers deported by Singapore authorities, said the Bangladeshi expatriates were radicalised in Singapore.
Earlier, Singapore authorities deported 26 out of 27 Bangladeshi construction workers arrested late last year for "supporting armed jihad ideology of terrorist groups such as Islamic State (IS) and al-Qaeda".
Arresting 14 of them on December 21, police after investigation said 26 deportees had no links to Islamic State or al-Qaeda. But the 14 had links with banned local outfit Ansarullah Bangla Team.