Four factories busted for using tannery waste
Four factories busted for using tannery waste
A mobile court yesterday sealed off four factories at Hazaribagh for using tannery waste in poultry and fish feed that contains hazardous chemical chromium.
The court also ordered the agencies concerned to destroy 300 tonnes of so-called "feed" made with toxic tannery scraps generated from nearly 200 tanneries at Hazaribagh.
"We have also asked the authorities concerned to file cases against the owners of these factories for making feed using the tannery waste," said Mohammad Al Amin, executive magistrate, during the drive with Rab-4 personnel at Eastern Feed Mills.
Huge amounts of tanned leather off-cuts and shaving dust were seen piled up inside the factory for making feeds. Beside the factory, there was a warehouse that contained hundreds of sacks filled with poultry and fish feed.
The court fined each of the 20 workers of the four factories Tk 20,000, in default of which they are to serve 15 days' imprisonment, said Al Amin.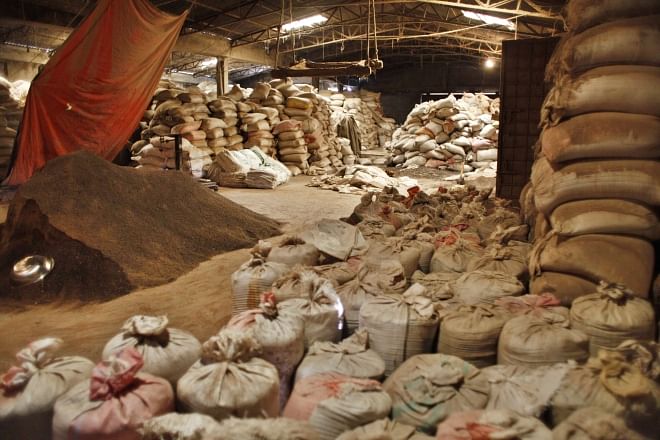 The other factories are Mamun Poultry Feed Ltd, Rafiq Poultry Feed and Mohiuddin Poultry Feed.
The court, however, could not slap any fine on the owners who are absconding.
"In their [owners] absence, we cannot impose any fine against them. It is the responsibility of the owners to pay the fine imposed on their employees," he said.
The drive was conducted following a The Daily Star report this month that poultry and fish feeds, made from tannery waste, contained excessive level of chromium, which was contaminating chicken and fish, and subsequently threatening human health.
Recently, a Dhaka University study found chromium, ranging from 249 microgram (mg) to 4,561mg per kg, in chicken that consumed feed made with tannery waste. The permissible limit of chromium in human body is 10-60mg, according to researchers.
"Anyone engaged in making and marketing of poultry feeds requires permission from Department of Livestock (DLS). These factories do not have any approval," said Luthfor Rahman, an upazila livestock officer at the DLS. He was accompanying the mobile court.
The DLS estimates that nearly 100 factories in Hazaribagh are making protein concentrates from solid waste generated from tanneries in the area.
These protein concentrates, which are cheaper than imported ones, are used for making feeds to cater for the poultry and fish industry's demand for 30 lakh tonnes a year.
Feed Industries Association Bangladesh (FIAB), a platform of 65 feed mills, claims that its members meet more than 80 percent of the annual demand for poultry and fish feeds and none of its members use tannery waste.
The FIAB said some unscrupulous traders are involved in making feed by using the tannery waste.
"We welcome the drive by the government," said FIAB president Moshiur Rahman, adding that they demand the government takes stronger steps against the culprits.
According to Human Rights Watch, tanneries in Hazaribagh generate an estimated 75 tonnes of solid waste (mostly salts, bones, as well as leather shavings and trimmings) a day, which may rise to 200 tonnes a day in peak season.
The tanners used to spend money to get rid of the waste. But the waste turned out to be a source of money more than a decade ago after some dishonest traders started using it as an ingredient to make feed.
Despite the use of the toxic waste and reports in the media, government agencies remained indifferent and the illegal trade went on unhindered, according to locals.
Even though Executive Magistrate Al Amin said they had conducted a drive in March this year and had sealed off a factory, nothing much has changed as the business continues.
Asked, DLS official Luthfor said they could not conduct drive themselves often. "We require support from law enforcement agencies which is not always available," he said.