Feaure
Forbidden fruit: 2006 Lancer Evolution IX GSR
Possibly the best kept Evo IX in town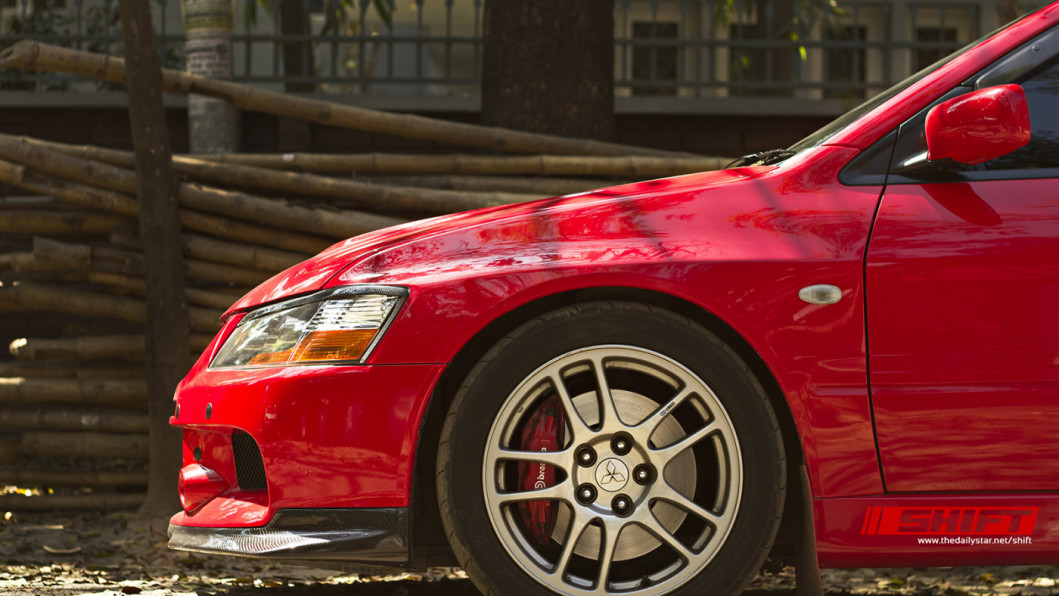 Being in office means I could stare out the window at miles and miles of concrete jungle roofs watching people hang their washing. Or I could attend one of the many official meetings where people talk about…stuff. Or I could head out to check out a car, a meet set up by friend. Easy choice, really.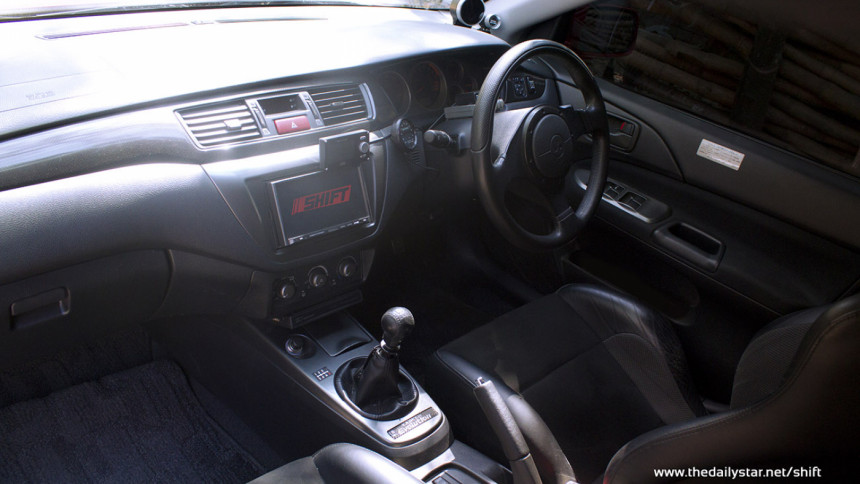 I headed out in my 'Bought NOT built' stickered Nissan to see something a little out of its league. Way out of its league, in fact. On the way my cohorts spotted a new Jag and we all curtly ignored it. Beautiful car, but not really our thing, not today. Anticipation grew as I heard the loud voooom-psssh sound followed by the approaching red car we were there to cover. The bright red beauty is a 2006 Evolution IX GSR. It's probably redder than the proverbial forbidden apple was. And just as much of a forbidden pleasure.
The GSR badge makes this EVO the international edition with all the toys and whistles. You get yaw control and an active centre differential. In terms I could understand better and smile through, it meant the car could be pushed into a corner and it would exit facing the direction intended. Except we couldn't do much of that being on public, albeit empty roads. So we settled for a lot of in-gear sprints.

This engine develops 287hp. Now for a car as light as this, that's a lot. Mitsubishi went a little bonkers trying to shave as much weight as possible in ways you can't even see. The roof is all aluminum; you don't want to park it under trees laden with projectiles in the form of fruits. Further weight saving was done with the upper portion of the spoiler made of hollowed out carbon fibre. Add four-wheel drive and all the voodoo magic by the traction control and LSD, and this car goes like a small dog kicked in the bottom. All the engines for the IX had the same amount of horsepower but they varied in their torque output for the different MR, RS, GT, GSR and all the other multi-lettered variants. The GSR is said to develop 295lb/ft of torque. Slightly lower than the RS or GTs rounded 300 number. What's 5lb/ft, right? I won't know because when this red car was floored from 2500rpm, the thrust was instant. All that torque, all that lightness and the short turbo lag was a recipe for brilliance. Or disaster. The car has way too many nanny features which make it ridiculously easy to drive. But there's always a limit. We didn't go anywhere close to checking those out.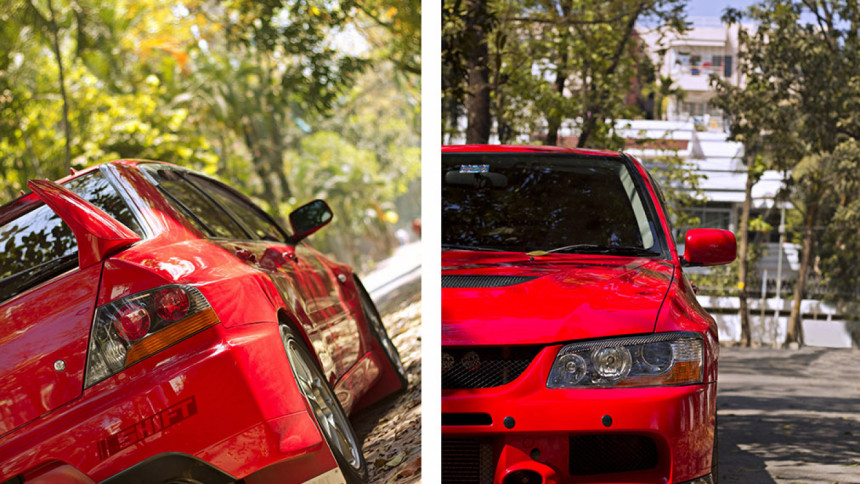 The car has had no custom work except for a set of lowering springs. Despite that, it offered a very compliant ride. It wasn't shaky, jittery like many lowered rides I've sample on our streets. Men suffering from their mid-life crisis could happily buy one of these (in red) and not have to worry about their spines dislocating. The IX has a molded front bumper with unique oval inlets for the intercooler. It also has the added garnish of an unpainted carbon fibre lip that contrast beautifully with the red paint. And that's it. That's what makes the car perfect. It's a proper driver's machine without being undriveable. It strikes a good balance between looks and performance, stance and drivability.
What makes it special? I haven't had a lot of familiarity with EVOs. Last I'd driven was an Evo VII GTA and had a test ride in an Evo X. Different beasts altogether. Both those cars were automatics, compared to the 6-speed manual in the red GSR. Except I fell for the IX. Logic tells me the IX seems to be the perfect machine balancing the best of both worlds. It's sharper looking than the VII GT-A. It's better appointed with the grippy Alcantara suede and leather seats. It's less in-your-face than the brash looks of the Evo X. But there's one undeniable joy in all these cars. The acceleration. Your head is forced into the seat bolsters as the car rockets forward, followed by a sharp blow-off whistle. It's intoxicating to hear that whoosh-psssh sound. I bet some of you reading this are currently pursing your lips and making that sound.

Special thanks to Adnan Khandakar for loaning us the monster for a while. We apologise to the baby seals that had to die because of the fuel required to run this car on full boost. Nah, not really.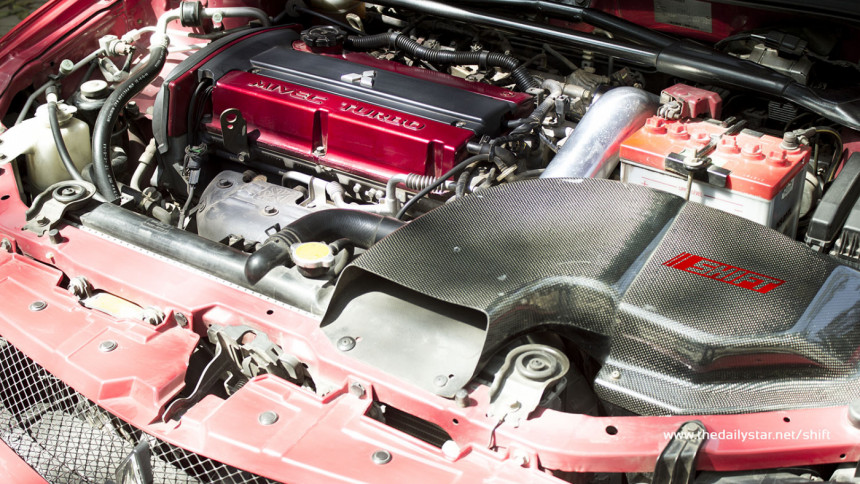 SPECS
2006 Mitsubishi Lancer Evolution IX GSR
Platform: CT9A
Engine: 4G63 MIVEC Turbo, 4 cylinder, turbocharged and intercooled 2.0 litre engine (287hp, 295lb/ft torque).
Transmission: 6 speed manual gearbox, All Wheel Drive, active yaw control
Suspension: Bilstein monotube shocks
Brakes: Brembo 17-in. ventilated discs (4-piston) at the front, Brembo 16-in ventilated drum-in-disc (2-piston) at the rear.