BYLC to host South Asia 'Youth Resilience Summit 2020' on Facebook live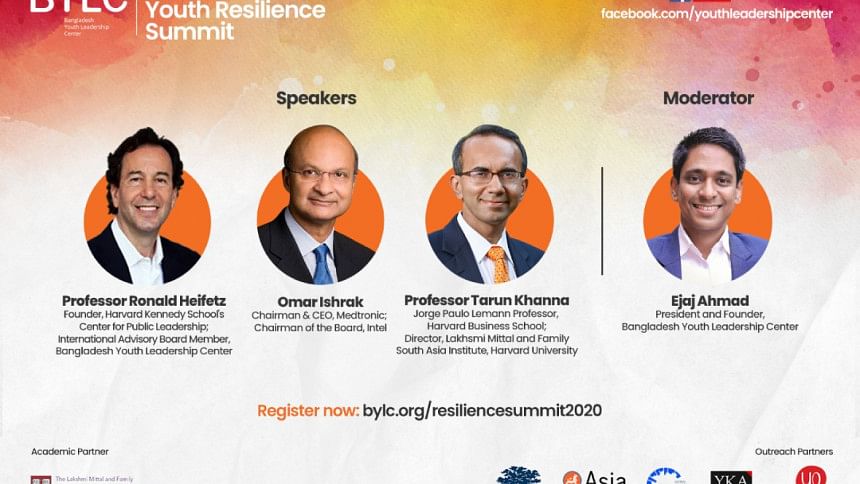 Bangladesh Youth Leadership Center (BYLC) will be hosting the South Asia Youth Resilience Summit live on Facebook from April 16 to April 18, 2020, as part of their wider response to Covid-19.
The response includes distribution of food to 2,000 families in the country, mental health support targeted towards the youth through a hotline, and social media awareness campaign.
On each of the three days, the summit will feature moderated conversations with a global expert on how the youth in South Asia can build resilience and navigate the complexities of present times caused by Covid-19, according to a press release.  
In addition, there will be panel discussions on issues ranging from youth leadership, entrepreneurial ecosystems in South Asia in a post-pandemic world to staying resilient during a crisis.
The keynote speakers are Ronald Heifetz, founder of Harvard Kennedy School's Center for Public Leadership; Tarun Khanna, Jorge Paulo Lemann Professor at Harvard Business School and director of Harvard's Mittal Institute; and Omar Ishrak, the Bangladeshi-born chairman and CEO of Medtronic, the world's leading medical technology company, and chairman of Intel.
The panel speakers at the Summit include Anshu Gupta, the Ramon Magsaysay Award winning founder and director of the Indian development organisation Goonj; Natasha Garcha, Director of Innovative Finance at Impact Investment Exchange (IIX); Sunish Jauhari, country leader of Ashoka India; Sonia Bashir Kabir, founder and chairperson of SBK Tech Ventures and SBK Foundation; Runa Khan, founder and executive director of the local development organisation Friendship; Ali Raza Khan, founder and CEO of the social enterprise YES Network Pakistan; Faraz Khan, co-founder and CEO of Seed Ventures, a UK-based Pakistani social entrepreneurship and equity development organisation; Shantanu Paul, change manager, Venture and Fellowship, Ashoka India; Ayeleen Saleh, founder of Acumen Academy Bangladesh; and Nathan Sivagananathan, investor and co-founder of Hatch, the largest accelerator in Srilanka.
The Lakshmi Mittal and Family South Asia Institute at Harvard University is the academic partner of the summit and the outreach partners include Ashoka, Asia Society, Global Shapers Dhaka Hub, Youth ki Awaaz, and Youth Opportunities.