M'singh-Sherpur: Shrinking forest leads to human-elephant crisis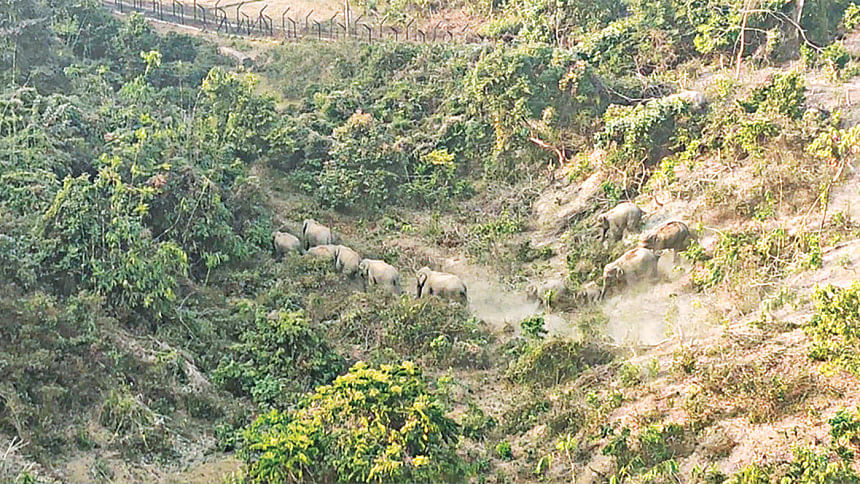 Facing food crisis, many wild elephants are nowadays entering into localities, especially during the farming season, in Mymensingh and Sherpur.
According to locals, this has significantly increased the crisis that occurs for interactions between elephants and humans.
A total of 31 elephants have reportedly been killed, mostly from electrocution, in the districts since 1995, wildlife activists said.
AKM Ruhul Amin, Mymensingh's divisional forest officer, said around 40 percent of the forest land has been grabbed and converted into human settlements in the region.
Muhammad Abdullah Al Amin, range officer of Wildlife Management and Nature Conservation in Sherpur, said the elephants move from Kurigram bordering areas to Sunamganj in Sylhet through hilly areas of Jamalpur, Sherpur, Mymensingh and Netrakona.
Abdul Karim, Madhutila range officer in Sherpur, said 45-acre forest land has been recovered from the grabbers in the last three years and was now being used as social afforestation.
The authorities have to face difficulties while conducting eviction drives on the forestlands due to pressure from different corners, he added.
"Plus, we do not have sufficient number of staffers. We need all-out support from administration and police in every drive", the official said.
Following the death of two elephants in the last 10 days in the Mymensingh region, a six-member "Elephant Conservation Committee", headed by Assistant Conservator of Forest Md Harun-Or-Rashid, has been formed on Monday.
The committee will monitor the elephants' movement, patrol in the elephants' visiting areas, and create awareness among the local people to save these gentle giants, said sources.