Another whale carcass at Himchhari beach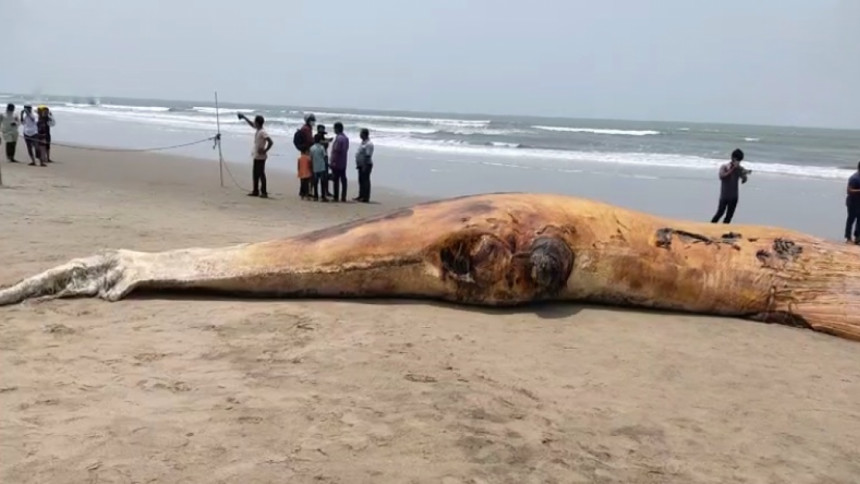 A day after a whale carcass washed ashore at Himchhari beach in Cox's Bazar, another whale corpse was found at the beach today.
Commuters on Cox's Bazar-Teknaf Marine Drive road noticed the whale carcass on the beach around 6:00am this morning, reports our Cox's Bazar correspondent.
The body of the marine mammal became more visible with the ebb.
The whale carcass that was found today is significantly larger than the one spotted yesterday. It has a length of around 43 feet and width of 14 feet, said Jahirul Islam, executive director of Marine Life Alliance, a non-government organisation.
Yesterday, a whale carcass, around 30 feet long and assumed to have weighed five tonnes, washed ashore at Himchhari beach.
"This species of whale usually swim in pods in the deep sea, especially along the Sundarbans, and may live for up to 90 years. The one that washed ashore today was approximately 50 years of age, and died at least 15 days before," Jahirul Islam said.
"Samples from the carcass are being collected, from which its cause of death can be determined. The carcass is decomposed," he added.
Police personnel went to the spot around 10:30am and kept the carcass within a roped area to keep curious people away from it.
Preparations are going on to bury the carcass to prevent pollution, said Mohammad Amin, additional deputy commissioner (revenue) of Cox's Bazar.