Dhaka records 11.5 degrees Celsius, season's lowest, this morning
Chuadanga shivers as lowest temperature recorded at 8.4 degrees Celsius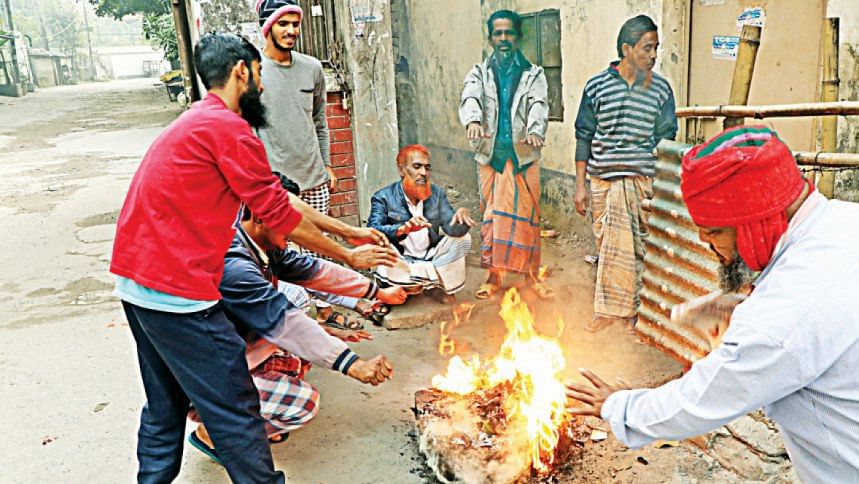 A mild cold wave is sweeping over the country and Chuadanga district recorded the lowest temperature this morning at 8.4 degrees Celsius. The district has been recording the lowest temperatures over the past few days in a row.
The shivering cold is causing immense sufferings for low-income people, forcing them to stay indoors.
Omar Faruk, a meteorologist of Bangladesh Meteorological Department (BMD), said temperatures in most parts of the country decreased over the past few days.
"Dhaka recorded 11.5 degrees Celsius -- lowest this season -- this morning," he said.
The situation may continue for the next two-three days in the country, he predicted, saying that the situation will improve from January 11-12.
Cold weather is disrupting day-to-day life in Chuadanga and the poor are the worst sufferers.
Temperature between 8 and 10 degrees Celsius is considered a mild cold wave, 6 and 8 degrees Celsius a moderate cold wave and less than 6 degrees Celsius a severe cold wave.
Private jobholder Sharmin Malik said she leaves home for nearby Meherpur in the morning for work, but could not do so this morning due to the severe cold and wind.
Day-labourer Jaban Ali said staying in due to cold weather means no income for him.
Rakibul Hasan, in-charge of the Chuadanga Weather Observatory Centre, said the lowest temperature of the country was recorded in the district for the second consecutive-day today.
Meanwhile, the hospitals in the district are overwhelmed with patients with cold-related diseases. Of the patients, the number of children and adults with cold-related diseases and diarrhoea is high.