Cyclone Asani: 5 Barishal coastal districts on alert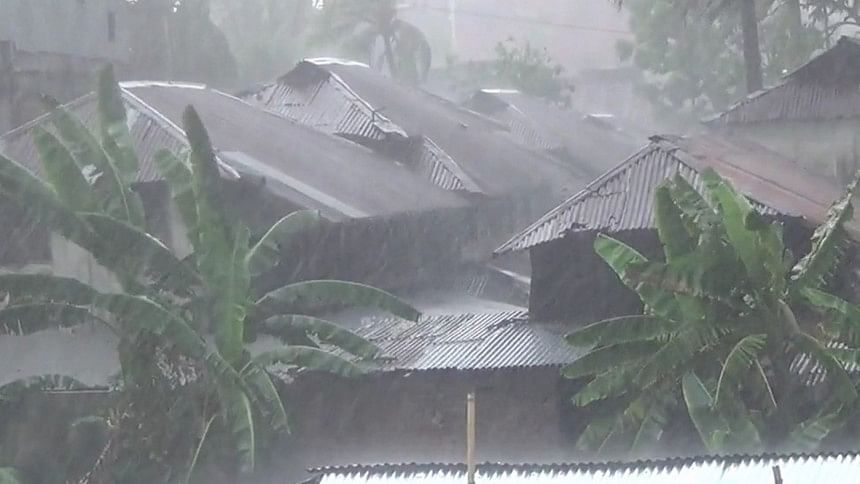 All necessary preparations have been taken in five coastal districts to face any possible situation that might arise due to cyclone Asani.
Barishal divisional administration has kept 4,915 shelter centres ready even though the Bangladesh Meteorological Department predicted that the cyclone is unlikely to hit the country's coastline.
Of these, 1,071 shelters have been prepared in Barishal district, 925 in Patuakhali, 1104 in Bhola, 712 in Pirojpur, 629 in Barguna and 474 in Jhalakathi.
Two million people along with their livestock can take shelter at these centers.
Besides, the Divisional Commissioner's Office has instructed the concerned officials to provide clean water, dry food and electricity in the shelters.
CPP (Cyclone Preparedness Programme) volunteers have also been prepared, said a source at district administration.
The upazila nirbahi officers and various government and non-government organisations have already been instructed to remain alert.
Barishal Divisional Commissioner Amin-ul-Ahsan said adequate preparations have been taken to face the possible cyclone.
The coastal areas of Patuakhali district have been experiencing rainfall since yesterday morning, due to the impact of Asani that is brewing over the Bay.
The local Met office recorded 41.6 mm of rainfall activities around 6 pm today.
The local Department of Agriculture Extension (DAE) office asked the farmers to harvest their paddy as soon as possible to mitigate damage.
Rahat Hossain, an observer of Patuakhali Weather Office, said "Light to moderate rains are likely to continue for two more days in the district. The southern part of the country including Patuakhali is likely to be safe but it will likely make landfall in Odisha in India."
 Deputy Commissioner Mohammad Kamal Hossain, said,
 "We will sit in a meeting after getting signal-4 but we still are observing the situation."
Maritime ports of Chattogram, Cox's Bazar, Mongla and Payra have been advised to hoist distant warning signal-2.
The local administration in Bhola has kept 691 shelters ready to tackle the cyclone Asani.
The local Met Office recorded 4.5 mm of rainfall from this morning until noon.
The authorities concerned have alerted the fishermen and residents of the coastal areas through loudspeakers. Meanwhile a sense of panic has been prevailing in the area.
Deputy Commissioner of Bhola district said all out preparation has been taken and 13,600 volunteers of Red Crescent are ready to face any situation.
Around noon today, it was centered about 1105 Kms Southwest of Chattogram port, 1045 kms Southwest of Cox's Bazar port, 1015 kms South-Southwest of Mongla port and 1000 kms South-Southwest of Payra port, said a Met Office bulletin.
It is likely to move in a northwesterly direction, it said.