Dhaka Air: HC slams DoE for failure to check pollution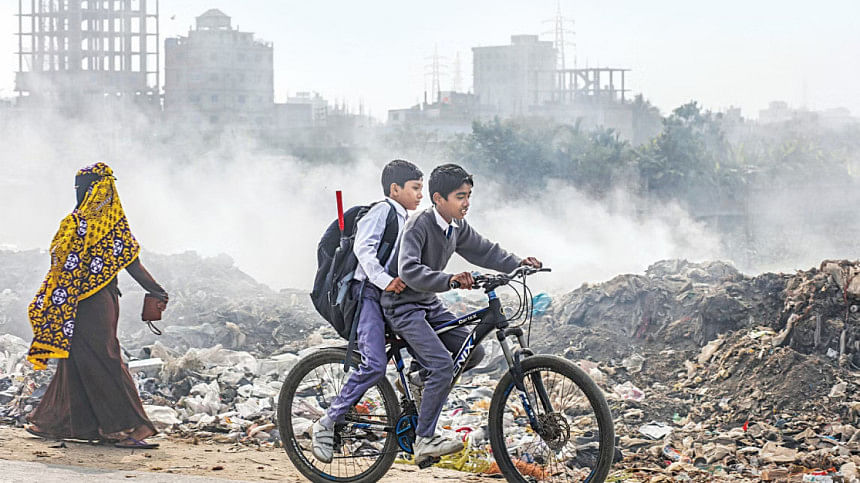 The High Court yesterday blasted the Department of Environment (DoE) for its failure in taking effective steps to control air pollution in Dhaka despite its repeated directives.
"The capital city has been at or near the top of most polluted cities in the world for the last seven or eight days. Public health is at serious risk due to the air pollution. You are not taking effective measures to control the situation. Will you kill us by not curbing the air pollution?" the HC bench of Justice KM Kamrul Kader and Justice Mohammad Ali asked DoE's lawyer Amatul Karim Swapna while hearing a writ petition.
The court said some field-level officers of the DoE reportedly have connived with the owners of illegal brick kilns which are polluting the environment.
Those officers don't dispose of on time the appeals of the owners for permission to operate their brick kilns and therefore, so they (owners) can get scope for running the brick kilns, the HC bench said.
Lawyer Amatul Karim told the HC that not only her client (DoE) but also other departments are responsible foruncheckedair pollution in Dhaka.
The DoE has a shortage of manpower required for discharging duties properly, she added.
The HC bench also asked the authorities concerned like DoE, Dhaka city corporations and fire service and civil defence to inform it on February 5 what steps they have taken to control pollution in the capital.
The bench passed the order during the hearing of the writ petition filed by Human Rights and Peace for Bangladesh (HRPB) in 2019 seeking necessary orders on the authorities concerned.
During the hearing, the petitioner's lawyer Manzill Murshid told the HC that the court has earlier delivered several directives to the government, DoE and Dhaka city corporations and fire service and civil defence to take effective steps on this matter.
If they had taken effective steps in line with the HC orders, the capital would not be so polluted, he added.
Following the same petition, the HC on January 28, 2019, ordered the director general of the DoE to take steps to conduct mobile courts twice a week against those responsible for air pollution in Dhaka.
Deputy Attorney General Abdullah Al Mahmud Bashar represented the state during the hearing.