Curbing deadly air pollution: 4 nations draw up roadmap
Bangladesh, India, Pakistan, Nepal join hands in maiden transboundary move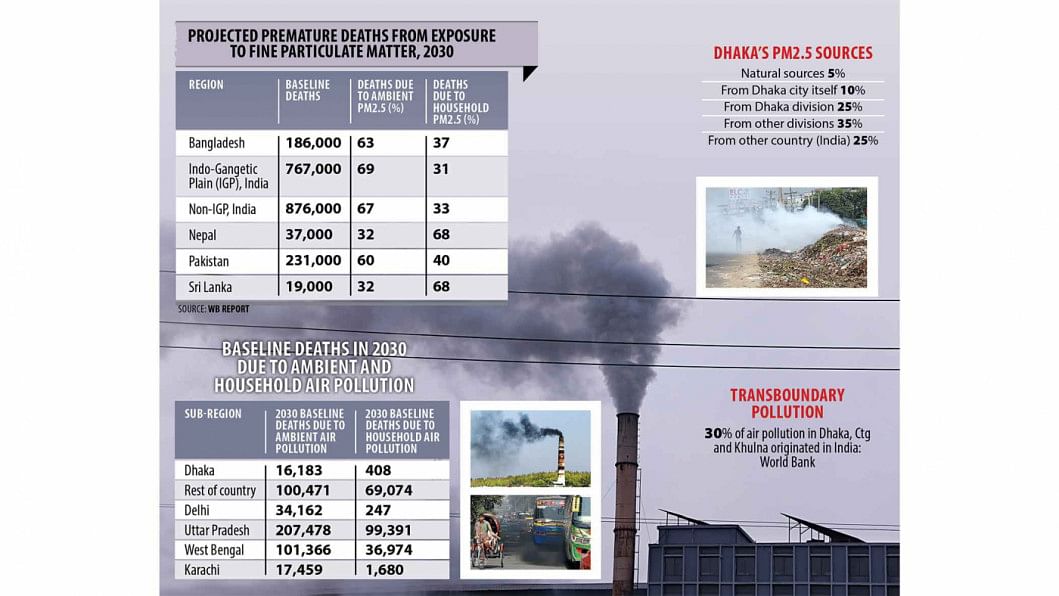 Four South Asian countries -- Bangladesh, India, Nepal and Pakistan -- have agreed to drastically bring down the annual average of particulate matter (PM) 2.5 in the countries' air to 35 microgrammes per cubic metre by 2030.
The reduction would mean better air quality and reduced health burden, which will help the countries reach the World Health Organization's interim target.
For countries struggling with severe air pollution, the WHO set an interim target of 35 mcg/cubic metre of PM 2.5.
Facilitated by the International Centre for Integrated Mountain Development (ICIMOD) and the World Bank, government delegates from the four countries met in Nepal on December 14 and 15 to draw up the Kathmandu Roadmap for improving air quality in the Indo-Gangetic Plain and Himalayan Foothills. They discussed the issue for two days and finalised the plan on December 15.
PM 2.5, which is basically dust and other matters generally smaller than 2.5 micrometres, is considered most hazardous to health. The particles penetrate deep into the lungs and enter the bloodstream.
Currently, the annual average PM 2.5 in Bangladesh is around 85 to 90 microgrammes (mcg) per cubic metre.
If the level reaches 35 mcg/cubic metre or above in a 24-hour period, the air is considered unhealthy and can cause problems for people with breathing issues such as asthma.
"This is the first transboundary initiative between the four countries. It is a major and important initiative to reduce air pollution in the world's most polluted areas," Md Amirul Kyser, deputy secretary of Ministry of Environment, Forest and Climate Change, told The Daily Star yesterday. He was part of the delegation from Bangladesh.
He said the four countries agreed to take both national and regional steps to reduce PM 2.5 to 35 mcg/cubic metre by 2030.
"This initiative was much needed and a timely one," he said, adding that the countries agreed to share their experiences and also the tools used to contain air pollution among themselves.
Kyser said the four countries also agreed to meet regularly to monitor the efforts and findings as such coordination efforts would help enable regional initiatives and policy harmonisation across the region.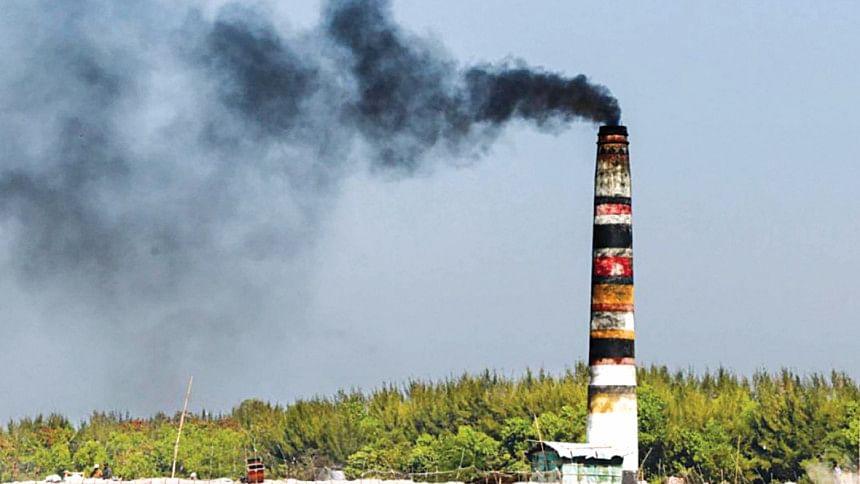 "Initially, although four countries have joined, we are expecting the other four countries of ICIMOD -- China, Myanmar, Bhutan and Afghanistan -- to join the initiative," he added.
The World Bank on Wednesday published a report titled "Striving for Clean Air: Air Pollution and Public Health in South Asia" which says under the predominant wind direction from the northwest to the southeast, 30 percent of the air pollution in three largest cities of Bangladesh -- Dhaka, Chattogram, and Khulna -- originates in India.
The report also mentions in terms of air pollution in Dhaka, the capital is responsible for just 10 percent while 25 percent originates in other countries.
According to the report, while existing measures by the government can reduce particulate matter, significant reduction is possible only if territories spanning the airsheds  -- areas affected by the same air mass -- implement coordinated policies.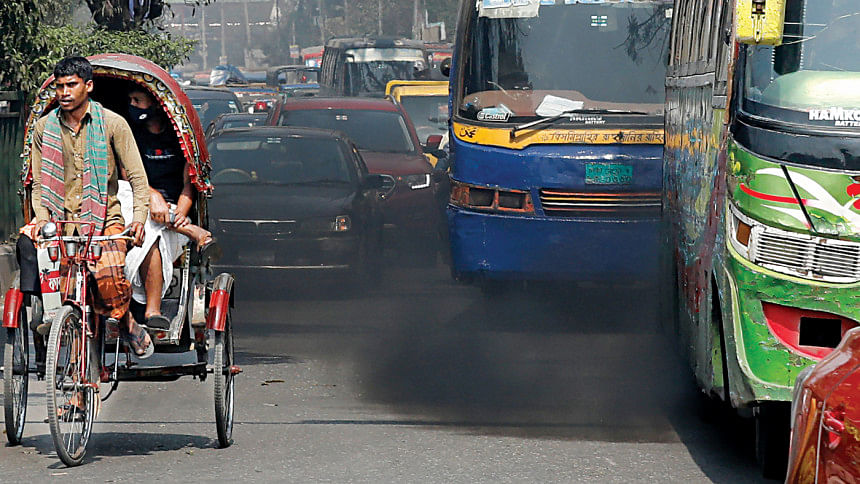 Currently, over 60 percent of South Asians are exposed to an average 35 mcg/cubic metre of PM2.5 annually. In some parts of the Indo-Gangetic Plain (IGP), it has been seen to spike to as much as 100 mcg/cubic metre -- nearly 20 times the upper limit of 5 mcg/cubic metre recommended by the WHO, says the World Bank report.
The report examined multiple scenarios to reduce air pollution with varying degrees of policy implementation and cooperation among countries.
The most cost-effective one would cut the average exposure of PM 2.5 in South Asia to 30 mcg/cubic metre at a cost of $278 million per microgramme per cubic metre of reduced exposure, and save more than 7,50,000 lives annually.
Welcoming the move, air quality experts said the big question was how the pollution sources would be addressed.
"We have been calling for such an initiative for a long period. It is a very good move. But how will the initiatives be taken to curb the pollution? What is the country-specific roadmap, and do we have sufficient budget to achieve the target?" said Dhaka University Professor Abdus Salam, an air pollution researcher.
Earlier this month, the World Bank in another report, "Breathing Heavy: New Evidence on Air Pollution and Heath in Bangladesh", said air pollution is killing around 80,000 people every year in Bangladesh by causing respiratory problems as well as depression, and wiping out around four percent of the country's GDP.
Children under five years and elderly people with comorbidities such as diabetes, heart or respiratory conditions, are most vulnerable, it said.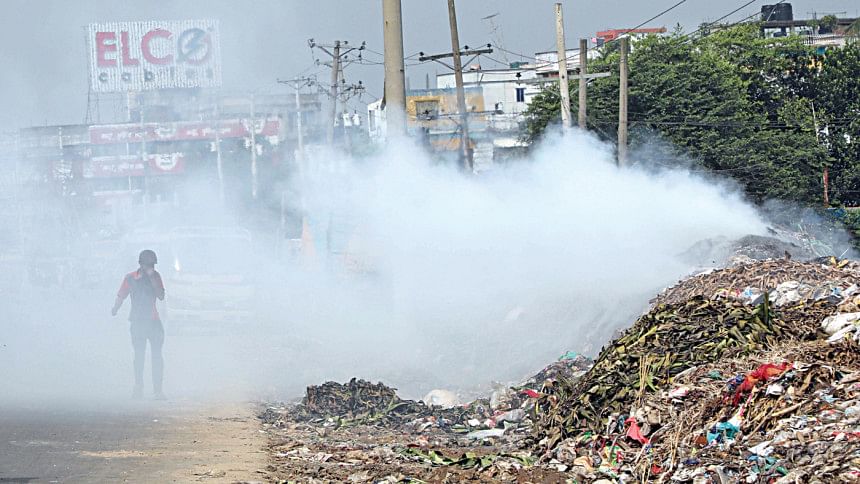 The report said in 2019, air pollution was the second largest cause of deaths and disabilities in Bangladesh and cost the country about 3.9 to 4.4 percent of its GDP.
Syed Nazmul Ahsan, director of air quality management at the Department of Environment, said a national committee has been formed recently to control air pollution and surely the committee would chalk out a detailed roadmap.
On November 28, a national committee, headed by the cabinet secretary, was formed to advice government on how to control air pollution.