Air pollution takes 3 years off life in Bangladesh
Impact on life expectancy in Bangladesh worse than in India, Pakistan, Bhutan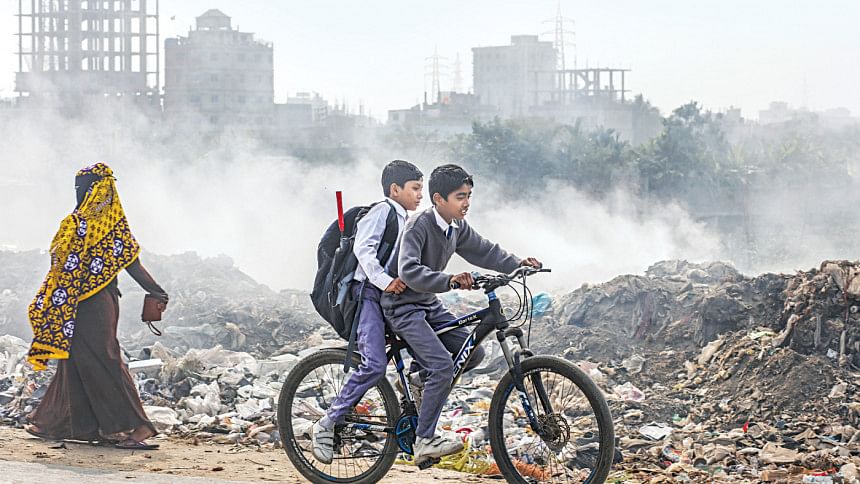 Air pollution cuts the average life expectancy of a person in Bangladesh by almost three years, said a global report.
It is higher than in India, Pakistan, Bhutan, and Afghanistan. Nepal, with air pollution-linked life expectancy loss of 3.05 years, is the worst affected in this region, according to the report released yesterday by US-based organisations Health Effects Institute and Institute for Health Metrics and Evaluation.
The report, titled "State of Global Air-2020: How Does Air Pollution Affect Life Expectancy around the World", said air pollution's impact on life expectancy is the greatest in less-developed countries, where many suffer a double burden from high outdoor and indoor air pollution.
The worst affected countries included Papua New Guinea (3.2yrs) and Niger (3.1yrs), said the report, prepared based on air quality data collected from across the world in 2019.
For Bangladesh, the life expectancy loss is 2.91 years, said the report, which added that 1.16 years is cut short by outdoor air pollution while 1.53 years by indoor air pollution.
At present, the average life expectancy of Bangladeshis is 72.6 years, according to the Bangladesh Bureau of Statistics.
The current levels of air pollution have reduced the global life expectancy by one year and eight months on average, the report also said. "Air pollution reduces people's average life expectancy by almost as much as tobacco use does."
The poor air quality of Bangladesh often makes global headlines due to fossil fuel combustion, biomass burning, emissions from unfit vehicles, brick kilns and massive development works.
The World Air Quality Report 2020, released in March last year, said the average annual PM 2.5 concentrations in the country was 77.1 micrograms per cubic metre, which was more than two times higher than the WHO recommendation.
A 100 percent of Bangladesh's population is in areas that exceed the annual WHO guideline for the least stringent interim target of 35 micrograms per cubic meter, it said.
Particulate matter (PM) is the sum of all solid and liquid particles suspended in air, many of which are hazardous. This complex mixture includes both organic and inorganic particles, such as dust, pollen, soot, smoke, and liquid droplets.
To estimate the impact of a particular factor on life expectancy, researchers quantify the likelihood of dying from diseases related to that factor at different ages in a population and calculate a "risk-deleted" life expectancy -- that is, the length of life that would be expected if the factor were absent.
According to the World Health Organisation, air pollution kills an estimated seven million people worldwide every year.
Pallavi Pant, senior scientist at Health Effects Institute, told The Daily Star, "The burden on health due to air pollution is massive across South Asia, and we see that both in terms of deaths and reduction in life expectancy as well as the economic costs."
She also said, "Currently, most countries in the region do not even meet the least stringent target values for PM2.5 or ozone. Data shows that there is a need to prioritise long-term reduction of emissions from major sources of air pollution. In doing so, the WHO guidelines and Interim Targets can serve as useful milestones or benchmarks."
As his attention was drawn to the report, Prof Abdus Salam of Dhaka University's chemistry department, said, "It is an established fact that air pollution reduces people's life expectancy. The report has also shown us that checking outdoor air pollution is as important as curbing indoor pollution."