Of dead and dying dighis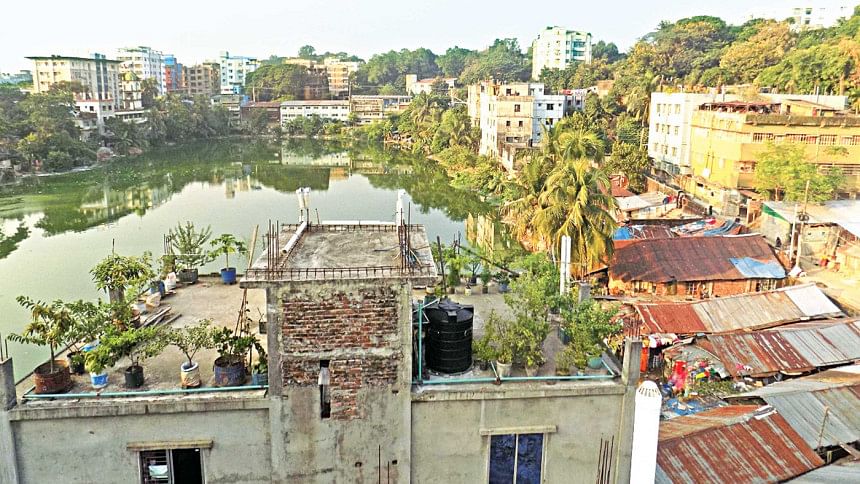 Chattogram city's historic Rother Pukur pond is truly a part of history books now.
Located in the city's Nandonkanon area, the once-vibrant water body is now non-existent, following rampant construction of residential and commercial buildings on it.
Like Rother Pukur, Dewanjipukur in Dewan Bazar, Rajapukur in Anderkilla, Maillerpukur and Munshipukur in Bohaddarhat, Moulvipukur in Chandgaon and more have met similar fates over the years, becoming victims of encroachment, unplanned urbanisation, and lack of proper monitoring, said locals and experts.
Meanwhile, the historic Ashkar Dighi of Jamal Khan, Bhelua Shundorir Dighi of Pahartoli, Agrabad Dhebar Dighi, and Ranir Dighi at Enayet Bazar are in serious danger due to encroachment, earth filling, and pollution.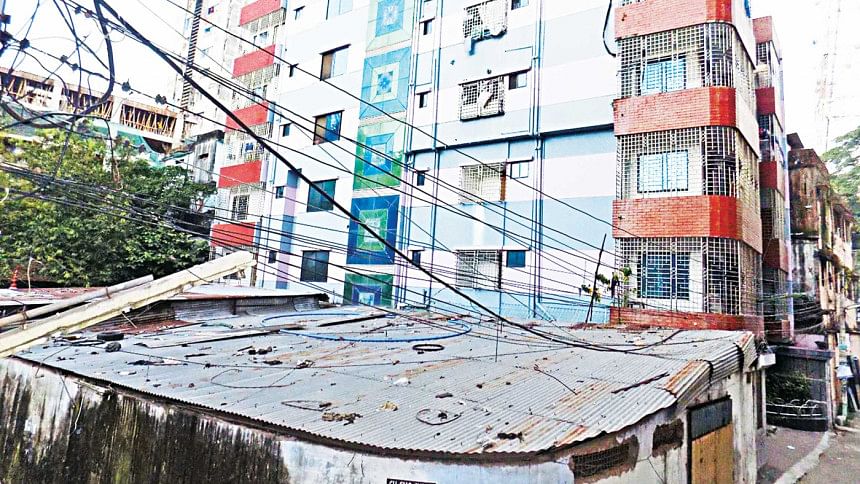 According to records and surveys, in just 10 years, the city has lost more than 3,000 water bodies since 2005.
This has serious implications for the port city. "Ecological balance collapses when such big dighis are filled up, while the refilling of ground water is also seriously hampered," said Dr Md Atiqur Rahman, associate professor of geography and environmental studies department at Chittagong University.
"The water bodies which were lost and those that are being filled up could have relieved city dwellers from recurring issues, such as waterlogging."
Md Abu Issa Anshary, deputy chief town planner of Chattogram Development Authority (CDA), said, "In 2005, we conducted a survey across 41 wards of Chattogram town and found 4,523 ponds."
But in a satellite survey in 2015, researchers found drastically fewer water bodies in the Chattogram City Corporation area.
Morshed Hossain Molla, PhD researcher of Chittagong University's Department of Geography and Environmental Studies, said, "Under the supervision of Prof Mohammad Abu Taiyeb Chowdhury, we identified a total of 1,352 water bodies in the area."
"Based on this information, we conducted a field survey in 41 wards of Chattogram town and found a total of 1,249 water bodies," he said.
This has lead to not only environmental degradation, but also a loss in the city's scenic beauty. "The panoramic beauty of Bhelua Shundorir Dighi [in Pahartoli] has been completely lost, as grabbers continue to construct houses and shops, encroaching the dighi," said Ali Ashraf, a resident of the area.
"A festival of encroaching the Bheluar Dighi has been running for almost three decades," said local Md Ilias Mia. "Locally influential politicians and businesspeople are behind this indiscriminate grabbing," he alleged.
Some identify the premises of the Playground, Open Spaces, Gardens, and Water Bodies Conservation Act, 2000, as paving way for this sorry state of the water bodies.
Though the act specifies the fine and imprisonment term for the violation of any of its provisions, it does not direct the government to recover the original characteristics of a water body if someone fills it up. The act also does not have any provision to recover disappearing water bodies that were once marked in survey records and exist in government documents.
Additionally, the act does not have any provision that prohibits construction of any kind of permanent or temporary structure within a determined distance of water bodies.
 However, it does make the preservation of any waterbody as large as 0.5 acres or more in the the Detailed Area Plan of CDA mandatory.
The mass disappearance of these water bodies has another possible side-effect for port city residents. "It will be tough for us to control a fire hazard if a major fire breaks out in the city as most of the water bodies are out of water, which  is a matter of serious concern," said Newton Das, deputy assistant director of Chattogram fire service.