A third of power capacity unutilised
Fuel crisis and maintenance work to blame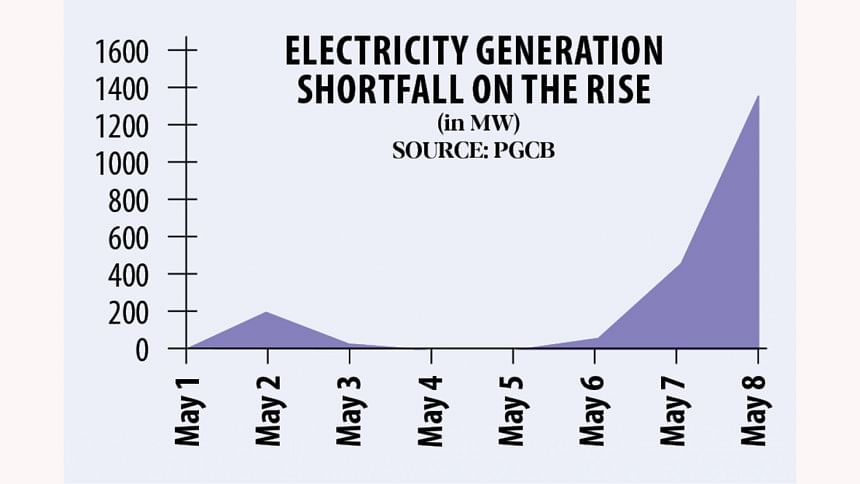 About one-third of the country's total power generation capacity remains unutilised when people across the country are enduring mild and moderate heatwaves.
For instance, on May 8, 7,139MW of electricity generation capacity was not used thanks to the fuel crisis and maintenance-related down time, shows data from the Power Grid Company of Bangladesh.
About 3,653MW capacity was not utilised for fuel crisis and another 3,486MW for maintenance-related issues.
During heatwaves, people consume more power by using ACs and fans and the load-shedding is leaving them exposed to the sweltering heat.
"We have some fuel-related problems, which we are trying to solve with Petrobangla and BPC [Bangladesh Petroleum Corporation]," said SM Wazed Ali Sarder, member (generation) of the Bangladesh Power Development Board.
Electricity production will be ramped up soon, he said.
"Coal for Rampal power plant has arrived -- the plant will resume operation soon. There were some interruptions, but all will be okay. We have passed the crisis moment of Boro season and Ramadan," he added.
Petrobangla is supplying about 2,700 to 2,800 million cubic feet of gas a day (mmcfd) to the national grid, of which 1,000 to 1,100 mmcfd is going to power plants.
This seems to be inadequate as the PDB already wrote to Petrobangla to increase gas supply.
Petrobangla bought four consignments of LNG from the spot market last week. It was buying one or two since Bangladesh resumed buying LNG from the market in February after a seven-month pause.
The gas crisis hit the power plants in Ghorashal, Haripur, Ashuganj, Bheramara, and Sirajganj. Due to the coal crisis, the Rampal power plant in Bagerhat remained shut since April 23.
A 307MW power plant in Barguna also remains shut due to a coal shortage.
By analysing PDB and PGCB data, it was found that at least 100 out of the 154 power plants in the country do not produce electricity as per their capacity.
Among the gas-based power plants, 5,846MW was produced out of the total capacity of 11,094MW.
Furnace oil-based power plants produced 2,660MW when they have a capacity of 5,925MW.
Private diesel-fired power plants produced 230MW of electricity on average. They have a capacity of 1,286MW.
Bangladesh imports 1,160MW of electricity from India, which supplied around 1,011MW of electricity on average.
"The overall economy has failed the power sector, not the power sector itself," said Mohammad Tamim, dean of the Chemical and Materials Engineering Faculty at Buet.
Two coal-based power plants and three LNG-based power plants are ready to start commercial operation but are unable to due to a fuel crisis.
The fuel crisis is due to the dollar shortage, he added.
But it is the consumers that continue to suffer.
Take the case of Hamida Akhter, a housewife in Netrakona's Purbadhala area. For the last couple of days, there have been power outages at least seven to eight times a day.
"We forgot to retain water in our tank. In the meantime, the power outage happened, leaving us without water for at least three hours," she added.
In Bogura, the power outages increased over the last three days. There were 30-minute power outages every two hours during the day, said locals.
Rezaul Karim, owner of Reza Engineering and Metal in Bogura BSCIC, is running up operations costs by using power generators.
Yesterday, the power demand was 15,300MW while 13,752MW was generated.
On May 8, the gap between the electricity demand and supply of Bangladesh Rural Development Board (REB), which supplies power to 55 percent of all consumers in rural areas, was 1,483MW, the highest since April 15.
The highest shortage, 352MW, was in the Mymensingh zone on Monday.
All the zones of REB including Cumilla, Khulna, Rajshahi, Rangpur, Sylhet, Dhaka and Barishal faced loadshedding for about one to three hours that day.
PGCB's hourly power-cut data showed that 1,582MW load was shed at 12:00am yesterday.
That means that urban areas were getting better electricity supply.
The government had a plan to produce at least 16,000MW of electricity a day as per demand from April to June, the warmest time of the year.
But since the first of April it failed to do so.
The PDB generated a record 15,648MW on April 19. Even then, PDB was not able to meet the country's demand of 16,096MW and had to shed 428MW load in Mymensingh, Cumilla, Sylhet, and Rangpur areas.
Daily production decreased since then.
But in recent days, when the temperature started to increase, power generation did not increase proportionally.
The country's total electricity generation capacity is 22,566MW.