Cabinet approves proposals for import of LNG, fertiliser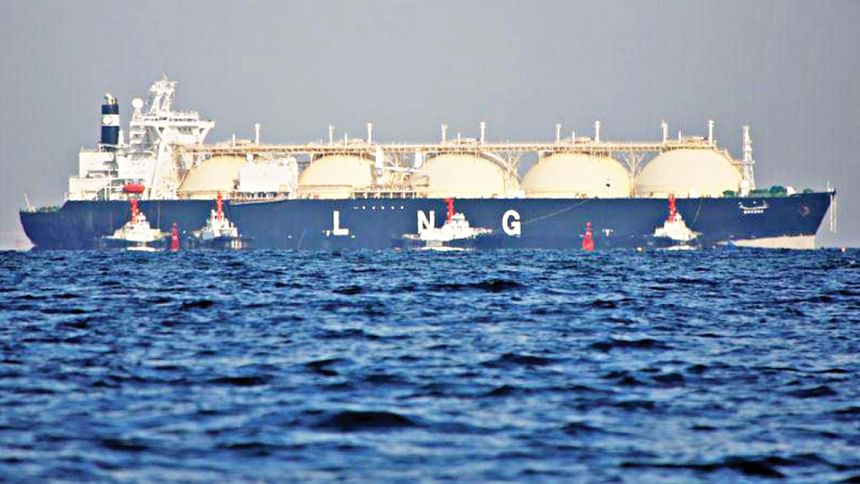 The Cabinet Committee on Government Purchase (CCGP) in a meeting today approved seven proposals including import of LNG, fertiliser and lentil.
Finance Minister AHM Mustafa Kamal presided over the meeting while members of the committee attended it.
As per a proposal, placed by the Energy and Mineral Resources Division, state-owned Petrobangla will import a cargo of LNG (liquefied natural gas) containing 33.60 lakh MMBtu at Tk 578.65 crore with each unit at $13.69.
Excelerate Energy LP of the United States will supply the LNG cargo.
A proposal of the Trading Corporation of Bangladesh, placed by the Commerce Ministry, received the nod of the committee to import 8,000 metric tons of lentil at a cost of Tk 72.91 crore.
Uma Expo Pvt Ltd, India (Local Agent: Future Infrastructure Development Ltd, Dhaka) will supply the lentil at Tk 91 per kg.
The committee approved two separate proposals on fertiliser import.
Of these, the Bangladesh Agriculture Development Corporation (BADC) will import 40,000 MT of DAP fertilizer from OCP, SA of Morocco under a state-level agreement. Each metric tonne of DAP fertilizer will cost $610.
Another 30,000 MT of bagged granular urea will be procured from local Karnaphuli Fertiliser Company (Kafco) at Tk 105.43 crore while each metric tonne will cost $327.62.
The National Board of Revenue (NBR) will procure a Software Solution and Automated Risk Management System from Webb Fontaine Group Fz-LLC, Dubai, UAE, at a cost of Tk 217.99 crore to implement a project titled: Bangladesh Regional Communication Project-1 under the Implementation of National Single Window and Customs Modernization and Strengthening Project.
The Cabinet body approved a proposal of the Roads and Highways Department to extend the cost of a project titled: "Upgradation of Barisal to Bhola via Laxmipur improvement road" by Tk 15.21 crore.
Another proposal of the Roads and Highways Department received the approval of the committee to appoint Joint Venture of (1) SMEC, Australia; (2) OCG, Japan; (3) Doha Engineering Co Korea; (4) ACE, Bangladesh and (5) DDC, Bangladesh as consultant for its project titled: "Technical Assistance for Road Transport Connectivity Improvement Project Preparatory Facility" at a cost of Tk 44.26.
Meanwhile, the Cabinet Committee on Economic Affairs approved in principle a proposal of the Shipping Ministry to implement a project "Employment of International Quality Private Operators for the Management and Maintenance of New Mooring Container Terminal and Overflow Container Yard of Chittagong Port" under the Public Private Partnership (PPP).
The Chittagong Port Authority will implement the project as per Procurement Guidelines for PPP Project, 2018.