Wild lion nursing leopard cub
While African lions have a habit of killing leopards, it was quite surprising to see a five-year-old lioness nursing a weeks-old leopard cub recently in Tanzania's Ngorongoro Conservation Area.
"It's unprecedented," Luke Hunter, president and chief conservation officer for Panthera, a global wild cat nonprofit, told National Geographic. "We never see this in the wild."
It's unclear exactly how the lion and the leopard came into contact, or where the leopard's true mother might be, but for now, Hunter says it seems as though the lioness's aggressive instincts have taken a back seat to her maternal ones, reports National Geographic.
Same-species suckling and adoptions for wild cats and other wildlife have been documented before, including the first ever wild puma kitten adoption captured on camera by Panthera. But cross-species nursing for wild cats—and all wildlife—is highly unusual, a press release by Panthera said.
Hunter in the release said that he knows "of no other example of inter-species adoption or nursing like this among big cats in the wild."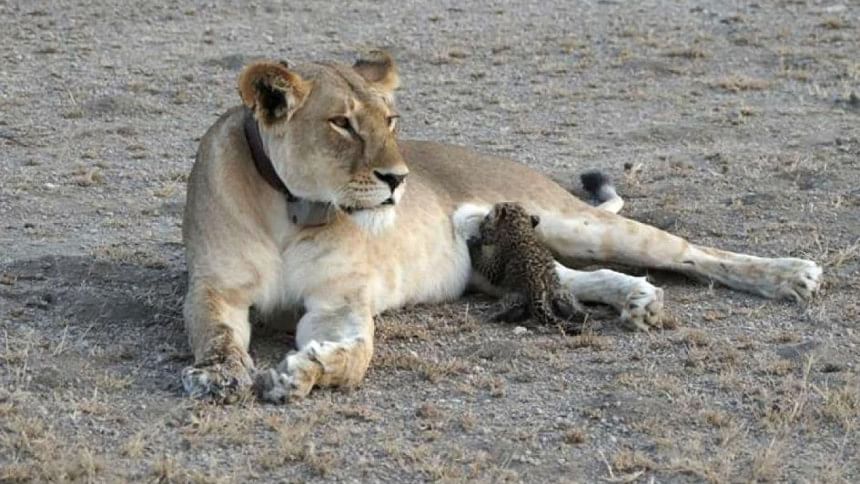 The mother pictured is a 5-year-old lioness named Nosikitok, living in Tanzania's Ngorongoro Conservation Area, while the leopard cub is estimated to be just a few weeks old. Panthera released the photos after a visitor to the area snapped them and sent them to the nonprofit.