Women bear the brunt of climate change
Speakers tell event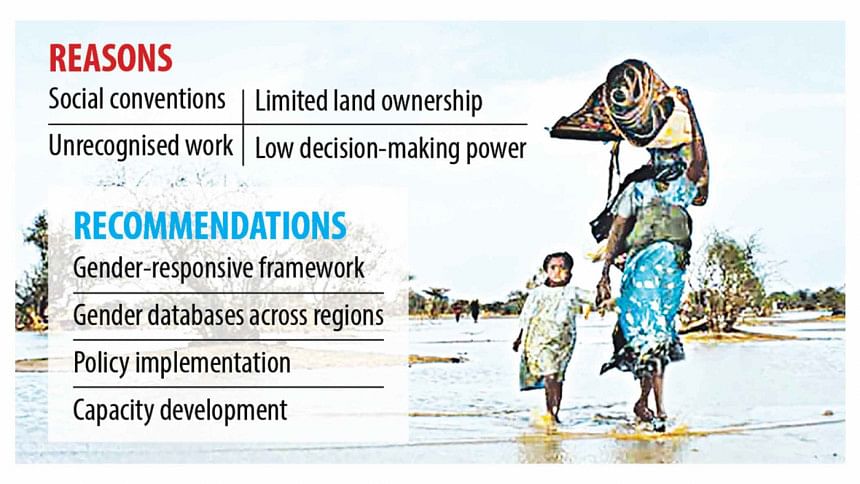 The effects of climate change increase the social and economic vulnerabilities of Bangladeshi women by directly impacting their access to food, water, and income, found a national assessment.
Women suffer more than men because of long-standing social conventions and traditional gender norms, it found.
The study, titled "State of Gender Equality and Climate Change in Bangladesh", was jointly conducted by the UN Environment Programme (UNEP), UN Women, and the International Union for Conservation of Nature (IUCN).
Prof Sharmind Neelormi of Jahangirnagar University's economics department presented the study findings at an event at a city hotel yesterday.
The study focused on the gendered impacts of climate change and the gender gaps in agriculture, water resource management, forestry and renewable energy sector.
It found that the involvement of women in agriculture remains systematically unrecognised and under-reported, resulting in lower wages and limited access to credit, agricultural extension services, technologies, and markets.
Besides, limited land ownership and rights of women and girls contribute to low decision-making power.
"Due to societal norms, systemic gender inequalities and reproductive obligations, women are disproportionately affected. For example, collecting and storing water and other labour-intensive care work in the household reduces their time and opportunity for economically productive work, networking, skill development and community activities," the study mentioned.
Floods, droughts and salinity intrusion disrupt the food production system, disproportionately burdening women and girls with food insecurity, income loss, and health hazards, it found.
"Besides, these events force men to migrate to cities for employment opportunities, leaving female family members behind in a relatively insecure social position and exposing them to gender-based violence."
The study recommended sensitising and building capacity among policymakers, government agencies and stakeholders, including women's rights organisations, developing research and evidence-based policy advocacy.
It also recommended developing a gender-responsive monitoring and evaluation framework and establishing gender databases across regions, livelihoods and communities of diverse experiences and practices.
Attending the event as chief guest, Dr Farhina Ahmed, secretary, Ministry of Environment, Forest, and Climate Change, said, "To make sure that every development project is gender-responsive, we need to create a toolkit."
"There is a gap in perceiving the gender-responsive policies and plans into reality. Capacity development interventions are required to reduce these gaps," she said.
Nayoka Martinez Bäckström, first secretary, Environment & Climate Change, Embassy of Sweden, said Bangladesh has strong policies on climate change and gender equality. However, a gap remains in implementing these policies.
UN Women deputy country representative Diya Nanda; Mozaharul Alam, regional coordinator-Climate Change Programme UNEP; Raquibul Amin, country representative, IUCN, and Md Iqbal Hussain, national project director at Ministry of Women and Children Affairs, also attended the event.