Untimely flood ravages croplands in Sirajganj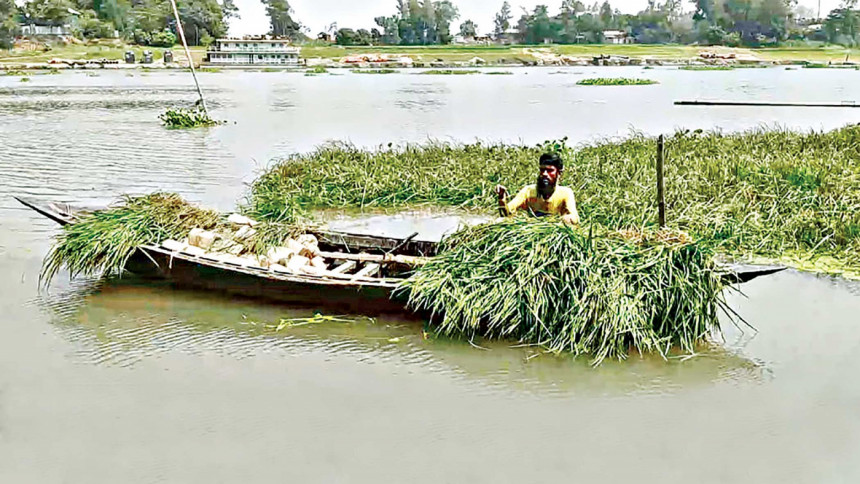 Hundreds of acres of croplands on the banks of Jamuna in different upazilas of Sirajganj have been flooded by the onrush of waters from the upstream in the last few days.
Farmers of Sirajganj Sadar, Chowhali, Shahjadpur and Kazipur upazilas are trying to harvest half-ripe paddy and take it home to save their crops from drowning in untimely floods.
Sirajganj District Agriculture Extension Officer Ahsan Shahid Sarkar said about 139 hectares of Boro paddy along the Jamuna river had already been submerged in the last few weeks due to rising water levels in the river.
He said those who had planted Boro paddy in advance in the low-lying areas outside the embankment along the banks of the river Jamuna have been the worst affected.
Visiting the affected areas, it was found that the farmers were not ready for this sudden flood.
Nasima Khatun of Enayetpur village in Chowhali upazila of Sirajganj said she had planted paddy in seven bighas of land in Char. The paddy was to be harvested in the next two weeks. The sudden rise in water last week submerged her entire crop field. One bigha of land was hastily harvested, but the rest was ruined.
Bulbul Ahmed, a farmer of Betil Char, said the land along the river is fertile and gives good yield at low cost. In that hope, he planted paddy on 11 bighas of land this year. Before the flood, the paddy was to be cut and taken home. The crops of his cultivated land have been submerged by untimely floods.
"I was able to harvest some semi-ripe paddy but the rest sank," he added.
Md Nasir Uddin, sub divisional engineer of Sirajganj Water Development Board (WDB), said that the river water is increasing untimely this year.
"Every year water level increases in Jamuna and adjoining rivers in Sirajganj in May but this year the rivers are swelling up since mid of March due to onrush of water from the upstream," Nasir said.
According to the forecast, the water level is expected to rise till April 18, he said.
However, he also said that even if the water level rises untimely, there will be no situation like flood. The water will start receding in a few days.
Agriculture officials, meanwhile, said the untimely rise in the river had caused some damage to the char lands outside the dam, but would not affect the district's overall crop production.