River erosion allocation: No reports on beneficiaries yet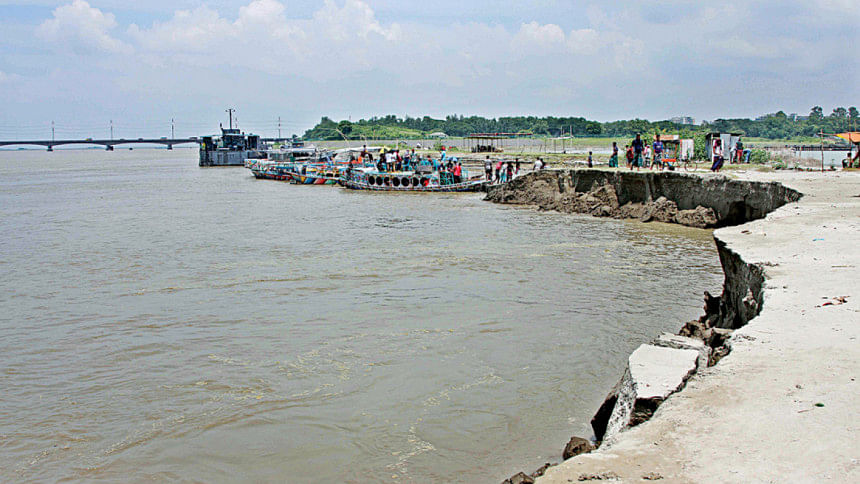 Department of Disaster Management (DDM) distributed Tk 50 crore among the victims of river erosion in October 2021 through the Upazila Nirbahi Officers.
According to the relevant documents, the DDM in two separate orders issued on March 8 and June 20 asked the UNOs to submit details of the beneficiaries.
But the DDM did not get proper response from the UNOs even almost a year have gone after the issuance of the orders.
In this backdrop, the department issued a reminder letter to the UNOs on November 7, asking them to submit the all the details by November 14.
The allocation was made under the Prime Minister's Financial Aid to the Extreme Poor and Destitute of River Erosion Prone Areas.
In the respective guidelines on this particular programme, it is said river devours about 10,000 hectares of lands and leaves about 68,000 people homeless each year.
About 1.82 lakh hectares of land has so far been engulfed by rivers since the independence of the country in 1971.
In recent years, the government took measures to provide financial assistance to the victims of river erosion.
In 2021, a total of 51,094 families of 96 upazilas in 31 districts of the country were proposed for the aid and the money was allocated to the UNOs from the special fund under the 2021-22 budget, reads a letter issued to on October 10, 2021.
The DDM told UNOs to follow the guidelines and distribute money to families equally and also submit a report with the details of beneficiaries after the distribution.
As without their feedback, the DDM will not be able to report to the Ministry of Disaster Management and Relief.
On May 22, the ministry directed the DDM to submit a report in this regard, document shows.
In the latest reminder, signed by Deputy Director (FFW) MD Nuruzzaman, the UNOs and Upazila Project Implementation Officers, are asked to submit reports within one week.
Contacted over phone, Nuruzzaman said he could not immediately say how many UNOs have complied with their orders.
"If they (UNOs) fail to submit reports on time, we'll inform our director general for the next course of action," he said.