Relief distribution in a coordinated way
Committees formed to monitor govt, non-govt relief operation in Sylhet division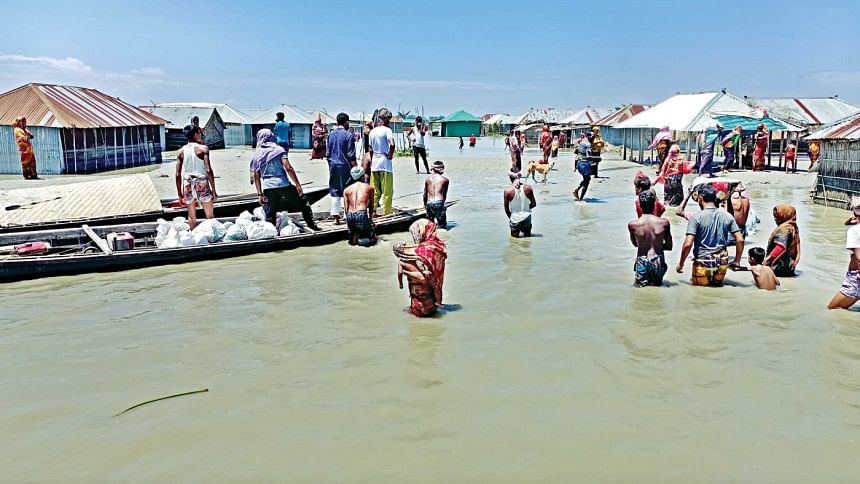 All relief -- government or non-government -- is to be distributed in a coordinated way by committees formed in upazilas and unions of the Sylhet division.
The Sylhet divisional administration came up with the idea after around two weeks of flooding in the country's north-eastern region.
Led by government officials in upazilas, the committees are being formed with chairmen of upazila and union parishads, local leaders of the ruling Awami League, agriculture officers, police and other respected locals.
A correspondent of this newspaper was present in a coordination meeting in Towakul union of Sylhet's Gowainghat upazila yesterday where the union committee chief, Rafiqul Islam, an LGED engineer working in the upazila, described the work of the committee.
He said no relief, be it government or non-government, can be distributed without informing the committee in the union and all relief will be stored first and then handed out by the committee.
"The committee will prepare a list of extreme poor and poor people of the union for rational distribution of relief and rehabilitation initiatives," he said.
Contacted, Sylhet's Companiganj Upazila Nirbahi Officer Lushi Kant Hajong said, "The committees are not meant for hoarding relief, but for guiding all relief initiatives to reach the people who need it the most."
Debajit Singha, additional divisional commissioner (general) in Sylhet, said, "Since the beginning of the flood, the distribution of non-government relief was not rational and we decided to come up with the idea to form committees to guide relief workers. Our aim is to ensure that everyone gets relief and rehabilitation support properly."
SUFFERINGS CONTINUE
"Nothing to eat, nothing to feed and the house is flooded. Now the struggle is to survive and keep the cattle alive," said Sarada Biswas, of Baramaidan village in Moulvibazar's Barlekha upazila, right on the edge of Hakaluki haor.
Like Sarada, Sanat Das of the village is also passing hard times to feed his family of five, and the four cattle he owns.
"Not just me and my family; these cattle are starving for days. Our food is being managed this way or that way, but I'm really worried of cattle fodder," he said.
Siddik Miah, of Phulbari village in Netrakona's Kalmakanda upazila, said, "Within half an hour, our house was flooded and we lost the house and 15 maunds of paddy we stored in the house. Now my family of five are homeless and helpless."
Solomon Rithit, the headman of the village, mostly inhabited by the Garo people, said, "It took only a few minutes, the overflowing river submerged the village. I lost a house and another is barely standing."
FLOOD IN THE NORTH
While the situation improving in the north-eastern districts, the flood situation is deteriorating in the northern districts, causing sufferings for thousands of people there.
River erosion has also started in the north, rendering many people homeless.
In Tangail, as water level of the Jamuna started receding, the erosion begins in Kalihati, Nagarpur, Bhuanpur and Sadar upazilas.
In the fresh erosion, several hundred houses and other structures have already been devoured by the river, displacing many people.
The house of one Jorina Begum of Konabari village in Bhuanpur upazila has gone into the river, forcing her family to take shelter on an embankment in Govindasi.
She said, "We don't know where to go now. No one has come with any assistance so far."
A portion of the newly constructed dam near Bangabandhu bridge in Beltia area of Kalihati upazila was collapsed. The people of nearby localities are in fear of being affected.
Locals blamed poor quality of construction work for this.
However, Sirajul Islam, executive engineer of Water Development Board in Tangail, denied it and said they were taking emergency measures in the erosion-affected areas.
In Sirajganj, the swelling Jamuna has swamped 25 unions in five upazilas where over one lakh people have been marooned for weeks.
Abul Bashar of Rautera village in Sirajganj Sadar upazila, said, "For around two weeks, we have been stranded in floodwater and there is no sign of water receding."
CHAIRMAN SHOW-CAUSED
Meanwhile, Abu Bakkar Siddik, chairman of Maghan Siadar Union Parishad in Netrakona's Mohanganj, yesterday got a show-cause notice from the upazila nirbahi officer after he reportedly slapped some people who gathered at the union parishad for relief on Thursday.
Mohanganj UNO Sabbir Ahmed issued the notice.
[Mintu Deshwara, Mirza Shakil and Ahmed Humayun Kabir Topu contributed to this report.]