IPCC Climate Report: Grim picture painted for Bangladesh
Warns world of disaster unless serious, massive steps taken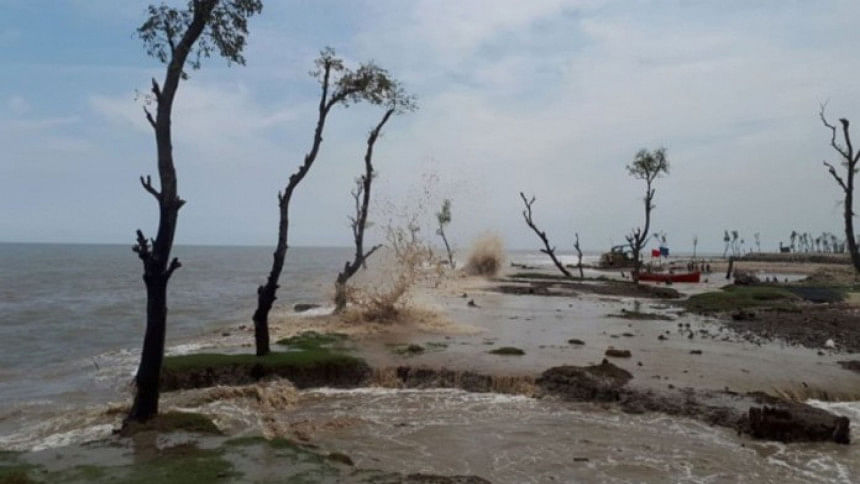 Bangladesh is likely to face more frequent and more intense heavy rainfalls, flooding, and cyclones due to global climate change in the coming days, predicted the Intergovernmental Panel on Climate Change (IPCC).
The IPCC report titled 'Climate Change 2021: The Physical Science Basis' released yesterday said climate change will bring multiple changes in every region. Coastal areas will see continued sea level rise throughout the 21st century, there will be more frequent and severe coastal flooding in low-lying areas and there will be coastal erosion.
"Due to global warming, frequency of category 4, category 5 cyclone will increase in Bangladesh. Due to this, frequency of storm surges will also rise and the coastal areas will be badly affected," Professor AKM Saiful Islam, one of the lead authors of the IPCC report, told The Daily Star yesterday.
He also said heavy rainfall will take place in the country and subsequently more flooding will be expected.
"The frequency and intensity of heavy rain and flooding will increase in the country which will impact on the agriculture too."
The Buet professor also said sea level will continue to rise and salinity will increase in the Bangladesh's coastal areas.
Last year, Bangladesh suffered its second longest and worst flood since 1998, which lasted for over 40 days. In 2018, it saw the highest water levels during floods in history, a record that got broken the next year.
Environmentalists said the frequency of flood and cyclones has increased in the country in recent years.
The IPCC report said most of these impacts are irreversible and hence cannot be remediated even if greenhouse gas emissions decline dramatically.
It said heatwaves and humid heat stress will be more intense and frequent during the 21st century over South Asia.
Heat extremes have increased while cold extremes have decreased, and these trends will continue over the coming decades over Asia, the report said.
This the first time IPCC has released regional factsheets. The Asia projection maps indicate annual mean temperatures will increase by 1-2°C relative to 1850-1900 period in case of 1.5°C to 2°C global warming. There are likely to be 90 to 120 days in a year with maximum temperatures above 35°C in case of 1.5 to 2°C warming and over 180 days in case of 4°C warming.
"Strong and sustained reductions in emissions of carbon dioxide (CO2) and other greenhouse gases would limit climate change," the report said.
The report provides new estimates of the chances of crossing the global warming level of 1.5°C in the next decades, and finds that unless there are immediate, rapid and large-scale reductions in greenhouse gas emissions, limiting warming to close to 1.5°C or even 2°C will be beyond achievable.
The report shows that emissions of greenhouse gases from human activities are responsible for approximately 1.1°C of warming since 1850-1900, and finds that averaged over the next 20 years, global temperature is expected to reach or exceed 1.5°C of warming.
This assessment is based on improved observational datasets to assess historical warming, as well progress in scientific understanding of the response of the climate system to human-caused greenhouse gas emissions.
The report projects that in the coming decades, climate changes will increase in all regions. For 1.5°C of global warming, there will be increasing heat waves, longer warm seasons and shorter cold seasons. At 2°C of global warming, heat extremes would more often reach critical tolerance thresholds for agriculture and health, the report said.