Flood situation improves slightly as water levels recede in Sunamganj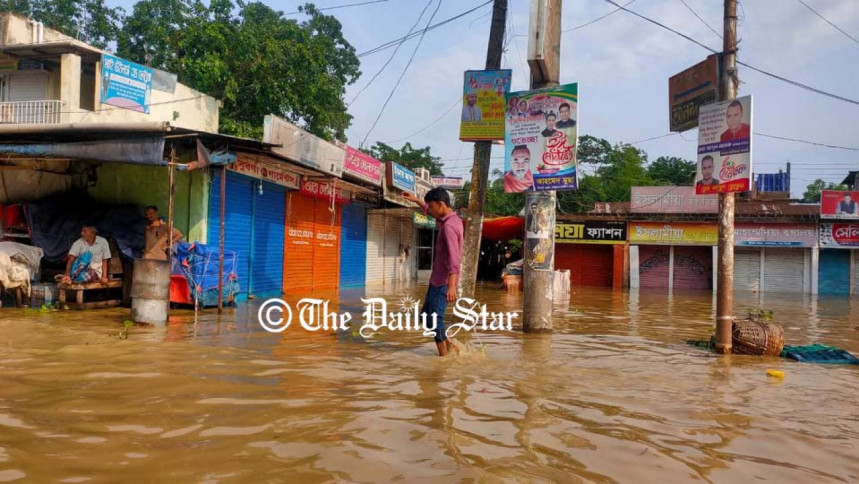 The flood situation in Dowarabazar and Chhatak upazilas of Sunamganj has improved slightly as water started receding in different areas of the two upazilas.
The floodwaters in Dowarabazar upazila receded by three to fourinches, upazila executive officer (UNO) Debanshu Kumar Singh told our Moulvibazar correspondent today (May 20, 2022).
"There is still water on the roads in many areas. Many houses, educational institutions, and roads of upazila Sadar and Surma Union have been flooded," said UNO Debanshu.
Talking to this correspondent, Tuhinul Islam, deputy assistant engineer of Chhatak, said the floodwater in the upazila receded 12 inches today.
Chhatak UNO Mamunur Rahman said almost the entire area of Chhatak municipality is underwater. The situation has deteriorated in Islampur and Noarai unions. Relief materials have been distributed among people there.
Locals said over one lakh of people have been marooned in Chhattak and Dowarabazar upazilas. Hundreds of families have taken shelter in two centres there.
Heavy rains and hill slopes continued for the past two days, inundating new areas, including 13 unions and a municipality in the upazila.
People of 10 unions including Islampur, Noarai, Singhchair, North Khurma, Jauwabazar Kalaruka in Chhatak Sadar have been worst affected by the flood. About 8,000 families are under the water.
People from Surma and Dohalia of Dowarabazar upazila were also underwater.
Roads, houses, more than 200 educational institutions and hundreds of fish farms have been flooded in the two upazilas. Various parts of the Gobindganj-Chhatak roads are under water.
Deputy Commissioner of Sunamganj Md Jahangir Hossain told this newspaper that they have so far distributed 30 metric tonnes of rice, Tk 6.5 lakh and 2,000 sacks of food items among people in different upazilas.