'Bangladesh needs to build self-capacity to combat climate change'
Civil society members say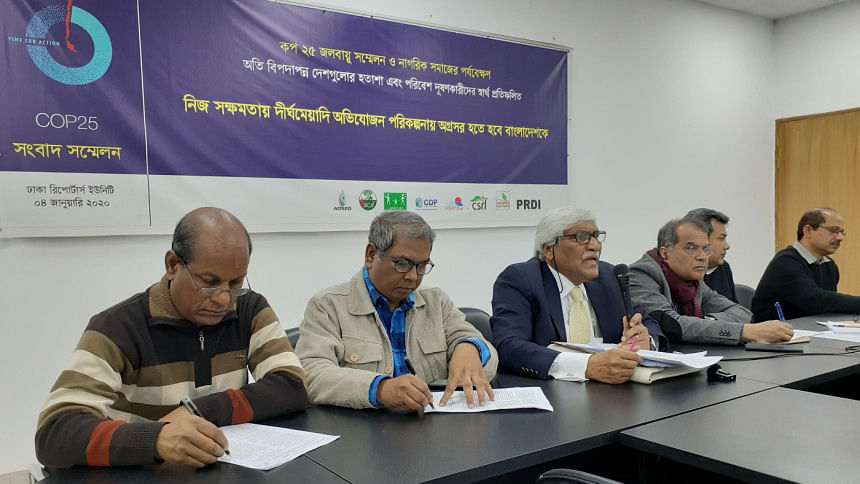 Bangladesh needs to build self-capacity to combat climate change as countries failed to reach any consensus on ways to implement the Paris Agreement in the latest COP25 conference, civil society members said today.
The alternatives can be reached through future development strategies and gaining competency to combat climate change, they said at a press conference at Dhaka Reporters Unity (DRU) in the capital.
Coast Trust, in association with several other organisations, organised the press meet titled 'COP25 Climate Conference and the Observation of Civil Society'.
In the COP21 in Paris in 2015, nearly 200 nations signed the climate deal in which each country provides its own goals to curb emissions of heat-trapping gases that lead to climate change.
On December 2-13 last year, the longest 25th United Nations Climate Change Conference, also known as COP25, was held aiming to finalise the "rulebook" of the Paris Agreement – the operating manual needed when it takes effect in 2020 – by settling on rules for carbon markets and other forms of international cooperation.
Due to discontent between the developed economies and the least developed countries, however, the talks were unable to reach consensus in many areas, pushing decisions into COP26 scheduled to be held next year in Glasgow, UK.
In this context, speakers at the conference stressed for planning alternative strategies to continue and strengthening ongoing climate action plan for Bangladesh, and placed some recommendations in this regard.  
"Disputed issues of COP are too complex to bring out an acceptable global outcome in time, even from the future COP conferences," the speakers claimed.
Hence, Bangladesh has to come up with alternative ways of its own to combat climate change, they added.  
Syed Aminul Haque, deputy director of Coast Trust, presented the keynote paper in the event while
Atiq Rahman, executive director of Bangladesh Centre for Advance Studies, and Md Shamsuddoha, chief executive of Centre for Participatory Research and Development (CPRD), also addressed the programme among others.
Rezaul Karim Chowdhury, executive director of COAST Trust, moderated the programme.