Sustainable forest resource management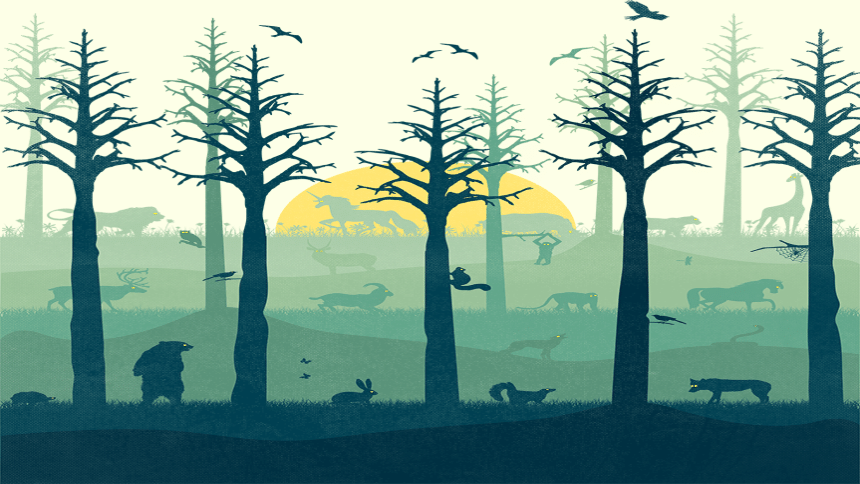 Forests provide timber, fuel and essential ecosystem services in addition to carbon storage and delivery of oxygen to the atmosphere. It is vital for the continued provision of essential life-sustaining services like health, livelihoods, water, food, nutrient cycling, carbon sequestration and climate security. The natural forests in Bangladesh are not uniformly distributed and concentrated only in the 12 districts and 28 densely populated districts are devoid of any forest. 
Bangladesh has been experiencing demographic pressure which drives large number of people to get goods and services from a single unit of land, compared to any other country. The forest ecosystem has been modified by human influence, especially by the transformation into other land uses. Exponentially increasing use and dependence on forest goods and services by the fast growing population are the main problems. Hence, it is apparent that the main problem lies outside the forestry sector. All other problems including those within the forestry sector such as declining productivity and sustainability of forest resources are manifestations of the main problem. In these socio-economic circumstances, climate change (CC) appears as an additional threat for sustainable forest management (SFM). As the global climate changes, forest ecosystems would also change and biophysical processes will be altered. If the climate parameters (temperature, precipitation, humidity, etc.) change, forest composition and structure also get altered by stressed conditions. Studies found that tropical forests in Bangladesh are already facing consequences of changing climate. The primary challenge for SFM is finding ways to continue to produce ecological services despite the complex problem cited above.
Role of forestry
It is reported that 1.6 billion on the planet and 19 million people in Bangladesh are directly dependent on forest resources for their survival. They are among the world's poorest, most marginalised and politically disempowered people. The forestry sector accounts for about 3 percent of the country's gross domestic product (GDP) and 2 percent of the labour force. The low contribution of the forestry sector to the GDP is attributed to several factors, e.g. value added from wood processing is counted under the industry sector, rather than the forestry sector. The GDP figure is an underestimate. It excludes fuel wood, fodder, small timber and poles, thatching grass, medicinal herbs, and other forest produces extracted illegally. An innovative approach - Reducing Emissions from Deforestation and forest Degradation (REDD) - was established in 2008 to value forests role in sequestering carbon. When conservation of forest carbon stocks, sustainable management of forests and enhancement of forest carbon stocks with active engagements of stakeholders are expressed in REDD+, has become a prominent discourse under the United Nations Framework Convention on Climate Change (UNFCCC) negotiation processes.
Inclusion of climate change issues in forest management will improve its role in sustainable development. The conventional forest management and enforcement practices gave limited results and has not served Bangladesh adequately in forest conservation. Again, Bangladesh Forest department (BFD) does not get the required attention from national policy makers particularly to reinvigorate this century old institution with modern practices. It lacks sufficient funds, training, infrastructure, logistics and manpower particularly new professionals to properly carry out a diverse array of responsibilities e.g. protection, exploitation, afforestation, extension, planning, training and research.
Status of forest resources in Bangladesh
The total area of forest land in Bangladesh is about 2.6 million hectares (BFD, 2015). Out of which 1.6 million hectares are under the control of the Forest Department (BFD). Un-classed State Forests (USF) 0.73 million hectares were until recently under the control of the deputy commissioners and now has been placed under the control of district councils. There are discrepancies about the total area of forest land. The National Forest Assessment (2007) reported about 1.44 million hectares which is about 9.8 percent of the total land. However, tree cover in forest land amounts to only 6.7 percent - much less than 17.62 percent of the land that has been designated as forest lands. Again, Global Forest Resources Assessment indicated that total forest area of Bangladesh is 1.429 million hectares i.e. 11 percent of the land. The per capita forest area in Bangladesh is less than 0.015 hectare against the world average of 0.60 hectare.
Of the total forest area, 84 percent has been classified as natural forest and nearly 16 percent as plantation forest. The two most common forest types, namely hill forest and mangrove forest, cover more than 68 percent of total forest area. Various participatory forestry projects were implemented to raise agro-forestry and woodlot plantations in institutional premises, fallow lands along roads, embankments, railways etc. Up to 2014-2015 51,389 hectares of woodlot plantation, 10,626 hectares of agro-forest, 64,834 km of strip plantation and 9,007 hectares of other plantations have been raised and about 6,05,566 participants are involved in social forestry programmes. An amount of Tk. 2,362 million has been distributed to 1,20,413 participants as benefit of social forestry (BFD, 2016).
The government has established Protected Areas (PA) for conservation which was begun in early seventies and currently 267,330 hectares or nearly two percent of the country's total area, is under PAs. These include 17 declared national parks, 17 wildlife sanctuaries and one special biodiversity conservation area. The co-management approach was adopted (2003) to reduce high dependency of adjoining population on the protected areas by involving the local community and stakeholders and provision of alternative income generation activities. The co-management is found to be working well where BFD officials and co-management committee (CMC) members can collaborate effectively. Further, homestead forestry in and around homesteads are contributing much of fuel wood, timber and fruit trees.
The challenges in sustainable forest resources management
Section 12 of the Constitution (Fifteenth Amendment) Act, 2011 (Act XIV of 2011) provides a new Article 18A to safeguard the natural resources, biodiversity, wetlands, forests and wildlife for the present and future citizens.
The Forest Act of 1927 was amended in 1989 to provide deterrent penalties for certain forest offences and further modified in 2000 to add provision for social forestry. To elaborate the social forestry procedure Social Forestry Rules were framed in 2004 under the Forest Act, 1927 and Forest Transit Rules were framed in 2011.
The Brick Burning (Control) Act enacted for the first time in July 1989 to ban firewood for brick burning that has been substituted by the Brick Manufacturing and Kiln Construction (Control) Act, 2013 (Act No. 59 of 2013) with effect from July 1, 2014 to meet the current context. Enforcement of these laws is weak, primarily due to the lack of adequate and skilled man power and also inadequate financial support. Lack of coordination with law enforcement agencies and local administration further aggravates the situation.
Institutional capacity for sustainable forest resources management
BFD still lacks the resources capability, and skilled manpower for sustainable management, monitoring and coordinating with other ministries and agencies. It does not have representation with qualified professionals at upazila and district levels. Hence, coordination with other agencies suffers. Currently, total strength of the BFD is 10,224. One forest guard patrols on an average 1430 hectare of forests in Bangladesh compared to 500 hectares in India. It is impractical to monitor and control such a large forest area which is freely accessible from all sides. In 2010, the BFD proposed for a total 19,635 personnel for the department which revised to 13,822 in 2016. Meanwhile, one-fifth of the current sanctioned posts are lying vacant and progress of recruitment is deficient. Forestry is specialised technical professional discipline which requires both academic and technical understanding on ecosystems dynamics and forests resources. Currently, several universities have been offering professional forestry education, however, these graduate do not receive appropriate attention in forestry sector recruitment.
It is to be noted that over one hundred NGOs are engaged in social forestry/community forestry and homestead forestry promotional activities and is a major contribution.
Demand and supply gap of forest goods and services
The Sundarbans forest is to be managed for integrated development of all resources in the area including wildlife and fishery and other aquatic fauna and honey. Coastal afforestation needs to be strengthened and continued to create a continuous "Coastal Greenbelt".
Production of forest goods and services could never keep pace with the ever increasing demand with population and economic growth.  A huge amount of energy is wasted in the country through the use of traditional stoves for cooking. Wide and increased use of improved stoves is a must and has significant health benefits. The gap between demand and supply has been increasing with the increase of population. The gap may be narrowed by planting appropriate species (indigenous) in denuded areas, wastelands, chars, marginal lands as well as homestead areas. The consequences of persistent widening demand and supply gap are: (1) un-authorised felling of trees from state forests, (2) over-cutting of village forests, (3) increased use of non-traditional energy sources, and (4) raw material scarcity for wood based industries.
Degradation of mangrove forests
The amount of the Ganges water flow into Bangladesh has been hampered and reduced by the amount of water drawn at the Farakka Barrage in India. The Ganges flow in 1962 was 3700 cubic m/s whereas it was 364 cubic m/s in 2006. Reduction in flow rate of the Ganges and diversion of it water at Farakka Barrage from early 1975 has resulted in high salinity in the upstream areas and, the water and soil salinity has increased. Consequently, both siltation and increased salinity have degraded water quality in the Sundarbans' rivers, and pose threats for mangrove ecosystems. In last 10 years, several cyclones have passed over the Sundarbans; the most devastating one was the cyclone Sidr which occurred on the night of November 15, 2007. There was huge damage to the Sundarbans mangroves in terms of biodiversity and physical infrastructure. The most important tree specie Sundri (Heritiera fomes), which constitutes over 60 percent of the total timber of the Sundarbans, has been affected by a top dying syndrome. From the analysis of satellite images it is seen that the distribution of Sundri, Gewa and Goran in Sundarbans is rapidly changing. This may be due to sea level rise associated with climate change and fresh water flash.
REDD and REDD+ in reducing poverty and conserving forest resources
The global commitment expressed at COP 15 of the climate convention to designing and financing an initiative to save the world's forest under Reducing Emissions from Deforestation and Forest Degradation (REDD) provides an opportunity to transform the forestry sector. Recent discussions regarding distribution of benefits to indigenous people and forest-dependent communities participating in REDD projects is often limited to possible payments from carbon credits. If REDD is to address poverty in a meaningful way it must break out of conventional small livelihood subsidy approaches, and instead allow communities to build capital assets that provide financial resources for innovative entrepreneurial activities with significant growth potential over time. This will only succeed through the meaningful empowerment of forest dependent peoples. The BFD with technical assistance from the Food and Agriculture Organisation (FAO) is implementing a project titled "Strengthening National Forest Inventory and Satellite Land Monitoring System in support of REDD+ in Bangladesh". A system for Measuring, Reporting and Verifying (MRV) REDD+ results is essential to the results-based approach of REDD+. Remote sensing and GIS (RS&GIS) are often used along with inventories and other ground surveys for REDD+ preparation.
Remote Sensing and GIS for sustainable forest resources management
RS & GIS are the tools much appreciated for its capabilities in visualising spatial and temporal dynamics of resources with a "bird's eye view" that facilitate an ecosystem and landscape level perspective. RS and GIS syntheses of ecosystem coupled with socio-economic information towards understanding potentials of different classes in ecosystems facilitate eco-restoration of degraded ecosystems. Synthetic aperture radar (SAR) sensors on board several satellites (ERS-1, JERS-SAR, Envisat, RADARSAT-I, II) can be used to quantify forest carbon stocks. LiDAR remote sensing far exceeds the capabilities of radar and optical sensors to estimate vegetation health and carbon stocks for all forest types. These are cost effective and useful tools to be used more in the forest management practices.
Way forward
A comprehensive paradigm shift in policy and strategy is required to resolve tenure issues, ensures sustainable livelihoods, and conservation. Immediate programmes to afforest/reforest degraded forests, denuded hills in CHT and greater Chittagong region, fallow lands, feeder roads, highways, railways and embankment, and newly accreted char land through participatory approaches.
Natural Regeneration Plots (NRPs) need to be maintained around plantations in natural forests areas. USF lands in the Chittagong Hill Tracts may be brought under Social Forestry Programme. Encroached forest areas are to be brought under social forestry and agro-forestry practices. NGOS/CSOs may be engaged for participatory afforestation, forest management, awareness building, training and stakeholder group formation. Business models for ecotourism with conservation focus need to be adopted. The practice of large-scale plantation of exotics needs to be replaced with indigenous species.
Forest Department urgently needs to be reorganised and reinvigorated with provision for immediate recruitment of professional foresters with right academic and skill trainings. A separate unit for resource inventory and monitoring at BFD may be created for maintaining continuous inventory.
Forest boundary demarcation needs to be completed as soon as possible. Here remote sensing and GIS may be of help.  All encroachments in hill forests are to be recovered by strict enforcement with strict adherence CHT Agreement, existing laws. The non-forest use of forest land should be restricted.
Optimised consumption of fuel wood, timber and bamboos by popularising improved cook stoves, introducing biogas, strictly enforcing the ban on use of wood fuel in brick fields, creating mass awareness on the benefits of using seasoned and treated timber, enforce the use of standardised wooden components for doors, windows and furniture are needed.
Forestry research needs to be strengthened at BFD and Bangladesh Forest Research Institute (BFRI) through ensuring adequate human resources and logistics. Academic institutions need to be engaged with forestry operation and management research.
The Sundarbans forest is to be managed for integrated development of all resources in the area including wildlife and fishery and other aquatic fauna and honey. Coastal afforestation needs to be strengthened and continued to create a continuous "Coastal Greenbelt". The afforestation of newly accreted coastal and riverine char lands with participatory co-management needs to be taken.
The writer is Fellow, Bangladesh Centre for Advanced Studies (BCAS). E-mail: mabusyed@gmail.com