Why Puja went barefoot for 'Jinn'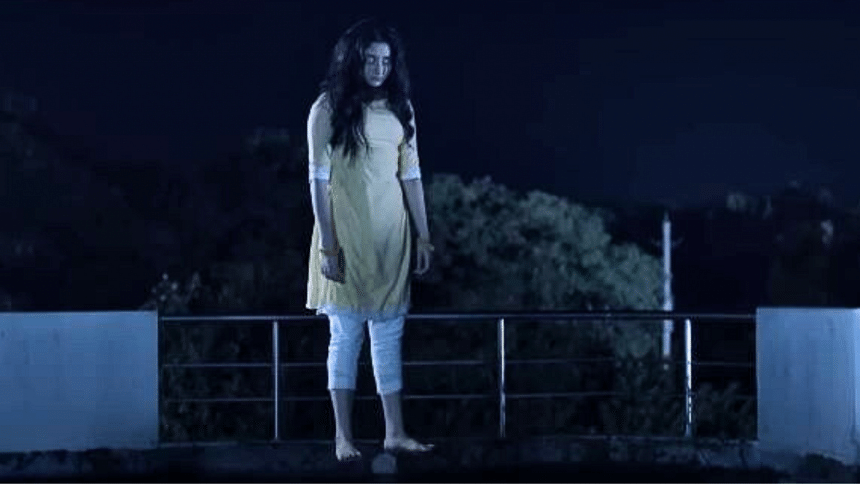 This Eid, Puja Chery starrer film "Jinn" released across the country. The Nader Chowdhury directorial horror film is receiving quite a good response in multiplexes. In fact, on the second week of its release, the film has increased shows in halls.
The Daily Star caught up with Puja to know further about her experience of working in the project and more.
How much of the audience's expectations has been fulfilled with 'Jinn'?
The response from the audience was unexpected. We had tough competition, as there were other films too that were released on Eid. However, our film was only released in multiplexes, and not on the single screen. Despite this fact, on the second week, the demand for more shows have increased and audience seem to be impressed.
What made the audience gravitate towards the film?
First of all, it is a horror movie, a genre that is completely new in our country. Also, we could create the frightful ambience through makeup and dubbed dialogues. We have many folk stories and myths about ghosts. I, myself, grew up listening to such stories since childhood. Thus, audience have also been able to resonate with that interest.
Tell us a bit about your role in the film.
The character I played in the film is an ordinary girl who gets possessed by a Jinn, and at some point, she gets some horrific physical changes that terrifies everyone around her.
I had to work really hard to build up this role. I walked barefoot on the wall's edge, went down the deep well for the sake of character. I am grateful to the audience that they are repaying my effort.
How was your experience of visiting the cinema halls?
I have been to cineplexes since Eid day. It is a pleasure to see the reaction of the audience and being able to exchange pleasantries directly with them.