'We will become mute, because we are used to shutting our mouths'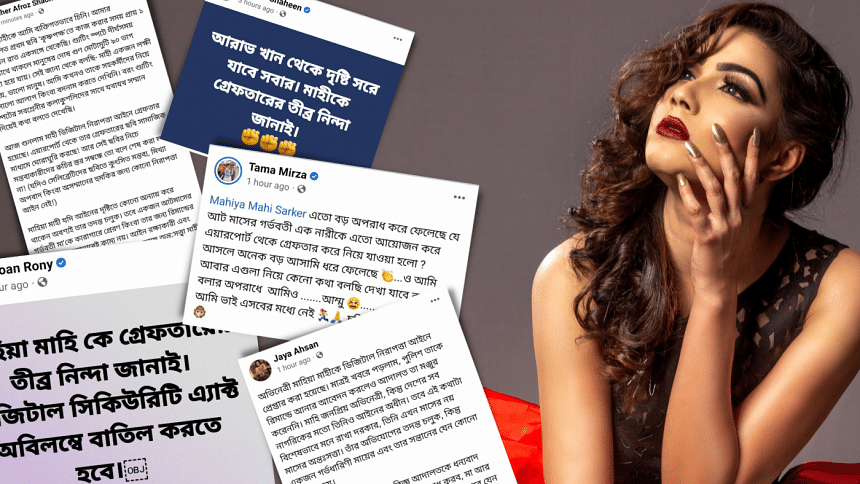 Celebrities have come forward on social media to condemn the arrest of actress Mahiya Mahi from Hazrat Shahjalal international Airport, immediately after she landed to Dhaka from Saudi Arabia.
Although the actress has now been granted bail from two cases, including one under the Digital Security Act (DSA), concerns remain over its usage to constantly suppress defiant voices.
"We will become mute, because we are used to staying quiet," wrote Pori Moni on Facebook. "Who will take responsibility for Mahi's physical and mental health – she is 9 months pregnant! Do you all have no conscience? Please stop using the law in this manner."
"I just read the news of Mahiya Mahi's arrest under the DSA, and I have learned that police have asked for a remand for the actress which was denied by the honourable High Court," wrote Jaya Ahsan. "Although she is a popular face in the country, but like other citizens, she is also under the law. However, this must be taken into special consideration that she is nine months pregnant. Let the complaints against her be properly investigated, but keeping her condition in mind." She also thanked the court for rejecting the remand.
Famed director Shihab Shaheen wrote on his profile, that this situation is to divert Arav Khan's issue. "I strongly condemned the act of arresting the actress," he added.
Meanwhile, Meher Afroz Shaon wrote a long post on this matter. "I have had the experience of working with Mahi for long one month during the shoot of my film 'Krishnopokkho'. I have seen her closely during that time, and that she is a good soul with a pure heart. I have never heard or seen her gossiping about any of her colleagues, rather she always respects everyone from her heart."
She continued, "The photos of Mahi being arrested from the airport has been viral on the social media, where the most shameful and derogatory remarks defile the comments section. However, celebrities have to bear so many derogatory comments, but the DSA does not assist them in any way." The artiste also mentioned that the authorities must handle the situation with sensitivity and special care considering the fact that Mahi is nine months pregnant.
Actress Tama Mirza also shared her thoughts on the social media. "Is Mahiya Mahi such a big criminal, that she needed to be arrested from the airport even in a pregnant state?"
Director Ashfaque Nipun and Chief Operating Officer, Chorki, Redoan Rony both of them wrote on their Facebook, that the digital security act must be cancelled immediately.
Rokon Mia, sub-inspector of Bason Police Station, filed a case under Digital Security Act against Mahi and her husband Rakib Sarkar while Ismail Hossain, a businessman, filed the other case on Friday night with the police station against 28 people including the couple on charges of assaulting, vandalism and forcibly occupying land.