We created magic on screen: Babita mourns the loss of Farooque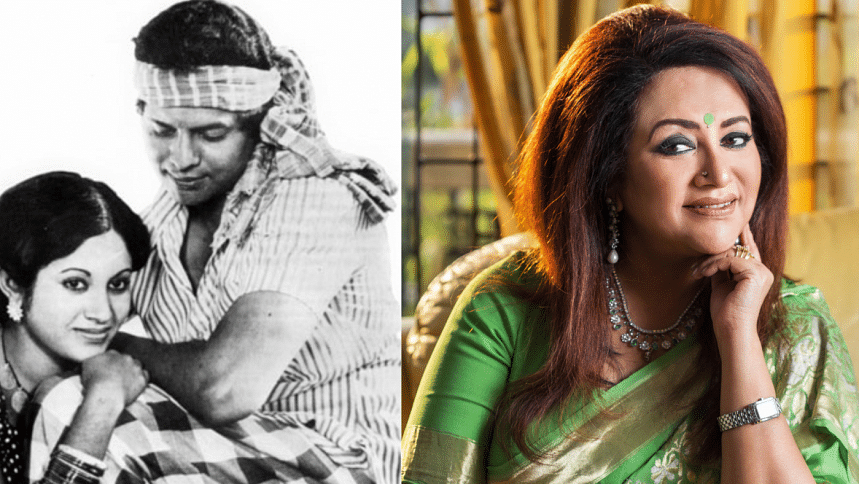 The departure of legendary actor Farooque, one of the most celebrated heroes of Bangladesh's golden era of cinema, has left the nation mourning. The veteran actor, who starred in a plethora of popular movies, in a career that spanned multiple decades, was renowned for his performances in rural, social and romantic films—which won him the hearts of millions of fans across the country. 
Farooque's on-screen chemistry with Babita was legendary, with their pairing becoming synonymous with some of the most iconic films in Bangladesh's cinematic history like "Noyon Moni", "Lathiyal", "Golapi Ekhon Traine". 
Speaking to The Daily Star, Babita shared her thoughts on the late actor, reminiscing their time together on set and the bond they shared.
Despite his reputation as a brave and outspoken person in his personal life, Farooque was a down-to-earth and hardworking artiste who always strived to give his best performance in front of the camera. Babita spoke fondly of Farooque's dedication to his craft and ability to breathe life into every scene he was in. 
"I met Farooque a long time ago. Although I had heard he was very moody, he was so friendly on set. He was dedicated to making scenes more beautiful and dialogues more impactful while shooting. We formed an excellent bond while working together," said Babita. 
Apart from his artistic endeavours, Farooque was also known for being a social and family man. His movies continue to be loved and watched by audiences across generations. Although he was receiving treatment outside the country for a while and had recovered a lot, the news of his passing came as a shock to many, including Babita, who mourned the loss of her dear friend and colleague.
"The news of Farooque bhai's death made my morning melancholic. I never thought I would hear such devastating news," said Babita.
Babita reflected on her time working with Farooque, recalling the many memories they shared while filming movies such as "Lathiyal" and "Nayan Moni" in the village outside Dhaka. She expressed her sorrow at never being able to find another brave and talented actor like Farooque, who was always his own person and fought for what he believed in.
"Together we have made hit films like 'Noyon Moni'. We created magic on the screen, which is why people still love our on-screen chemistry, even today," shared Babita. 
"We also did 'Golapi Ekhon Traine' together. This film garnered a lot of appreciation. This film reached the masses in our country. Now, these are all but memories," she added. 
Though Farooque may have left this world, his legacy lives on through the movies he starred in, which remain beloved by generations of Bangladeshis. The nation mourns the loss of one of its greatest cinematic treasures, and his memory will continue to inspire and entertain for years to come.