'The Kerala Story' is a 'great service to Islam', says director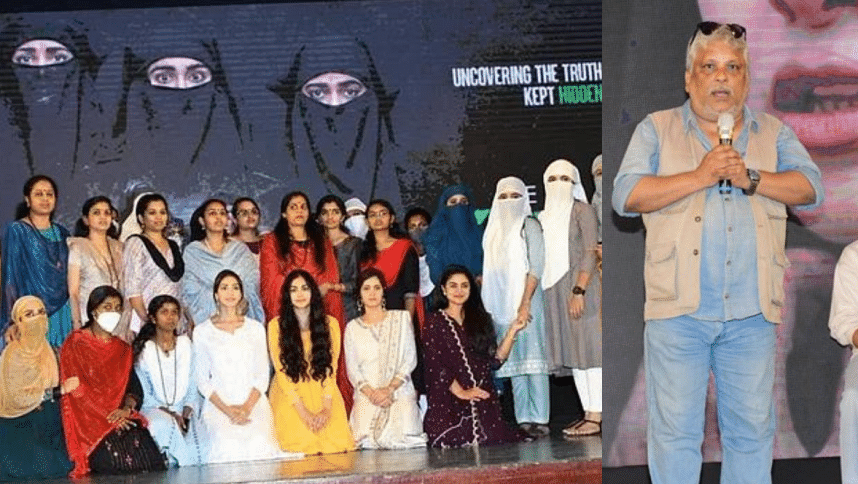 Producer of the controversial "Kerala Story" Vipul Shah and director Sudipto Sen arranged a press conference yesterday, where they brought forward 'forcefully' converted girls, and also talked about how their film didn't incite hatred towards Muslim communities. 
"The Kerala Story," starring Adah Sharma, follows the conversion of a Hindu woman from Kerala to Islam and her trafficking to the Islamic State of Iraq and Syria (ISIS).
Vipul Shah pointed out that many non-Muslim villains have appeared in Hindi films over the years, so why is "The Kerala Story" being targeted?
"We are not here to do a balancing act," Sudipto Sen replied when asked why there was no single 'redeeming' Muslim character in the movie. 
"When we discuss terror, we must not automatically presume that we are referring to religion. We have done Islam a big service," stated the director. 
The makers also showcased 26 alleged victims of conversion on stage. The makers claimed  that they are going to commence an initiative called 'Protect the daughters'- an ashram which will be a safe place for victims of conversions and pledged Rs 51 lakh towards the effort. 
Certain political parties questioned on The Kerala Story's producers over their now-retracted assertion that 32,000 Kerala women were converted to Islam and reunited with ISIS. 
In response, Vipul Shah stated, "We told the story of 32,000 women through these three women." People attempted to undermine us by the figures. What we mean is that this is a 32,000-person story told by three women. 
"The Kerala Story" is doing great at the box office. It has surpassed Ranbir Kapoor's "Tu Jhoothi Main Makkar" and Salman Khan's "Kisi ka Bhai Kisi ki Jaan" to become the second highest-grossing Hindi film of 2023.  At the box office, "The Kerala Story" has already surpassed Rs 150 crore.