'Razz is my king'
Pori Moni and Sariful Razz celebrate anniversary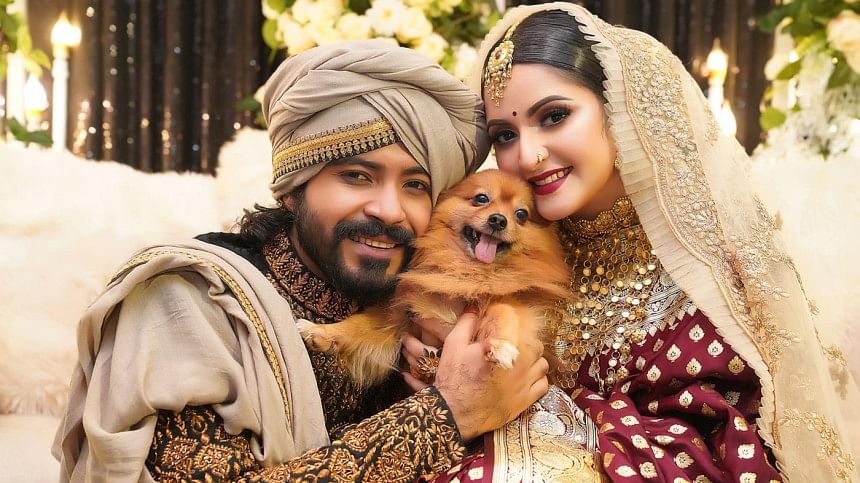 The marriage between Dhallywood couple, Pori Moni and Razz has at times been a rollercoaster ride. While at times the couple shared adorable pictures of their sweet banter on Facebook, there were also moments when Pori Moni accused Razz of both physical and mental torture. However, everything seems to be fine now, as the couple seem stronger than ever before, as they try to be the best parents possible for their son, Rajya.
"Pori is a wonderful woman with a heart of gold. I love her a lot and nobody can ever love me the way Pori Moni does. She is a compassionate soul who knows only to love others. While at times she is quite naughty, she is also a good soul. She is a little short-tempered but an extremely kind-hearted person. My whole world revolves around her and Rajya. I really love her," shared Razz.
Pori Moni was also super excited to spend time with both Rajya and Razz, on their anniversary.
"This is one of the most beautiful moments of our lives. Razz is the king of my kingdom. He treats me like his queen. Sometimes, Razz has this child-like behavior, which makes him really cute. Whenever he makes a mistake, he says 'sorry' in such an adorable manner that it melts your heart. On our first wedding anniversary, Razz and I will watch my new film 'Adventure of Sundarban', along with Rajya, in the evening today," said Pori Moni.
Directed by Raihan Jewel, the children's film, "Adventure of Sundarban" was released on January 20.
"I really wanted to watch 'Adventure of Sundarban' on its first day of screening, but I couldn't get hold of the tickets, as it was sold out in all outlets of Cineplex. That's why I requested my husband, Razz, to buy me a ticket for the movie on our first wedding anniversary, so that we can watch it together. He has also told me that he will be giving me something special today. I guess I will have to wait till the evening to find out about this special surprise," added Pori Moni. 
On the occasion of their marriage anniversary, Pori Moni also shared a video of their intimate wedding ceremony, which took place at her house.
"Happy Marriage Anniversary to us! I am super happy to share videos of the private wedding reception which was held at our house. This was one of the most beautiful moments of our lives. I love you Razz. #RazzPori," read her post.