Pori Moni to spend time with street children on Valentine's Day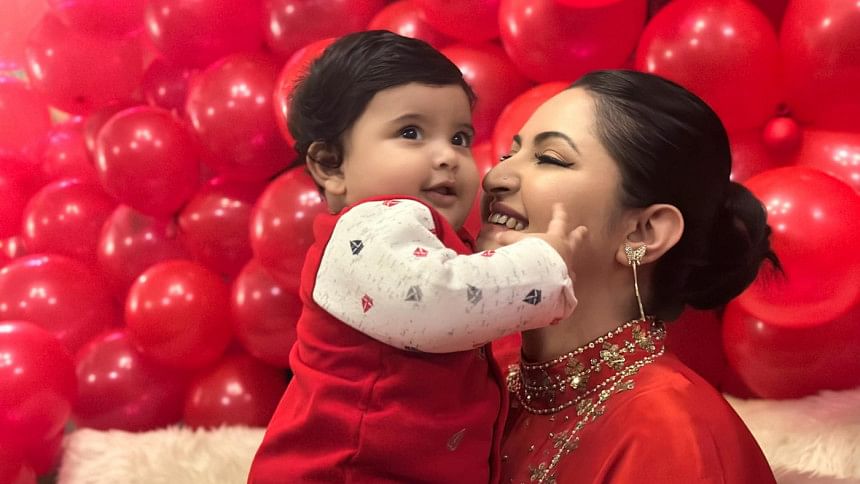 Pori Moni is one of Dhaka's most talked about actresses. Earlier in the year, her film "Adventure of Sundarbans" was released all over the country. Her other film, "Maa" is currently awaiting release. On the occasion of Valentine's Day, the actress spoke with The Daily Star.
What is the meaning of love to you?
Love is everything. There is nothing more beautiful and holy than love. The power of love is above everything else. It is possible to defeat all arrogance and hatred with love. If people can live with love, what else could we need? The world is so much more beautiful because of it.
How do you plan to spend your Valentine's Day?
Today I have organised an event that marks six months since the birth of my son, Rajya. I will be spending some part of the day with street children, providing them with food. It will also be the first time Rajya will be having rice. Street children also deserve to eat a good meal and live beautifully.
What are your expectations from fans today?
I would like to tell them to surround themselves with beauty, truth and love. Also, I want to request them to support our local, Bengali cinema.
Can you tell us about your film that's still in theatres?
Yes. "Adventure of Sundarbans" is still running in theatres. It is a children's movie, and kids seem to be having a lot of fun watching it. The film has been adapted from a novel written by Professor Zafar Iqbal. I want all the children in Bangladesh to watch this film. Parents should take their children to theatres to show them this wonderful film, I am certain they will love the movie's story.